Dustin Johnson and the Top 10 American Golfers Under 30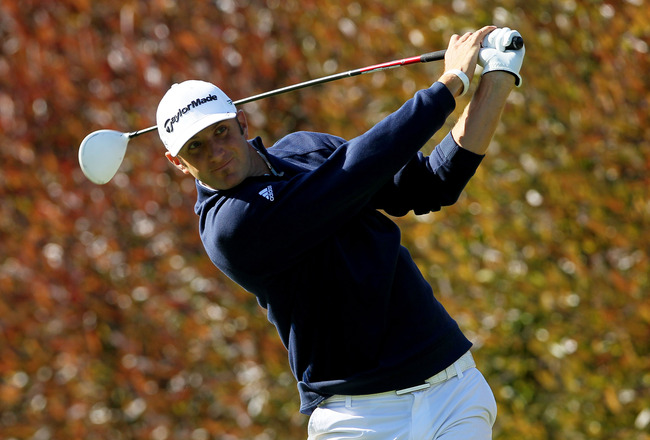 Jeff Gross/Getty Images
The big, strong and freakishly athletic Dustin Johnson leads a new wave of American golfers under 30 looking to establish a U.S. foundation for the future as the game of golf continues to globalize.
The current lineup of 20-something's already have two majors to their credit, which is more than can be said for recent promising predecessors such as Hunter Mahan, Brandt Snedeker and Nick Watney.
Golf is probably the hardest sport to stay consistent at and maintain a world-elite level of play.
Some prodigious youngsters flame out when blessed with so much natural talent and early success in a game that is dictated so much by mental fortitude and perseverance.
Golf can get away from any player in at the drop of a hat, no matter how early their successes are.
Here are today's top 10 American golfers under 30 who look to stay in the conversation among the game's top players for years to come.
10. Spencer Levin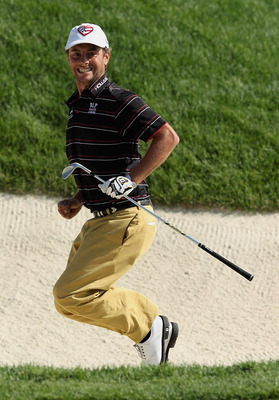 Scott Halleran/Getty Images
The chain-smoking, colorful on-course personality is unmistakable.
For Levin, his highly aggravated appearance and demonstrative behavior in the heat of tournaments has worked out nicely. He has registered three top-10s and won over one million dollars this year.
After grabbing the spotlight with a tie for 13th and low amateur honors at the 2004 US Open, Levin weathered some struggles after he turned pro.
After placing in the top 25 on the Nationwide Tour money list in 2008, Levin gained PGA Tour status and made it through Q-School the following 2009 PGA season to retain his Tour card.
2012 has been very hit-or-miss. Despite some encouraging results and near-victories, Levin has missed seven of 20 cuts to go along with the encouraging results.
What is clear, though, is that Levin's breakout season in 2011 wasn't a fluke.
Levin is also living proof that a guy standing at just 5'10", 155 lbs. can hang with the big boys on the Tour without needing to rip a drive 300 yards every time.
A big key to Levin's play despite spotty ball-striking is that he ranks 25th on Tour in strokes gained-putting.
9. Sean O'Hair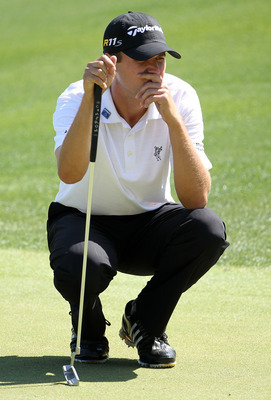 Jamie Squire/Getty Images
It's only about another week until O'Hair hits 30 years old, but he has accomplished a fair amount in his young career.
Although he may be best remembered for blowing a five-stroke final round lead to Tiger Woods at the 2009 Arnold Palmer Invitational, O'Hair has won four times on the PGA Tour.
After a tie for second to kick off the 2012 season in Hawaii, O'Hair has failed to register a top-10 in what has been his most frustrating season since joining the Tour in 2005.
The knocks on O'Hair that have been voiced during TV broadcasts is that he's too technical and also is too slow of a player. It's too bad, because O'Hair is apparently a very nice person off the course.
If he can regain the form that has gotten him to as high as No. 19 in the world, he may become a bigger name in the game as he enters what is hopefully the prime of his career.
8. Kyle Stanley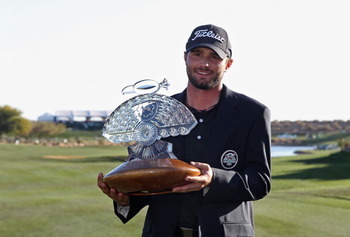 Christian Petersen/Getty Images
At the beginning of 2012, Stanley was primed to break through for his first PGA Tour victory at only 24 years of age.
Suddenly, everything changed on the 72nd hole at Torrey Pines in the Farmers Insurance Open.
Stanley three-putted his way to a triple bogey on a reachable par-5 and went on to lose in a playoff to Brandt Snedeker.
What ensued the following week was remarkable.
Once again finding himself in the thick of things, Stanley fired a final round 65 to win the Phoenix Waste Management Open
Trailing 54-hole leader Spencer Levin by eight strokes, Stanley took advantage of a Sunday implosion by Levin and won by one stroke.
Although Stanley has had a tough go of it since that phenomenal two-week stretch, he is the second-youngest American inside the top 100 in the world.
The mettle Stanley showed in an incredible bounce-back performance bodes well for his future despite his current struggles.
7. Gary Woodland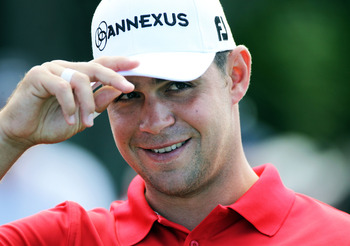 Sam Greenwood/Getty Images
To sum up Woodland's 2012 season: two top-25 finishes and fighting to make the cut every week otherwise.
An unfortunate wrist injury has slowed down the 28-year-old Kansas native significantly this season and, as a result, his world ranking has plummeted from 50th to 83rd.
Woodland had to withdraw from The Masters after being just four strokes off the lead entering the weekend and gutting through the ailing wrist to a crushing 85 on Day 3.
Even though Woodland is having a nightmare season this year, he enjoyed a rather rapid rise on the PGA Tour in 2011. He ranked fifth in driving distance (310.5 yards) and hit over 69 percent of greens in regulation.
The winner of the 2011 Transitions Championship has proven he will fight through physical pain to compete and should get out of his funk when he's fully healthy.
A little known fact is that Woodland was an all-state basketball player in high school and won two state championships.
Judging from his background, it would appear Woodland is very competitive, very athletic and he's obviously a very talented golfer. That combination could yield more PGA victories sooner than later.
6. John Huh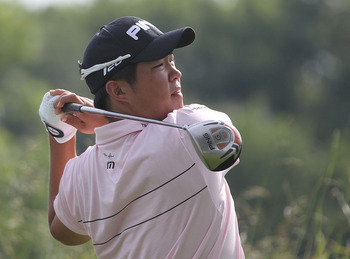 Jim Rogash/Getty Images
Huh? Who?
The 22-year-old just earned his PGA Tour card this season and has made the most of it.
Thanks to four top-10s, a runner-up finish and a marathon eighth-hole playoff victory at the Mayakoba Golf Classic, Huh has earned over two million dollars in prize money as a PGA first-timer.
Clearly the front-runner for the PGA Tour Rookie of the Year, Huh has plenty of season left to continue his incredible climb through the world rankings.
That aforementioned runner-up finish? Huh started eight over-par on the first nine holes of the tournament and only lost by one stroke.
Huh has to be the most under-the-radar American player on Tour right now.
Next time you're debating with friends about the young talent in golf, Huh shouldn't be the response to an obscure player brought to everyone's attention. Huh should be the player everyone's talking about.
5. Rickie Fowler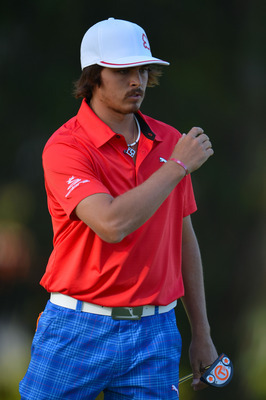 Stuart Franklin/Getty Images
At just 23 years old, notching one's first PGA Tour win would be pretty thrilling and an amazing accomplishment.
That's the double-edged sword of joining the Tour in 2010, winning Rookie of the Year and carving out sky-high expectations.
All Fowler heard before his playoff victory at the Wells Fargo Championship was how he hadn't gotten it done in the previous 66 PGA events he had played.
Despite many solid finishes, Fowler has only that one PGA Tour win, but also won the 2011 Kolon Korea Open, beating Rory McIlroy by six strokes.
Particularly impressive for Fowler was his tie for fifth at last year's Open Championship.
BBC's Iain Carter can vouch for me as much as anyone. I followed Rickie around last year at Royal St. George's during the third round as he played alongside McIlroy.
Me and three friends had two umbrellas trying to shield ourselves that day. I literally couldn't stand up, much less imagine playing golf in a major tournament.
The leaders had the benefit of clearer weather for the last hour and a half or so of play, but Fowler didn't.
He fired a two under-par 68 that day and I literally couldn't believe what I had seen.
Even though Fowler fell short in Sandwich, that third round, his breakthrough victory in 2012 and his stellar Ryder Cup play as a rookie are enough to ensure me that he'll be an elite player for years to come.
4. Anthony Kim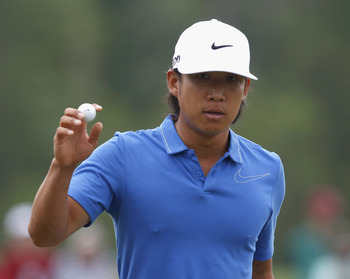 Matt Sullivan/Getty Images
Once ranked No. 6 in the world in 2008 and hailed as a Ryder Cup hero that year for smashing Sergio Garcia 5 & 4 in singles play, Kim is far from those times of glory.
Tiger Woods specifically commented on Kim's talent, even as far back as 2006. That was the year AK turned pro and debuted by finishing in a tie for second at the Valero Texas Open thanks to a sponsor's exemption.
The magical 2008 season was when Kim rattled off his first two PGA Tour victories, and at season's end, it seemed his path to stardom was secured.
Since a win at the Shell Houston Open in 2010, Kim hasn't made much noise outside of a tie for fifth at last year's Open Championship in very tough conditions.
Bothered by various injuries over the past couple of years, Kim is now sitting out the rest of 2012 due to chronic tendinitis in his left arm.
Kim is only 27 and arguably the most skilled golfer on this list. If he can recover from these nagging injuries, there's no telling what he'll be able to do.
For the sake of American golf, it would be a huge boost to have Kim back to his 2008 self.
3. Keegan Bradley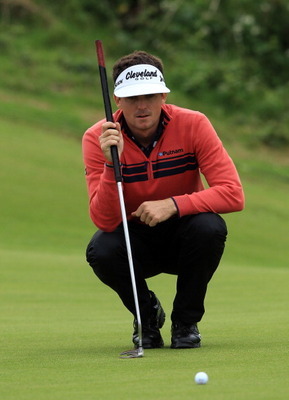 David Cannon/Getty Images
Considering how young Bradley is and how much golf is ahead of him, it's premature to call his PGA Championship victory in 2011 a fluke.
After grinding through the Hooters Tour for a couple years and finishing 14th on the 2010 Nationwide Tour money list, Bradley burst onto the scene only last season.
The 26-year-old has struggled ever since a bad round at this year's Masters. However, he's already won two PGA Tour events including one major, both in a playoff.
Bradley is still in position to make the Ryder Cup team this year and, considering his ability to grind through playoff situations on Tour, his skills should translate well in the match play format.
Even if his declining play persists, defending his PGA title should give Bradley an extra kick in the pants and get the 2011 PGA Tour Rookie of the Year back into the golfing groove.
2. Webb Simpson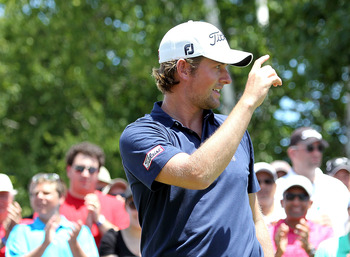 Jim Rogash/Getty Images
As a three-time All-American at Wake Forest in college, Simpson has been a hyped player since his amateur years.
At the 2012 U.S. Open, he officially backed it up with a huge win thanks to an extremely impressive weekend, posting consecutive 68's to win by one over Graeme McDowell and Michael Thompson.
After bogeying the 72nd hole in the 2011 Transitions Championship, which was won by fellow American young-gun Gary Woodland, Simpson kicked it into high gear for the remainder of the season.
A loss to Bubba Watson in a playoff at the Zurich Classic of New Orleans didn't deter Simpson either, as he won the Wyndham Championship later that year for his first PGA Tour victory.
Simpson then won the Deutche Bank Championship, the second FedEx Cup playoff event.
This gradual progression for Simpson is an encouraging trend. It indicates that he likely won't follow the inconsistent path of another recent 20-something U.S. Open champ: 2009 winner Lucas Glover.
1. Dustin Johnson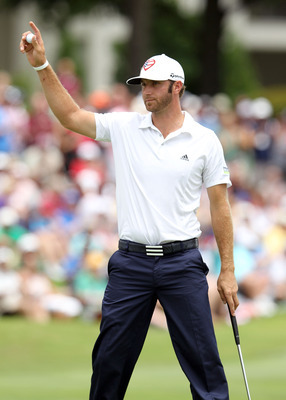 Andy Lyons/Getty Images
It may seem ridiculous to place Johnson at No. 1 since he hasn't won a major championship yet.
However, the long-hitting Johnson is becoming more comfortable with the major championship stage and I fully expect him to break through as early as this year.
Johnson has won six PGA Tour events, more than any American player not named Tiger I've mentioned in this article. He has won at least one tournament in every season he's been on Tour.
As far as majors are concerned, Johnson undoubtedly choked away a golden opportunity at Pebble Beach in 2010. He held a four-shot lead through 54 holes, but imploded with an 81 in Round 4.
However, he could very well have been robbed of a major title thanks to an infamous club-grounding in a "bunker" ruling at the 2010 PGA Championship.
The two-stroke penalty cost Johnson a spot in a playoff with Bubba Watson and Martin Kaymer.
Not to mention, Johnson was in the thick of contention at last year's Open Championship as well, but finished in a tie for second.
An easy argument to make is that DJ has been reasonably close to grabbing three of golf's four majors only to ultimately wilt.
With that said, Johnson has won frequently enough at such a young age that it can't be an accident.
It doesn't seem like a matter of if he'll figure out how to get a "W" at a major, but rather a question of when.
Considering all those factors, along with his impeccable physical fitness and an improving short game, Johnson is the best under-30 American that professional golf has to offer.
Keep Reading