Alabama Football 2012: 7 Things That Will Be Different from Last Year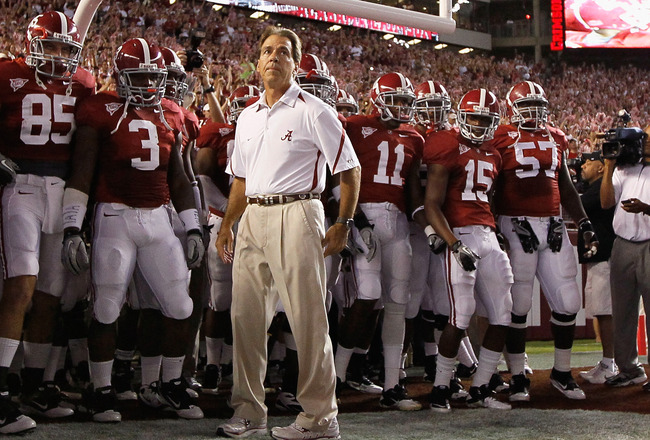 Will Nick Saban and his Alabama Crimson Tide be able to handle the hype in 2012?
Kevin C. Cox/Getty Images
In the current BCS era of college football, no team has ever managed to successfully repeat as national champions.
Don't try to tell that to Alabama coach Nick Saban and his players, though, because right now the Crimson Tide are focused on defending college football's most coveted crown in 2012.
Just as the case was back in 2010, after Alabama's national title run the year before, Saban and his staff are going to have to figure out how to replace many of the key cogs from last season's national title team. However, after bringing in an abundance of heralded high school prospects in recent years, there's still plenty of pieces in Tuscaloosa to build a championship contender.
If you look at some of college football's powerhouse programs that have managed to sustain success year after year, you'll see that a key factor in that continued dominance is their ability to adapt to changes after each season.
With the never-ending cycle of new players and coaches every year, no college team will ever look the same for two consecutive seasons, but the great teams know how to adapt to those changes and continue to move forward.
Under Saban's watch, Alabama has been one of those teams that knows how to rebuild and reload each and every season; no matter how much talent the Tide lost from the year before. That shouldn't change this season.
Here's a look at some of the key differences between Alabama's national championship team from last year and the team that will be out on the field in 2012.
1. Opposing Defenses Won't Have to Stop RB Trent Richardson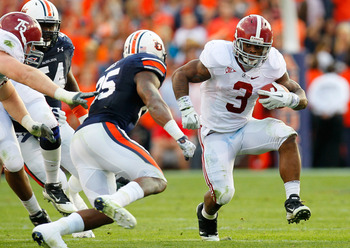 Trent Richardson
Kevin C. Cox/Getty Images
Last year, RB Trent Richardson shined in his only full season as the main man in the Alabama backfield.
Richardson stepped in for former Heisman-winning teammate Mark Ingram and dominated nearly every defense that was put in front of him; rushing for 1,679 yards and scoring 24 total touchdowns. He proved to be a true force to be reckoned with in 2011.
After bringing home the Doak Walker Award and finishing third in the Heisman voting, the powerful and ultra-reliable rusher decided to take his game to the pros. He was selected with the third overall pick in this year's NFL draft.
With Richardson now gone, there are some big shoes to fill in the backfield in Tuscaloosa, and it remains to be seen just how much Alabama's offense will miss its former punishing bulldozer back this season.
Junior Eddie Lacy, a well-built 6'0'', 220-pound former 4-star recruit, will be given the tough task of replacing Richardson. However, after averaging 7.1 yards per touch on limited carries last year, Lacy should definitely be up for the challenge.
Losing a rare elite rusher like Trent Richardson is certainly a big blow, but with Lacy and fellow backs T.J. Yeldon, Jalston Fowler and Dee Hart set to take over, the Tide's rushing game should remain one of the strongest and most powerful attacks in the SEC in 2012.
2. A.J. McCarron Will Have to Beat Defenses with His Arm More Often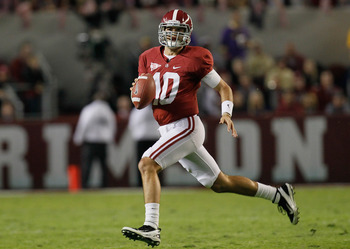 A.J. McCarron
Kevin C. Cox/Getty Images
In his first year as a starter in 2011, QB A.J. McCarron was asked to simply fill the role of game manager.
All he really had to do was make smart decisions with the ball and let RB Trent Richardson and Alabama's superior defense carry the team to victory.
McCarron did exactly what was asked of him, as he completed nearly 67 percent of his passes for over 2,600 yards and tossed just five interceptions. He helped guide the Tide to a 12-win season and a BCS championship.
This year, the 6'4'', 205-pound junior will now be expected to step up and become a true team leader and a legitimate offensive game changer.
New offensive coordinator Doug Nussmeier will likely try to get the ball down the field in the passing game more often in 2012. It will be interesting to see how McCarron develops as a passer and ultimately handles his new role as a play-making quarterback.
3. Barrett Jones Will Make the Switch from Tackle to Center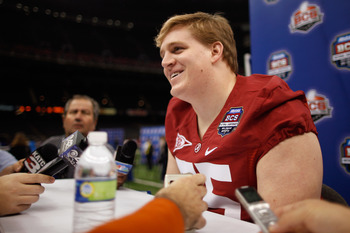 Barrett Jones
Chris Graythen/Getty Images
Defending Outland Trophy winner Barrett Jones isn't just the most talented and the most valuable offensive lineman in college football; he's also the most versatile.
After moving from guard to left tackle for the 2011 season, Jones is on the move again this offseason. He's making the switch inside to center to take over for the departed William Vlachos.
The return of the 6'5'', 302-pound senior is certainly great news for the Tide, as Jones could have very easily declared for the 2012 NFL draft and been one of the first linemen selected this year.
What will be interesting to see, however, is how effective Jones and his unique skill set will be in the middle of the Alabama offensive line.
It's a bit of a gamble moving Jones to center and letting true sophomore Cyrus Kouandjio man the all-important left tackle position.
Nevertheless, if Kouandjio plays as well as his 5-star recruiting hype would seem to indicate, the Tide's offensive line, which will once again be led by the talented trio of Jones and fellow potential All-Americans D.J. Fluker and Chance Warmack, should remain the strongest unit in college football in 2012.
4. Courtney Upshaw and Dont'a Hightower Won't Be Leading the Linebacker Corps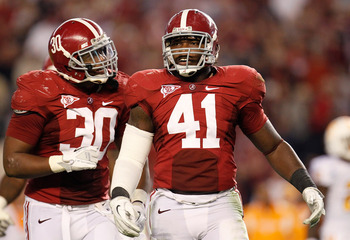 Dont'a Hightower and Courtney Upshaw
Kevin C. Cox/Getty Images
You could make the argument that Alabama's 2011 linebacker corps was the deepest and most talented in college football history.
The two faces of that group were Dont'a Hightower and Courtney Upshaw; two All-SEC 'backers who were both high picks in this year's NFL draft.
For the past two seasons, Hightower and Upshaw were two of the most valuable defenders on the Tide's supremely talented defense. They will both be extremely difficult to replace.
Given the type of linebacker recruits that Nick Saban and his staff have brought to Tuscaloosa over the last few years, there's still plenty of topflight talent to work with at the position.
The two new leaders of the unit will be inside 'backers, senior Nico Johnson and junior C.J. Mosley.
Johnson and Mosley are two of the most physically gifted defenders in college football, and both have the chance to follow in their former teammates' footsteps and become high picks in the 2013 NFL draft.
Still, Hightower and Upshaw leave some gaping holes that need to be filled. It will be interesting to see if Johnson, Mosley and other linebackers such as Trey Depriest, Adrian Hubbard and Jonathan Atchison will be able to step up and become the type of playmakers that they'll need to be in 2012.
5. TE Michael Williams Will Be a Bigger Offensive Factor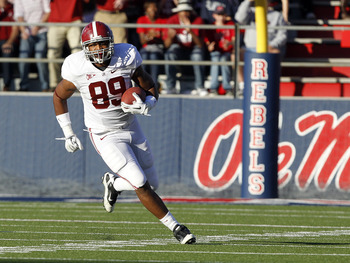 Michael Williams
Butch Dill/Getty Images
Alabama lost its four most productive receivers from last season; including TE Brad Smelley, who caught 34 passes for 356 yards and four touchdowns last season.
Smelley was an integral part of Alabama's passing game in 2011, as he quickly became one of QB A.J. McCarron's most trusted targets.
Now, since Smelley's gone, it will be tight end Michael Williams who will be expected to become a true receiving weapon this season.
Williams only caught 16 passes for 191 yards and two touchdowns last year, but make no mistake about it. As far as physical ability and potential are concerned, he's one of the top tight ends in all of college football.
The 6'6'', 269-pound senior has the type of big frame and surprising quickness for his size to present a huge matchup problem for defenses. He should definitely develop into a reliable receiving weapon for McCarron to utilize frequently in 2012.
6. The Road Trips Will Be More Daunting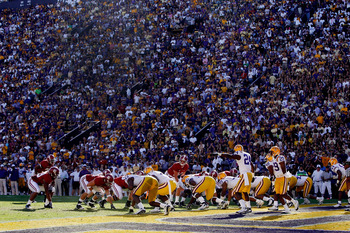 Death Valley
Chris Graythen/Getty Images
Alabama will only have to play four true road games this season, but none of them are going to resemble anything close to a cakewalk.
Trips to Arkansas on Sept. 15 and LSU on Nov. 3 will arguably be the two most crucial contests in this year's SEC West race.
Back in 2010, the Tide needed a huge second-half comeback to prevail 24-20 over the Razorbacks in Fayetteville, but Nick Saban's squad ended up falling 24-21 in Baton Rouge a few weeks later.
There's also a set of consecutive road games at Missouri and Tennessee in mid-October, which could be tricky, as the Tigers and the Vols will probably both be treating those games like the Super Bowl of their seasons.
When you factor in the neutral site game against Michigan at Cowboys Stadium on opening weekend, it's easy to see that Alabama is going to have a lot of work to do away from the friendly confines of Bryant-Denny Stadium if the Tide want to repeat as BCS champs in 2012.
7. Alabama Will Have the Target on Its Back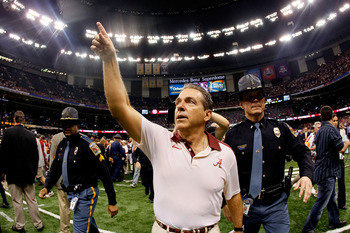 Nick Saban
Kevin C. Cox/Getty Images
21-0.
That score pretty much quieted every critic who expressed outrage over Alabama making it into the BCS championship game last season.
The Tide proved last year that it was indeed the best team in the country, and the crimson-clad crew will now enter the 2012 season as the reigning champs of college football.
After hoisting up the crystal ball in New Orleans back in January, Alabama now has to be prepared for every opponent's best shot this season, and coach Nick Saban will have to make sure his players can overcome the pressure of wearing a heavy crown.
It seems almost unfathomable that a team could lose eight NFL draft picks, including star standouts such as running back Trent Richardson, safety Mark Barron, linebackers Courtney Upshaw and Dont'a Hightower and cornerback Dre Kirkpatrick and still remain the most dominant team in college football. However, with the type of talent that's currently stockpiled in Tuscaloosa, it's certainly within the realm of possibility.
Alabama managed to go 10-3 in its last title defense campaign back in 2010, and it will now be fascinating to watch how the Tide will handle having the target on its back once again in 2012.
Keep Reading

Alabama Crimson Tide Football: Like this team?