AFC South Time Machine: The 10 Best Indianapolis Colts of All Time
July 2, 2012

Donald Miralle/Getty Images
The AFC South Time Machine is feeling pretty basic today, so all week I'll be looking at the all-time 10 best players from each team in the division.
For the two teams that moved, the Colts and Titans, I'm only going to consider the franchise history after the move.
That means there won't be any Johnny Unitas on this list. I'm only including Indianapolis Colts, a tactic for which I am well known.
Without further delay, here are the 10 best Indianapolis Colts ever.
If you need me to explain this, then I seriously doubt you're capable of reading.
Manning won four MVP awards, is an 11-time Pro Bowler...wait, no.
I'm not going to even list his accomplishments. Doing so only cheapens his impact. He's likely one of the 10 most significant players in NFL history.
Let's leave it at that.
2. Marvin Harrison
Is it possible to score 128 career touchdowns and be underrated? If so, Harrison is your guy. I suspect there are some who consider Harrison less than the second-best Colt of the Indianapolis era.
Those people are hilariously wrong.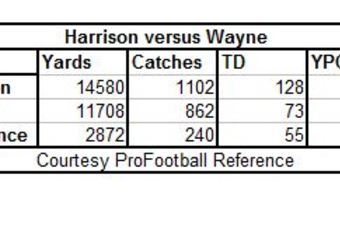 The best way to grasp the genius of Harrison is to compare him to Reggie Wayne.
In just 17 more career games than Wayne (the equivalent of one more season), Harrison has 2800 more yards, 240 more catches and 55 more touchdowns.
Harrison has been too quickly forgotten, but his production was the best of his era.
3. Dwight Freeney
Freeney has been remarkably durable throughout his career, but his two significant injuries likely cost Indianapolis a couple of Super Bowl wins. His sprained ankle in the 2009 AFC Championship game undoubtedly crippled the Colts defense in the second half of the Super Bowl two weeks later.
His injury against San Diego in 2007 ended any realistic hopes the Colts had of winning the title that year as well.
Freeney's seven Pro Bowl appearances are third in Indianapolis history behind Manning and Harrison.
The first three names on this list are utterly without dispute.
4. Reggie Wayne
Wayne's brilliance may have been eclipsed by Marvin Harrison, but no one can deny his impact. It's possible he's ranked too high here, but his decision to return to Indianapolis to help the team rebuild has to be factored in to the ranking.
Wayne is a borderline Hall of Fame candidate, but it's impossible to deny his impact or importance to the franchise.
5. Jeff Saturday
It's rare that a center will become a household name, but Saturday became one of the most recognizable Colts during his long Indianapolis career.
He's a five-time Pro Bowler and a two-time All Pro. I won't argue with anyone who wants him placed higher on this list.
His rise from undrafted free-agent to NFL star is inspiring, and he helped anchor the Colts line for a decade. His intellect allowed him to aid Manning in manipulating line assignments in the Colts' no-huddle offense.
Saturday's role in saving football during the lockout has been well-documented, and it might be the difference-maker in getting him into the Hall of Fame.
6. Robert Mathis
Some might be surprised to see Mathis listed so highly here, but given his recent contract, I suspect this is the place for him.
Before he's done in Indy, he'll likely ring up over 100 sacks. He already has four Pro Bowls. He ranks second all-time in sacks by a Colt, and by the end of 2012, will likely have as many total sacks as number three and four on the list combined.
7. Jim Harbaugh
Harbaugh's actual on-field accomplishments are relatively modest, but his significance to the franchise can't be overstated. Harbaugh's fiery leadership helped lift the 1995 Colts to within a heartbeat of the Super Bowl.
He went to just one Pro Bowl, and his only statistical accomplishment of note was to win the Passer Rating title for 1995. Still, Captain Comeback helped to galvanize the fanbase in Indianapolis. He proved to be the football version of John the Baptist, paving the way for the franchise's pigskin messiah.
8. Chris Hinton
Hinton was a six-time Pro Bowler, five of which came in Indianapolis. His career accomplishments were largely overshadowed by the man he was blocking for, Eric Dickerson, but there's no denying he had a stellar run in Indianapolis.
He was dealt by the Colts along with Andre Rison to Atlanta to acquire the rights to draft Jeff George.
9. Edgerrin James
James is another player that has become underrated with time. He also had a near Canton-worthy career, and I wouldn't be surprised if he eventually gains induction.
He went to four Pro Bowls in Indianapolis and is still the franchise's all-time leading rusher. James was a consummate pro, an excellent teammate and a locker-room leader.
Jim Irsay thought so much of James that he gave him a Super Bowl ring even though he had signed with Arizona as a free agent the year before.
10. Marshall Faulk
Faulk is better known for his exploits with the Rams, but he began his career in dominant fashion in Indianapolis. He barely edges out Eric Dickerson for the 10th spot on this list by virtue of still being the second-leading rusher in Indianapolis Colts history.
Faulk was spectacular when not slowed by injuries. He went to three Pro Bowls in Indy and was voted Rookie of the Year and Pro Bowl MVP as a Colt. In 1998, he lead the NFL in yards from scrimmage.