San Francisco Giants: Is Ryan Vogelsong Their New Ace?
July 2, 2012

Thearon W. Henderson/Getty Images
Matt Cain pitched a perfect game. Tim Lincecum is the freak. Madison Bumgarner has been fantastic at times. Even Barry Zito has had his moments. 
I have a trivia question for you. Since the start of the 2011 season, which San Francisco Giants starter has the lowest earned run average? What Giants starter has the highest winning percentage in that period of time? What Giants starter has pitched into the seventh inning every start but one this season?  
The answer to all of these questions is Ryan Vogelsong. 
Vogelsong has quietly become the Giants' most consistent starter and perhaps their new ace. 
When Vogelsong re-signed with the Giants prior to the 2011 season, it hardly got a mention in the media. After all, Vogelsong only got a minor-league contract with an invitation to spring training. 
Let's face it, at the age of 33, he had enjoyed a less-than-distinguished career. 
After throwing only 34.2 innings for the Giants, the team that signed him, he was traded to the Pittsburgh Pirates during the 2001 season in the deal that brought Jason Schmidt to the Giants. In Pittsburgh his ERA was never under 4.43, as he struggled in the majors. And when he injured his arm in 2006 many thought he'd never be heard from again. 
However, Vogelsong persevered and after five years kicking between the minors, Japan and even the Japanese minor leagues, he had an opportunity to return to the team that originally signed him and his original pitching coach, Dave Righetti.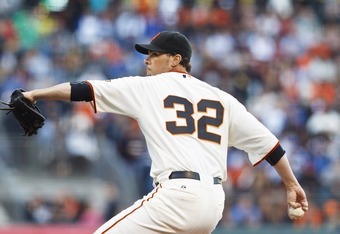 Jason O. Watson/Getty Images
Vogelsong had a nice spring in 2011 and was one of the final cuts, returning to the minor leagues. Zito's injury gave him the opportunity to start once again for the Giants. He has been brilliant ever since. 
The Giants rewarded him with a two-year, $8.3 million deal in the offseason, including a $6.5 million option for 2014. 
If Vogelsong continues his brilliance—and there's no reason to think he won't at this point—the Giants should reward him by picking up his option in the offseason and seriously think about an extension beyond 2014, at which time he'll be eligible to be a major-league free agent for the first time.
Vogelsong is 34 years old and appears to still have a lot of baseball left in him. 
At one time to group Vogelsong with guys like Cain, Lincecum and Bumgarner when discussing the team's pitching future seemed far-fetched, even in light of last year's fine season. However, this year proves 2011 was no fluke and that Ryan Vogelsong should be a part of this team for some time to come.