Why Moving Pau Gasol to the Raptors Makes Sense for Both Teams
July 2, 2012

Stephen Dunn/Getty Images
It's high time the Los Angeles Lakers traded Pau Gasol. And the Toronto Raptors may be just the trade partner that L.A. is scouring the league for.
The time is ripe for the Lakers to completely transition from the Kobe Bryant/Pau Gasol era into the Kobe Bryant/Andrew Bynum era.
You can argue that the shift from the Bryant/Gasol Lakers to the Bryant/Bynum version took place last season, when Bynum surpassed Gasol in scoring, rebounding, field goal percentage and PER for the first time ever.
After getting bounced handily in the second round of the playoffs for the second straight year, it's clear that the frontcourt tandem of Gasol and Bynum has hit the wall, especially in Mike Brown's system.
Bynum's growing role in the offense has crowded Gasol out of the post and into an uncomfortable spot-up jump shooting role. The fact that Gasol still averaged a 17-10-4 is a testament to just how talented a basketball player he is.
However, for two postseasons in a row it's been evident that the two big men can no longer share the post effectively enough for the Lakers to contend for a championship. Since the start of the 2011 playoffs, Gasol's postseason numbers have nosedived to a pitiful 12.8 points per game on 42.7 percent shooting, a precipitous drop off from his career averages of 18.6 points on 52 percent from the field.
If the Lakers plan to continue utilizing the Spaniard in the diminished capacity they played him in last year, they would be much better off moving him especially when you consider his contract situation.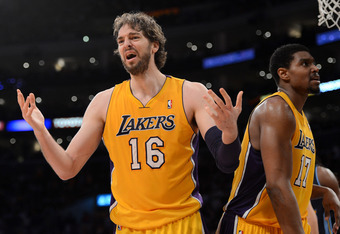 Harry How/Getty Images
L.A. is paying Gasol $19 million a year to do a mediocre Chris Bosh impersonation. Bosh only got $16 million last season for the actual thing.
Enter the Raptors. They are ideal trading partners for the Lakers in a Gasol deal.
Here's the trade: L.A. sends Gasol and Metta World Amnesty…er, Peace to Toronto. In return, the Raptors send back Andrea Bargnani, Jose Calderon and DeMar DeRozan.
Who says no here?
Toronto has made it clear that they're tired of fruitlessly rebuilding year after year and want to finally give their fans a reason to cheer. How else would you explain them offering free agent (and more importantly, Canadian) point guard Steve Nash a three-year, $36 million contract that ends when Nash is 41 years old, as Marc Stein of ESPN reported?
Trading for Gasol would be excellent bait to lure Nash north of the border. Right now, there's not much there to entice the two-time MVP, who wants to play meaningful basketball games without purely ring-chasing. Add the most skilled big man in the game for him to work with, and now you're talking.
The Raptors have been a frequent landing spot for international players. Acquiring Gasol (who's from Spain) and World Peace (who's from another planet) would continue that trend.
A revamped frontcourt of Gasol and promising Lithuanian import Jonas Valanciunas would give the Raptors some bite on their front line. They would finally have a big who can score with his back to the basket and World Peace—who seemed revitalized at the end of last season—would immediately become their top perimeter defender.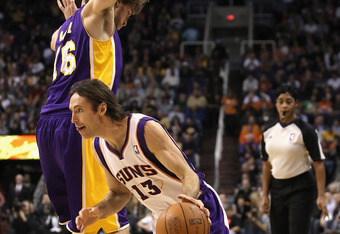 Christian Petersen/Getty Images
Bargnani has shown some flashes in his six seasons, but he has never lived up to his No. 1 overall draft selection. Replacing him with Gasol would be a definite short-term upgrade. It feels like the Raptors have been dangling Calderon for years, so losing him is no sweat. And by reaching for shooting guard Terrence Ross with the No. 8 pick in last Thursday's draft, Toronto signaled that they're not married to DeRozan at the 2 for the long haul, so he becomes expendable as well.
Think about their potential roster for a minute. The starting five would go Nash/Ross/Metta/Gasol/Valanciunas with Ed Davis, Amir Johnson, Jerryd Bayless, Linas Kleiza and Free Agent X coming off the bench. That's a top-four team in the East.
Meanwhile for the Lakers, this is as much value as they're going to get for Gasol.
As a 7-footer who wants to play on the perimeter and shoot jumpers all day, Bargnani is a perfect fit alongside Bynum. He's a legit 20-point scorer who's gotten better every year and at 26 years old is coming into his prime. Plus, he makes about half of what Gasol does and can be part of the Lakers' future since he's under contract until 2015.
Clearly the Lakers are desperate for a competent point guard, especially now that Ramon Sessions has opted out of his contract. Calderon, who's been linked to L.A. in trade rumors on numerous occasions in the past, can provide them with a heady facilitator who doesn't turn the ball over and can knock down open threes (career 38 percent three-point shooter). Although he makes $10.5 million next year, his deal expires at the end of the season, providing the Lakers with much needed cap relief.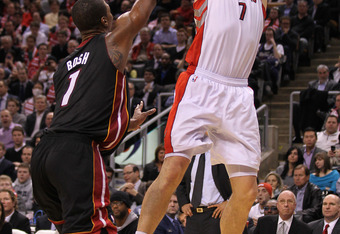 Claus Andersen/Getty Images
In DeRozan, the Lakers get a young shooting guard who has a chance to be a really good perimeter scorer. Even though he had a disappointing year last season after breaking out in 2011, he's the type of player you take a chance on because of his pedigree (one of the top high school recruits in his class and a top-10 draft pick) and his age (22). He's been miscast as a go-to perimeter scorer at this stage in his career. Coming off the bench behind Bryant would give him some seasoning and give the Lakers some offensive punch off the bench, another glaring need.
DeRozan grew up in L.A. and played his college ball at USC, so maybe a homecoming would do him some good. Plus, he's a restricted free agent next summer so the Lakers get one season to determine if he can replace Kobe in the future before needing to make a decision about whether to commit to him long term. It's a low risk/high reward proposition for L.A.
You might argue that the downside to swapping Gasol with Bargnani is that the defense will suffer. Remember that was the same presumption people made last year when the Lakers gave Lamar Odom away for free. There was essentially no difference in L.A.'s defensive efficiency numbers between 2011 and 2012 and their opponents shot the same percentage from the field.
Last season, Toronto actually finished ahead of the Lakers in defensive efficiency rankings and Bargnani posted a significantly better defensive rating than in previous seasons. So under a good defensive coach like Toronto's Dwane Casey, Bargnani has shown that he can be part of a sound defense. Mike Brown is a good defensive coach. I wouldn't be overly concerned here.
Parting with the declining and volatile World Peace would provide Devin Ebanks (assuming the Lakers hang on to him) a chance to prove he's capable of a full-time rotation slot. Ebanks showed in college that he has the size and athleticism to be a plus defender in the NBA.
And don't forget that since the Lakers are retooling their roster through a trade in this instance, it leaves them still with the chance to make additional moves in free agency. They can spend their exception money on a good defensive wing who can also provide shooting like, say, Brandon Rush.
In this hypothetical trade, the Lakers get rid of two huge contracts that are on the books until 2014, saving themselves a large chunk of change when the new harsher luxury tax rules kick in next summer. At the same time, they reload their roster for one more title run with Kobe with players who provide a better fit on the court and fill holes on the squad.
It also gives them a foundation for the future. The Lakers can go into the post-Kobe era with a core of Bynum, Bargnani and DeRozan. Not bad considering how old their team looked last season.
It was a good run for Pau in L.A., but the Lakers know that if they want to make the most out of Kobe's twilight, they have to cut the cord with Gasol in order to add new pieces to their championship puzzle. There may be no more ideal package out there than what the Raptors have to offer.