Pau Gasol and Jose Calderon: Could the 'Spanish Armada' Revive the Lakers?
July 2, 2012

Jasper Juinen/Getty Images
Picking up on a piece from ESPN's Marc Stein, there is a possibility that the potential Steve Nash signing in Toronto would result in point guard Jose Calderon joining fellow Spaniard Pau Gasol in Los Angeles to play for Los Lakers next season. 
Possibility, in this case, is quite different from probability, which has to be considered low given the events that must take place for Calderon to even be available for a signing by the Lakers.
In succession: Steve Nash signs the Toronto Raptors' proposed three-year $36 million dollar deal, the Raptors amnesty Jose Calderon's $10.6 million salary for next year, Calderon goes through the amnesty bidding process where teams under the salary cap have a chance to bid for his services, no bids are placed, he clears waivers and becomes a free agent.
That's it?
Oh, and the Lakers will need to have enough money available to even sign Calderon, since the organization is limited in free agency to a mini mid-level exception of $3 million per year and veteran minimum salaries at around $1 million per year.
And of course, the obvious: the Lakers have to not trade Pau Gasol this summer, which again must be considered low given the active shopping by Lakers management this offseason and the dizzying trade proposals leaking from the grapevine that send the 7'0'' Spaniard out of Los Angeles.
But such is the beauty of the offseason, where the pistol start of free agency allows NBA executives and fans to envision tantalizing player combinations for their beloved rosters because, at this point, anything can be considered realistic.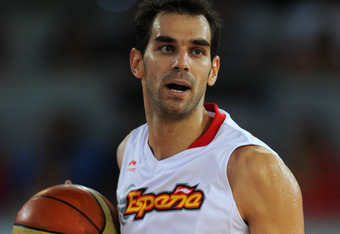 Jasper Juinen/Getty Images
Would Jose Calderon be the answer at point guard for the Lakers?
Any Laker fan who watched this February's Lakers-Raptors game in which Calderon not only set a career-high in points (30) but went shot-for-shot with Kobe Bryant in the final stretches of the game would be more than happy to bring him on board to fill the void at point.
He's a pass-first player with excellent court vision, a career 38 percent three-point shooter and a decent defender.
At 30 years old, Calderon is two years younger than current Lakers point guard Steve Blake, and is younger than other potential point guard acquisitions being considered by the Lakers this summer (Chauncey Billups, Kirk Hinrich).
But what about fit? 
Would Calderon mesh well with this Lakers team?
That absolutely depends on international credentials; namely whether fellow countryman Pau Gasol will be waging war alongside Calderon next season.
Playing together within the ranks of the Spanish National Team for nearly a decade, Calderon and Gasol have developed a real trust with one another that would translate well on the court and in the locker room.
After winning back-to-back European Championships and a silver medal in the Beijing Olympics, these two Spanish maestros could easily work together to inject flow into a Lakers offense that struggled to find an identity beyond isolation looks for Bryant and Bynum.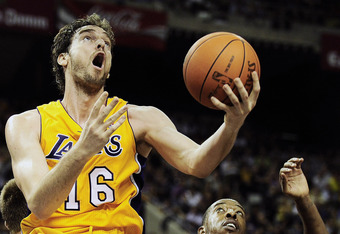 David Ramos/Getty Images
But Mike Brown wasn't brought into Los Angeles to play a European brand of basketball.
Jim Buss handpicked Brown to make Andrew Bynum the No. 2 focal point of the offense behind Bryant which, unfortunately, makes Pau Gasol and the "Euro style of play" third fiddle in the offensive pecking order.
Yes, Calderon could definitely fit the job at point for the Lakers and facilitate the Bryant-Bynum offense.
But it's only probable Calderon chooses the Lakers if he survives the amnesty bidding process, clears waivers, sees that two-time NBA champion Pau Gasol will still be earning his pesetas from the purple and gold in 2012-13 and the Lakers offer the Spanish point guard a fair deal.
The odds are definitely stacked against this LA Spanish Armada from setting sail, but any move away from one-on-one play towards Euro-style team ball is a step in the right direction.