$25 Million Reasons Why the Bulls Must Not Match the Rockets' Offer for Asik
July 2, 2012

Jonathan Daniel/Getty Images
According to Yahoo Sports, the Houston Rockets have agreed to a three-year contract worth over $25 million with the Bulls' Omer Asik.
In the first year of the contract, Asik is set to make $5 million. That is $2 million too much for a player who cannot score 10 points a game. In fact, Asik has averaged less than three points, five rebounds and one block in his career.  
Matching Asik's offer would give the Bulls another untradeable player going forward. If you thought Luol Deng, Carlos Boozer and Joakim Noah were untradeable, wait until you get into the third year of Asik's deal. At that time Asik stands to make over $15 million.
Do you want your backup center making more than your starting center?  
That would be $25 million spent frivolously, which is why the Bulls cannot match Asik's offer.
Why not work out a sign-and-trade for Kyle Lowry instead?
The Bulls will need a point guard until Derrick Rose returns, and Lowry would fit well.
After doing the sign-and-trade, the Bulls can go after Chris Kaman, who would be less expensive. They can also do something bold and convince Greg Oden not to sit out the season and sign him to a minimum deal.
Hell, bringing in Hasheem Thabeet and Eddy Curry would be better options than matching Asik's offer.  
By the way, I am serious about Thabeet and Curry. I find signing one of them to be less of a risk than retaining a player with little or no offensive skills. Thabeet can stand in the middle and look threatening for less than $1 million. Curry can eat doughnuts in the post while dreaming about grabbing a rebound or two for under $1 million.
Asik, with his career numbers for more than $4 million is ludicrous.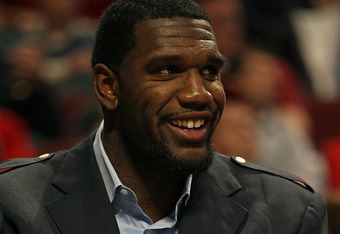 Jonathan Daniel/Getty Images
Are there any other options?
To keep Asik, the Bulls can amnesty Carlos Boozer, you say? Ha! Asinine!
Trade Noah, you say? The Orlando Magic stand a better chance at re-signing Dwight Howard.
Move Luol Deng for a young shooting guard? I am rolling over in laughter here.
Call me an idiot, but it seems to me that the Bulls are in a legitimate pickle. Here is why.
Taj Gibson is up for an extension soon. If Asik is worth $25 million, what is Gibson worth? It may come down to re-signing one or the other. What would you do?