Matthew Stafford: How to Watch Detroit Lions QB with a Scout's Eye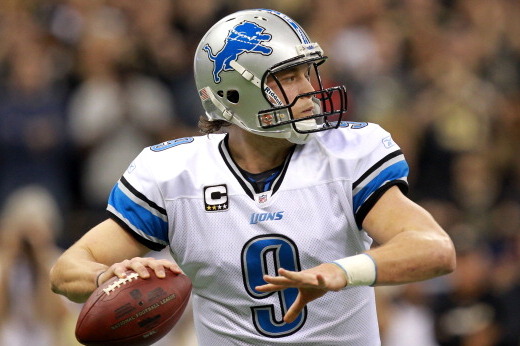 Ronald Martinez/Getty Images

Matt Stafford plays one of the most critical positions in all of professional sports, and he has many of the physical tools scouts look for in an elite quarterback. There is more pressure on quarterbacks now than ever. The amount of information an NFL quarterback has to process is remarkable, and this is before the play even begins.
Stafford has incredible arm talent, but in 2011 he showed he was much more than a big-armed quarterback. He showed touch, poise and was remarkably efficient. The Lions have one of the most electric offenses in the NFL, and it all starts with Stafford at the helm.
Without an elite quarterback taking snaps from center, NFL teams are essentially going in reverse. The Lions have put a lot of talent on the field, but without an elite quarterback they would go nowhere. The Lions will only go as far as Stafford takes them, and if 2011 is an indication, exciting things are in store for the Detroit Lions.
In 2011, the NFL witnessed all of the talent that Stafford has as he became the fourth quarterback in history to throw for more than 5,000 yards. He threw 41 touchdown passes, along with 16 interceptions, and he finished with a passer rating of 97.2. Stafford had a historic season, and he did it as a 24-year-old.
We are going to look at Stafford from a scouting perspective, to try and see for ourselves what makes him the player that he is today, and just how talented he can be down the road.
Begin Slideshow

»
When most people think about arm strength, they think about how far a quarterback can throw a football. While it is impressive to see a player throw the football 70 yards in a T-shirt, it just does not occur in an NFL game. Arm strength means something else to scouts.
Can the quarterback throw the deep-out without the ball starting to wobble? Does the ball flutter as the quarterback throws that out-route, or does the ball sail on him? Can a quarterback throw a football version of a fastball when a receiver has run a 10-yard comeback route? These are arm strength questions scouts have to answer.
A quarterback with a strong arm can deliver the ball to all areas of the field with a tight spiral. He can fit the ball into a small window that is closing extremely fast. Most importantly, arm strength is something a quarterback has; it is not something that can be taught.
Matt Stafford has incredible arm strength, as he can make all of throws with no problems, as showcased in the video.
The first play, from the beginning of the video and lasting to the 19-second mark, showcases his ability to fit the ball into a tight window. He has to throw the ball perfectly, and it needs to be fit into a small space between the cornerback and the safety.
Fast forward to the 1:10 mark, and watch this example. Stafford throws a rope between three defenders. The ball lands perfectly in tight end Brandon Pettigrew's hands, as there is no room for error here.
Stafford is one of the game's young guns, and his arm strength is a key reason why.
Without accuracy, a quarterback will struggle to do just about anything at the NFL level. Quarterbacks with giant arms have busted out of the NFL because they could not throw with accuracy. Scouts love arm strength, but most would prefer an accurate quarterback to one who struggles to locate the ball.
An accurate quarterback is one that can place the ball where only the receiver can get it. Quarterbacks have to throw the ball before the receiver breaks, and they must be able to put it into a place where the receiver does not have to break his stride to catch the ball.
The receiver will tell if the quarterback is accurate. Does the receiver have to change the direction of his route to get to the ball? Does he have to stop a route, or dive for the ball?
Matt Stafford is extremely accurate, and it shows in how rarely a receiver has to break off a route to get to a poorly thrown ball. When I think of Stafford's accuracy, I always come back to two plays.
The first play starts at the 1:18 mark, as Stafford steps up into the pocket and delivers a perfectly thrown ball to Calvin Johnson for a touchdown. This ball had to fit through a tiny window, as the cornerback and safety are right there. This is an incredibly accurate pass.
The second play starts at the 1:42 mark of the video. Stafford throws a ball to tight end Brandon Pettigrew in triple coverage. Throwing into triple coverage is usually a dreadful decision, but Stafford fits the ball into a tiny window, making the perfect throw.
The throw covers a span of 26 yards, and Stafford beats a cornerback, a linebacker and safety with the throw. These are perfect examples of a highly accurate quarterback.
Stafford is an exceptionally accurate passer, and a player that has an incredible amount of talent throwing the football.
Touch is a component of arm strength and accuracy. Quarterbacks can't always let it rip as they have to let routes develop. Sometimes a ball needs to be thrown with the perfect amount of air under it, allowing a receiver to run under the ball.
If a quarterback is not accurate, he is going to have a problem throwing the ball with any touch at all. The same thing can be said for arm strength. If a player does not have full control over his arm, he will struggle to place the ball in front of a receiver.
The Lions run a lot of fades to receiver Calvin Johnson, and it is here where Stafford's touch is most on display. It is more difficult to make this throw than it seems. The ball needs to arrive at the perfect height, with the perfect amount of speed, at the perfect time.
When the Lions run this play well, it is almost unstoppable, as the combination of Stafford's touch and Johnson's range are deadly. There are other examples of Stafford's ability to put touch on the ball. The combination of his arm strength and his accuracy makes Stafford a lethal quarterback.
There is a perfect example of this on this video. At the 57-second mark, Stafford throws a ball Johnson has to go get. Stafford leads Johnson perfectly, throwing the ball exactly to where Johnson is going to be when the ball comes down.
This is an outstanding example of Stafford's ability to put touch on the ball. It is a big part of an elite quarterback's game, and something Stafford does extremely well.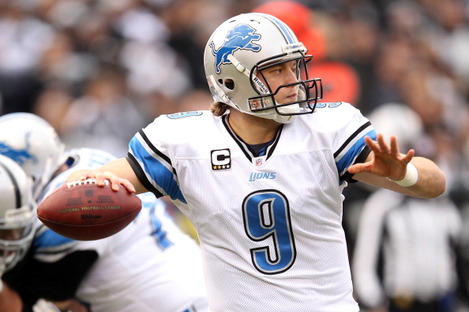 Ezra Shaw/Getty Images

An elite quarterback can look at the football field and not only see his receivers, but also any defender that might have a role in the play. Quarterbacks with keen vision avoid certain areas of the field because they do not like what they see.
A quarterback will be making his reads during his drop, and he should have made most of the decisions about the throw by the time he reaches the top of his drop. This is especially true if it is a five-step drop.
One particularly valuable aspect of having excellent vision is not giving away where the ball is going to go. A quarterback does not want to get caught staring where he will end up throwing the ball. Bad things can happen when a quarterback gets locked on to a receiver.
NFL defenders will peek into the backfield and watch a quarterback's eyes. This is a way to get some information about where the throw is going. If a quarterback stares down a receiver, a defender can jump the play and either break it up or intercept the pass.
Stafford has superior vision, and he rarely gets caught staring at any receiver in particular. He does an excellent job of looking off a defender and then going back there to make the throw.
Stafford can deliver the throw at the right time while putting the right amount of touch on it. This makes Stafford one of the impressive young quarterbacks in the game.
There are several components to a quarterback's release. First is the amount of time it takes for the quarterback to start the throw and for the ball to leave his hand. Most scouts want the quarterback to have a quick release, as too long leads to more completions.
A quarterback who releases the ball slower gives the defense a chance to react to the ball. Split seconds matter when quarterbacks are trying to fit the ball into a closing window. The faster a ball gets to an open receiver, the better.
The second component is the arm angle at which the quarterback delivers the ball. Most quarterbacks throw the ball in a three-quarter motion. Taller quarterbacks do not get footballs batted down by defensive linemen.
Matt Stafford is an intriguing player to examine, both from a release-time and a release-point perspective. Stafford has an exceptionally fast release time, and it is on display almost every time he throws the ball.
In this video, watch the play at the 35-second mark. Stafford takes the snap, completes his drop and surveys the field. Watch how fast the ball leaves Stafford's hand as soon as he decides to throw the ball. The result is a 55-yard rocket to a wide-open Titus Young.
Stafford can throw the ball from multiple arm angles. He does this as a means to avoid getting the ball knocked down, but it takes a lot of arm strength to be accurate while throwing from different arm angles.
This is on display at the 2:02 and the 2:25 mark of this video. Stafford throws more sidearm in both of these plays. He is extremely accurate both times.
As a quarterback who is a little shorter than others, this ability to throw from multiple arm angles will be helpful at times when he needs to avoid getting the ball batted down.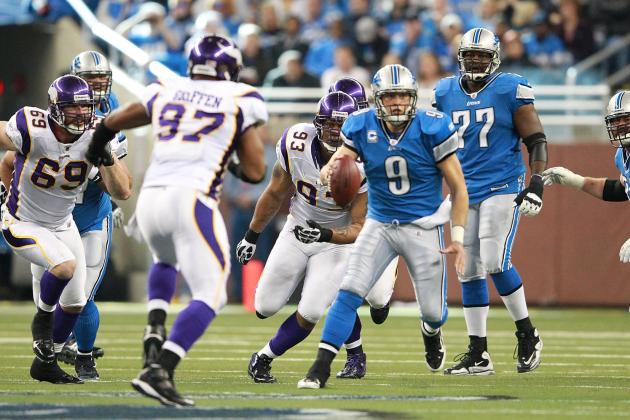 Leon Halip/Getty Images

Pocket awareness is a talent that has to be developed over time. Quarterbacks who have exceptional pocket awareness are not necessarily the best athletes in the world. They simply know when there is pressure, and they take action to avoid it.
Tom Brady is not a super athlete, but he is skilled at moving up into the pocket to extend a play. He is exceptional at eluding the initial pass rush and moving the pocket with his feet. He seems to feel the players around him and can avoid them with small, subtle movements.
There is another component of being pocket aware, and that is the internal clock a quarterback has. A quarterback needs to know that the time is up and the ball has to be thrown, even if it is into the first row.
Peyton Manning is one of the best at throwing the ball at the right time while totally avoiding contact because of his ability to get rid of the ball. It has extended his career, as Manning rarely takes hits.
Stafford has above-average pocket presence, and he is improving. The Lions finished No. 16 in sacks allowed last year while throwing the ball more than any team in the NFL. Holding on to the ball has caused him to be injured in the past.
Stafford will have to continue to work at this, just like all young quarterbacks. Elite quarterbacks know what is around them and when it is time to get rid of the ball.
When most people think of a quarterback's mobility, they think of a player like Michael Vick scrambling around the end and avoiding defenders with extraordinary speed. There is much more to mobility than just scrambling ability. An NFL quarterback's feet are vital to the throws that he makes.
With time, an NFL quarterback will make a fairly accurate throw. There are times when a quarterback does not have time and has to throw the football off his wrong foot or on the run. It is in these times that a player with excellent footwork and mobility can set himself apart from others at his position.
When a quarterback feels pressure, he can do one of two things: He can scramble away from it, or he can step up into it. Most potent NFL passers have the ability to step into the pocket when they feel pressure. They can avoid the initial wave of pressure and give themselves more time, effectively extending the play.
Matt Stafford has a phenomenal ability to set his feet quickly before making a throw. It saves him when he faces pressure, and it is something that will make him an elite quarterback in the NFL sooner rather than later. NFL defenses get punished when a quarterback can be accurate while facing pressure.
Stafford also has sneaky speed and elusiveness. He can make defenders miss and has made some terrific plays with his feet already in the NFL. He will never be mistaken for Michael Vick, but he is dangerous with his feet.
The video shows Stafford's ability to maneuver his feet to make a throw under pressure. At the 1:19 mark, Stafford steps up into the pocket to make a throw. At the 1:33 mark he displays his ability to elude the pass rush and make a play with his feet.
At the 2:09 mark, he shows the ability to set his feet quickly and make a throw under heavy pressure. At the 3:44 mark, he throws the ball while rolling to his right, accurately, for a touchdown. This is all about his excellent footwork.
At the 2:34 mark of the video, Stafford quick feet are on display, as he runs a quarterback draw. He makes the first defender miss and gets a first down. He shows his footwork and speed at the 4:17 mark of the video, a running play that he takes for 20 yards and a first down.
Stafford has truly underrated skills when it comes to his ability to move and make plays with his feet. Stepping up and into the pocket seems to be a skill. These are valuable skills that will help him to become one of the best quarterbacks in the NFL.
A quarterback has to be able to have a sense for how a play is developing. He must be able to see things before they happen. A quarterback has to feel where the pressure is coming from, and other times he has to lead a wide receiver with a throw a receiver must go and get.
When a quarterback feels pressure, he must quickly process what is happening around him and what is happening down the field. He must decide if he wants to throw the ball away, step up into the pocket, or scramble away from the pressure.
He also has to have a strong feel for where the ball needs to go, and then he needs to execute the throw. Leading a wide receiver to a throw is a difficult thing to do, but some quarterbacks make it look remarkably easy.
Anticipation is essentially a natural feel for what is happening during a play. It is a skill, and it is another item that can not necessarily be taught. Most NFL quarterbacks have some sense of anticipation or they would not be playing at this level.
Matt Stafford is skilled in diagnosing when a play breaks down and where to go with the ball. He is also exceptionally proficient at reading defenses and taking what they are willing to give him. He can easily lead the wide receiver to the ball, and he makes it look effortless.
At the 28-second mark of the video, he leads tight end Tony Scheffler perfectly and makes an incredible throw over a linebacker and beats the safety for a touchdown. It is a perfect example of anticipating where Scheffler would be.
At the 1:49 mark, Stafford makes one of the better throws he made in 2011. In overtime, Stafford makes a throw down the left sideline that only Johnson can get. Calvin makes a terrific catch, but that throw in overtime to win a game is incredible.
Stafford ability to anticipate throws is incredible, as is his ability to deliver the ball. Stafford is one of the best young quarterbacks in the game, and it could be easily argued that, at 24, he might be better than any quarterback to come along in some time.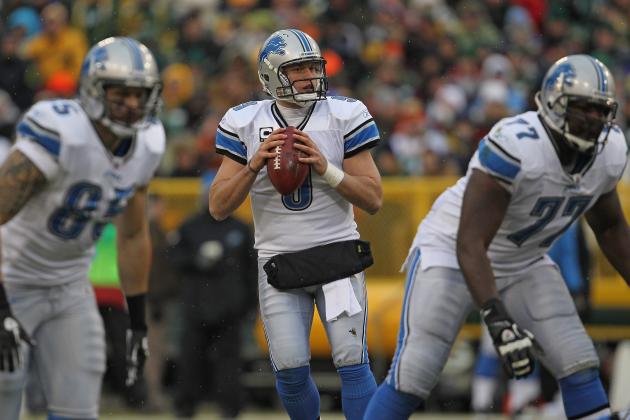 Jonathan Daniel/Getty Images

Matt Stafford had a historic season in 2011, but there are still doubters. Some want more than one year from him, and others have yet to see how talented he truly is. For some, it is lazy analysis, and for others, it is a desire to focus on his past injuries. Either way, Stafford answered some crucial questions with his play last year.
Stafford has elite physical tools, arm strength, accuracy and release among them. He also has elite ability to put touch on the ball, and he sees the field incredibly well. He has excellent footwork and above-average mobility, which will surprise some.
He has an impressive ability to anticipate what is happening around him and a phenomenal ability to lead a receiver to the ball. Stafford has decent pocket awareness, but he can hold on to the ball a little too long. This is an area where Stafford can improve.
Stafford has it all and is going to be one of the great quarterbacks in the game, if he is not already there. He has all-world ability, and he is only 24 years old. From a scout's perspective, Stafford is going to become one of the recognized elite NFL quarterbacks soon, and in some eyes he is already there.