Duke Basketball: Why 1-and-Done Players Are Good for the Blue Devils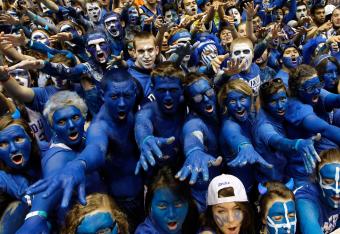 The Duke Blue Devils.
Streeter Lecka/Getty Images
The rule that forces high school basketball players to attend college for at least one year before joining the NBA has created the phenomenon of the one-and-done player.
These are players who only go to school for one year because they have to, instead of working towards a degree. This rule, which was created in 2005, has created a split among both college basketball fans and the schools themselves.
Certain schools, such as Kentucky, are based almost entirely upon extremely talented players like Anthony Davis, who only stay for the year that they have to. Others, like Duke University, have been more traditional and focused on player development over a four-year period in order to have success on the basketball court.
For Duke, however, there has been a decisive switch to talented one-and-done players running the program. This has been frowned upon by a lot of sports critics, like ESPN's Mark Kreidler, whose article quoted an anonymous Western Conference general manager referring to one-and-done players as "killing the college game by leaving it."
I believe, however, that the one-and-done player is a good thing for Duke to continue to support, as it allows them to continue their winning tradition, albeit in a different way than they have before.
The two most important things for college basketball teams are recognition with fans and winning. Both of these can be achieved through one-and-done players, as Kentucky has shown this year.
Recognition is simple. It comes down to doing well in the NCAA tournament and having players that perform well in the NBA after college. Duke has consistently done well in the tournament, but has had hardly any recognizable players who stayed their full four years.
Kyrie Irving, a Duke one-and-done player.
If a casual basketball fan was asked who the most prominent Duke University basketball player was, the answer would likely be Kyrie Irving. Irving was the No. 1 pick out of Duke in last year's draft and won the Rookie of the Year award.
Even before him, the answer could easily have been Luol Deng, who also left Duke after his freshman season, or Elton Brand who played two seasons with the Blue Devils.
On the other hand, the Duke University stars that stayed four years have hardly been dominant in the NBA. The 2010 title was won with the triad of Kyle Singler, Nolan Smith and Jon Scheyer.
After graduation, Scheyer bounced around training camps and D-league teams before ending up with a two-year contract with Maccabi Tel Aviv, an Israeli team. Singler and Smith were both first-round picks, but Singler stayed in Spain playing for Real Madrid after the NBA lockout, and Smith got very little playing time with the Portland Trail Blazers.
J.J. Redick is one of Duke's other well-known players who stayed for four years in college, but he has also not performed well in the NBA, despite being a McDonalds All-American and setting the record for most career points in the ACC.
The point is that one-and-done players have done a lot more for Duke University in terms of garnering respect and fans from the NBA crowd. While serious college basketball fans may be enamored with the team basketball that Duke plays, they could have a much larger following if they turned their attention to one-and-done players.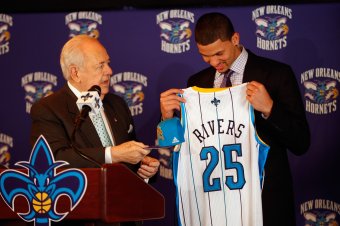 Chris Graythen/Getty Images
The other important thing that comes with talented one-and-done players is winning. While Duke's championships to this point have come on the backs of four-year college players, like the 2010 team, the times are changing.
It is hard to imagine that the likes of Jon Scheyer, Nolan Smith and Kyle Singler could compete with the Kentucky team who won the NCAA National Championship this year, a team whose two best players were one-and-done.
Duke needs future All-Stars like Kyrie Irving to compete with the ultra-talented teams that are now being put together. While they have not done well in the past two years with the one-and-done talents of Kyrie Irving and Austin Rivers, it was mostly due to the transition period that they are going through.
The team must continue to focus on extremely talented players while building up its role players.
While writers like Mark Kreidler see the one-and-done era as something that is ruining college basketball, I see it as a natural progression due to the rules in place. As such, Duke needs to continue to move forward with its recruitment of one-and-done players, or else they will fall behind and see their wins and popularity fall drastically.
This article is
What is the duplicate article?
Why is this article offensive?
Where is this article plagiarized from?
Why is this article poorly edited?

Duke Basketball: Like this team?