NBA Free Agents 2012: Why the Golden State Warriors Should Avoid Jordan Hill
July 1, 2012

Doug Pensinger/Getty Images
On June 30, reports surfaced from the San Jose Mercury News that the Golden State Warriors had some interest in signing unrestricted free-agent Jordan Hill.
You might remember Hill from the 2009 NBA draft, which was the last time the Warriors took a long look at him. Fortunately, Golden State wised up and selected Stephen Curry with the No. 7 pick that year. Hill went with the very next selection to the New York Knicks and has done nothing but disappoint ever since.
The Warriors dodged the Jordan Hill bullet once. Let's hope they can do it again.
Sure, Hill's got some size—he's 6'10". And he's relatively young at just 24 years old. But size and youth are just about all the former Arizona Wildcat has going for him.
Hill defenders—if they exist—would point to Hill's cameo appearance in last year's playoffs, where he averaged 4.8 points and 6.3 rebounds in just 18.1 minutes per game for the Los Angeles Lakers. In case there's any confusion, those are the best numbers of Hill's career.
And let's also remember that Hill accumulated those underwhelming career-highs as his rookie contract was expiring. Having bounced between three teams in as many seasons, Hill was playing for his basketball life. With his career hanging in the balance, the best he could muster was 4.8 points and 6.3 rebounds.
How much worse will those numbers be if he's got some financial security? For the Warriors' sake, let's hope we never find out.
And if you think taking a small playoff sample and using it to judge Hill harshly is unfair, we can look deeper. But be warned, it's not going to be pretty.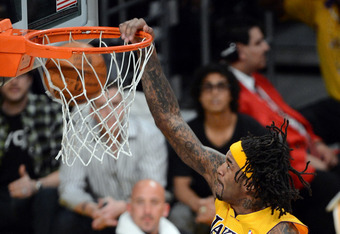 Kevork Djansezian/Getty Images
First of all, Hill is an awful defensive player. He's too weak to hold position in the post, which results in an astronomically high foul rate—Hill commits a foul every 7.2 minutes, eighth-worst among power forwards.
He consistently allows opposing bigs to overpower him. And the bigger the opponent, the worse Hill performs. Take last season as an example: In 2011-2012, Hill's PER (player efficiency rating) was 15.80. In contrast, Hill allowed opposing power forwards to accumulate PERs of 18.7. Centers performed even better, racking up a total of 20.4. On the boards, Hill was 40th among power forwards in defensive rebounding.
So, to put it simply, Hill is a detriment to his team—not an asset. And the Warriors are in desperate need of toughness, defense and rebounding. Hill comes up short in all three areas.
How about the financial side?
For the Warriors, who admittedly need support behind David Lee and Andrew Bogut on the front line, signing Hill would also be a financial disaster. Why? Because heading into next season, the Warriors are essentially capped-out. The only way Golden State can acquire new talent without trading for it is to use their mid-level exception.
That means they can sign one free agent. That's it. And it'll cost them about $5 million bucks.
Jordan Hill is not the guy the Warriors need. It's actually unclear if he's the guy anyone needs. But since the Warriors only get one shot at free agency this offseason, they've got to be especially careful with their money.
Hopefully, this situation will end the same way it did when the Warriors last showed interest in Jordan Hill…with Golden State shrewdly passing him up for a better option.