Reliever Chad Qualls Acquired by New York Yankees from Phillies
July 1, 2012

Drew Hallowell/Getty Images
The New York Yankees wasted little time in the month of July in trying to improve their team.
On Sunday, just after the festivities and ceremonies of the 66th annual Old-Timers' Day game, the Yankees acquired reliever Chad Qualls from the Philadelphia Phillies in exchange for cash considerations and a player to be named later, according to Mark Hale of the New York Post.
 

The #Yankees have traded for righty reliever Chad Qualls from the Phillies, The Post has learned. Deal is for PTBNL or cash. Story to come.

— Mark Hale (@HaleMark) July 1, 2012
Qualls was 1-1 with a 4.60 ERA before being designated for assignment by the Phillies last week.
In his last appearance for the Phillies on June 27, Qualls gave up three hits and three runs against the Pittsburgh Pirates, numbers that made his ERA jump from a 3.86 to 4.60.
The 33-year-old reliever has experience closing from 2008-2010 with the Arizona Diamondbacks.
This is the second trade the Phillies have made in as many days. They traded first baseman/DH Jim Thome to the Baltimore Orioles for two prospects in what many believe was the beginning of what will become a fire sale.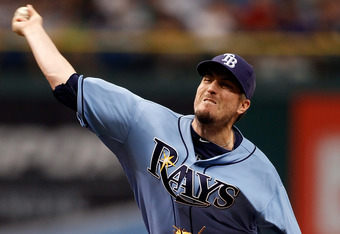 J. Meric/Getty Images
Qualls' numbers aren't going to blow you away, but with all of the injuries that the Yankees have sustained to their bullpen, they need all the help they can get.
Mariano Rivera tore his ACL back in May and won't return until 2013, and the Yankees are still awaiting to see if they will be able to use Joba Chamberlain, David Aardsma and Pedro Feliciano at all in 2012.
It's a low-risk trade for the Yankees, but it could yield high rewards if Qualls can perform for the them.
On July 31, 2010, the Tampa Bay Rays acquired Qualls from the Diamondbacks, and he posted a 2-0 record with a 5.57 ERA.
Right before the 2012 season began, Qualls signed a one-year, $1.15 million deal with Philadelphia, so adding him to the Yankees isn't costing them as far as salary goes.
It'll be interesting to see how Qualls will perform with his new team in the middle of a pennant race.
You also have to wonder if this is just the first of other trades that Yankees GM Brian Cashman will make before July 31.
Stay tuned, Yankees Universe.