NHL Free Agency: Ryan Suter and the Best Possible Signings for Flyers
July 1, 2012

Christian Petersen/Getty Images
Clearly, bringing back goaltender Michael Leighton won't be the biggest splash the Philadelphia Flyers make in free agency this summer.
At least it better not be.
According to Sam Carchidi of the Philadelphia Inquirer, the team has already made offers to three of the biggest names in the free-agent market this offseason:
Source: #Flyers have made offers to Parise, Suter and Carle today.

— Sam Carchidi (@BroadStBull) July 1, 2012
Let's assume the Flyers can't sign both Ryan Suter and Zach Parise, or Matt Carle and Parise. What would be the ideal signing for the team if they could only bring in one player from the three big fish on the team's radar?
3. Matt Carle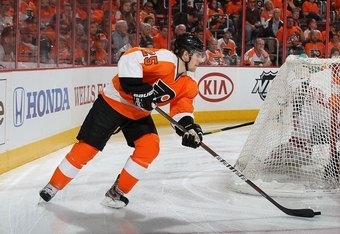 Jim McIsaac/Getty Images
Listen, I would love it if the Flyers played it safe, brought back Carle—even if they have to overpay to do so—and Jaromir Jagr and headed into next season with a similar team to the one they put on the ice last year.
They're young, and they should only improve. But let's be honest, we would all love if the team made a bigger splash than this.
Even if defense is far more important the improving the offense this year, adding Parise on the attack would make the Flyers so deadly. And despite the addition of Luke Schenn, the team still lacks the premier presence on the blue line it no longer has in Chris Pronger.
Suter could provide that.
So yes, if the team brings back Carle, I'll be perfectly happy with the decision. But it will also be a bit hard to wonder what might have been had the team been able to acquire either Parise or Suter.
2. Zach Parise
Bruce Bennett/Getty Images
In many ways, this would be a luxury signing. The Flyers have a full array of young, talented forwards, and the team didn't lack for scoring last season.
Then again, you never get worse with a player like Parise on your squad. He's a leader, a tireless worker, a player that makes the other guys on the ice with him better and, oh yeah, scores 30-40 goals per season.
The thought of he and Giroux on the ice together brings a tear of joy to my eye. But I would still rather have Suter.
1. Ryan Suter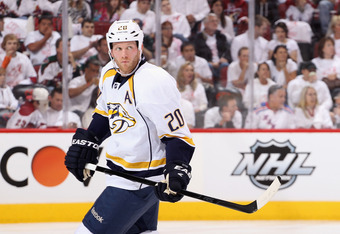 Christian Petersen/Getty Images
The Flyers can survive without adding an offensive threat like Parise. If they bring back Carle, they'll be strong if not elite defensively.
But if they add Suter, they'll be on the shortlist of Stanley Cup favorites next season. He's the sort of stout, top-notch blueliner that the team desperately needs.
I'm getting excited just thinking about it. Even if it's unlikely to happen.
Hit me up on Twitter—my tweets want Dwight Howard to just get traded already too.