Portland Trail Blazers: Meyers Leonard Is Not Ready to Compete in the NBA—Yet
July 1, 2012

Joe Robbins/Getty Images
I was almost in shock when I saw that Meyers Leonard was picked 11th overall to play for the Portland Trail Blazers.
First, there is the Trail Blazers' Big Man Curse, which has afflicted everyone from Walton to Bowie, and then to Oden. I made a joke or two about Leonard going "where centers go to die."
I know it was in bad taste, Portland, but I couldn't help myself.
But secondly, I am just not buying Leonard as a lottery pick. I live in Illini country, and I work for a television news station that covers the team pretty heavily. I have watched a lot of Big Ten basketball, and what I saw in Meyers Leonard is a talented, athletic big man whose mind hasn't caught up with his body.
The Good
The first thing that stands out about Leonard is the fact that he is physically impressive. He is 7'1" and impressively quick for someone his size. He also can jump well for someone his size and has very little body fat on his frame.  
To put it shortly, Leonard has the physique of someone born to play basketball.
Offensively, he has a lot of potential as a scorer. Obviously, he is physically gifted, meaning not many other players will be able to handle him down on the block. He can shoot right over most defenders, even in the NBA level.
Leonard also shoots around 70 percent from the free-throw line, so Hack-a-Shaq methods of defending him need not apply. He has shown glimpses of being able to set his feet and knock down mid-range jumpers, which will make him even harder to defend.
The most impressive thing about Leonard is ability to draw double teams and make good passes in that situation.  He is often criticized for his basketball IQ, but has a knack for making the right pass at the right time.
Defensively, he plays with a lot of effort, but has a tendency to make some really, really dumb fouls.  At the NBA level, players like LeBron, Durant and Melo are going to be going into him in the paint, so Leonard needs to work on making smart fouls. He should match up defensively with other centers and even some power forwards fairly well because of his agility and decent quickness.
And finally, when it comes to defense, he has the potential to be a great shot-blocker. Leonard is tall, long and quick, allowing him to get to and swat about any shot imaginable.
The Bad
Read everything about Leonard I just wrote that was good.
Got it? That is a tantalizing group of attributes.  
However, he didn't show much, if any, consistency while playing at Illinois.  
Leonard seems to use his size as a crutch rather than something he can use in conjunction with great basketball fundamentals. He was just simply bigger than most of his opposition, so he hasn't felt the need to refine his game.
His low-post skills are questionable, and his footwork is subpar at this stage. Leonard is in need of training from someone like Hakeem Olajuwon. He has the agility to have a jaw-dropping array of low-post moves, but not the fundamentals to make that a reality.
Defensively, we've already covered his biggest issue, which is fouling. Someone of his size and speed should not have to resort to dumb fouls to keep someone from scoring; his presence should be enough to dissuade players from getting into the lane. 
And every Illini fan knows that Leonard hasn't been the most mentally tough player we have ever seen. If he is not involved in a game early or starts off poorly, he simply disappears. You can tell within the first five minutes of a game the night Leonard is going to have, and that is sort of depressing.
What all of this boils down to is a player who is frequently frustrating. Leonard should be dominant every night, but he just isn't. The key to Leonard is figuring out how to fix what is going on between his ears.
The Verdict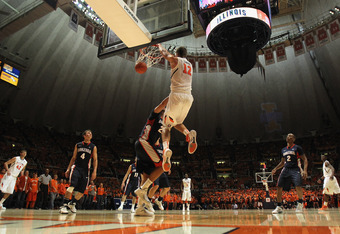 Jonathan Daniel/Getty Images
What it comes down to with Leonard is coaching. The kid has all of the physical attributes to be very good at the NBA level, but he is very raw. His game definitely needs to be refined, so Leonard needs a great coach or mentor who pushes him and teaches him the tricks of the trade to be great.  
Past the physical training, the kid just needs to get mentally tougher and learn how to play in the flow of the game. Leonard often seems caught between the need to dominate and the need to defer to his teammates. He needs to learn the skill of making plays as they come to him.
In short, Leonard is a project. Projects aren't usually lottery picks, but you can't change the past. If Leonard isn't particularly effective early on in his career, proceed with caution on calling him a bust.
It will probably be five years before we know what kind of player Meyers Leonard really is.