Olivier Giroud: Why the New Arsenal Man Will Light Up the Premier League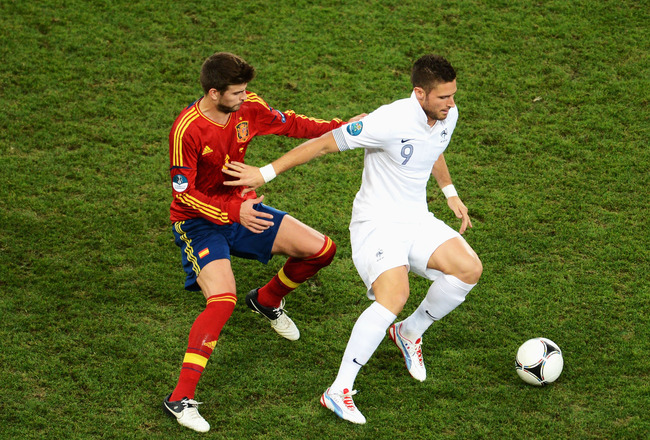 The Frenchman is set to shine in London.
Jasper Juinen/Getty Images
Every transfer season brings high hopes for fans, players and clubs alike.
One of the most talked-about transfers up to this point has been the acquisition of Olivier Giroud by Arsenal.
This move has been dissected in every way imaginable. The jury will be out over the next season and beyond as to whether Giroud was a good addition or a flop.
In this article, I am going to give my reasoning on why Giroud will light up the Premier League.
As always, I would love to hear your thoughts regarding my reasons and how you think he will turn out in the EPL.
His Skill Set Is an Arsenal Dream

Giroud skill set

Under Arsene Wenger, Arsenal have had a very flowing, technically skilled game that involves tremendous passing and link-up play.
Giroud has the technical ability in his feet to play this style.
He is two-footed, has touch and the ability to take on defenders. He does a good job of getting his head up and finding teammates.
In these regards he fits the current Arsenal mold to a T.
What makes him a dream pairing for Arsenal is his aerial ability.
While blessed with good size and a frame that allows him to hold off defenders, his positioning and desire get him to the high balls ahead of defenders with regularity.
Although this should be expected for a man that is 6'4'', it is what he does when he gets there that is important.
While only scoring once with his head this past season, he set up multiple goals and chances for teammates with passes from his head. This will help Arsenal unlock those defenses geared toward shutting down the quick passing and movement game.
Now opposing squads have to devise a way to stop a new facet to Arsenal's already impressive offensive attack.
Work Ethic and Desire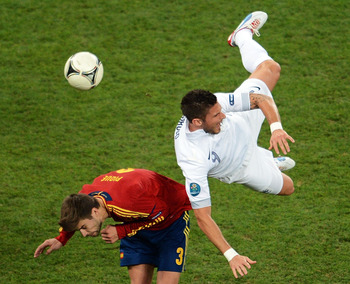 Jasper Juinen/Getty Images
One of the most impressive things about Giroud is his work ethic.
Here is a guy who was not your child prodigy or the next whoever. This is a young man who has put in the time and effort to hone his skills to get where he is.
The desire within cannot be taught. Those who have it and combine it with an impressive skill set rise to the top.
Giroud will not get outworked and that will lead to several corner flag celebrations across the EPL.
Arsene Wenger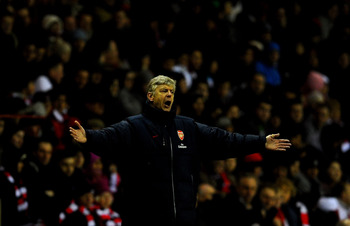 Arsene Wenger has taken many players to the next level.
Laurence Griffiths/Getty Images
Over the years, Arsene Wenger has taken many talented players to a higher level. His ability to help many of his players meet their potential is one of the reasons players want to play at Arsenal.
Wenger will help Giroud meet his true potential.
With Giroud's ability to affect the game in several areas, Wenger will be sure to utilize these talents to put defenses on their heels and give Giroud the best chance at being successful.
Giroud's Arsenal Teammates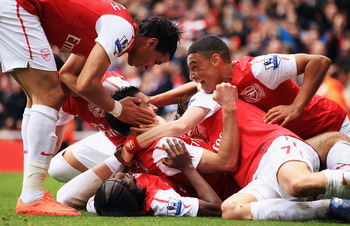 Arsenal has several players who will help Giroud be a force in England.
Bryn Lennon/Getty Images
Arsenal is very deep in creative players who excel at connecting the dots on the field.
Having a target as talented as Giroud on the end of their passes will lead to more successful finishes than in the past.
With Robin van Persie drawing so much attention from defenses, Giroud will find more room to get onto the end of those passes and will provide that secondary option the Gunners so desperately need (should RVP stay).
The style of Arsenal's play will provide Giroud with more clear-cut chances than he has ever had before.
Combined with his ability to finish, Arsenal's squad will make Giroud a Premier League Golden Boot contender in his first season.
Keep Reading

Arsenal: Like this team?