NASCAR Sprint Cup Series: Who Is the Front-Runner for the Cup Championship?
July 1, 2012

Jared C. Tilton/Getty Images
For the third time this season, Brad Keselowski and his No. 2 Miller Lite Dodge took the checkered flag at Kentucky Speedway. It was just the second time the series had participated at the speedway, as Kyle Busch won the inaugural event in 2011.
Keselowski, along with Busch, Jimmie Johnson and Denny Hamlin, appeared to have the strongest cars on Saturday night. However, Keselowski apparently had the strongest car, as he was able to take home the checkered flag.
Keselowski has not been the most consistent driver in Sprint Cup this season, but he does lead the series in wins.
The amazing thing about Keselowski's wins is that he has won at all types of tracks. He tamed the .533-mile monster that is Bristol and also conquered the 2.666-mile track that is Talladega.
Then, on Saturday night, Keselowski was able to defeat and outlast the field at the 1.5-mile Kentucky Speedway.
Clearly, Keselowski is a great driver on all types of tracks. However, if he wants to win the championship, he has to remain more consistent.
Although he leads the series in wins, the driver of the No. 2 has just seven top-10 finishes in 17 events. He finished 32nd at both Daytona and Phoenix and also finished 36th at Texas.
Keselowski also registered a pair of 18th-place finishes at Fontana and Pocono, a track that he won at in 2011.
Regardless, Keselowski seems to be hitting his stride very well, and with his third win on Saturday night, he is all but assured a spot in the 12-man Chase for the Cup.
With that being said, it made me think about the front-runners for the Chase and here are the drivers that I consider to be in premier spots to collect the championship when Homestead, the 36th race of the season, concludes later this year.
Brad Keselowski
As stated above, Keselowski has won three times this year, which leads the series. He has been fast all season long, but has had some lackluster races.
There's no doubt that the driver of the No. 2 needs to be much more consistent if he wants to put a Sprint Cup Championship next to his Nationwide title. He hasn't been that in 2012, which is why he isn't the main front-runner to take home the 2012 title.
Keselowski has been able to win three races this season, which definitely helps his case.
Sometimes, it's not about how consistent you are, but how many wins you take home. As evidenced last season, Carl Edwards was much more consistent than Tony Stewart, but the latter won five races in the Chase, as Edwards won zero. Because of that, Stewart collected the title based on their tiebreaker.
However, on the other hand, Matt Kenseth won the championship in 2003 but won just one event throughout the course of the season. He was undoubtedly the most consistent driver that season and thus, he collected the trophy at the end of the year. Ryan Newman won eight times in 2003, but he was far less consistent and finished sixth in the standings.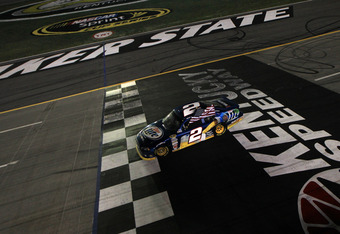 Chris Trotman/Getty Images
Regardless, Keselowski is a guy that can take home the title. He's got the talent to do so, but there are some things that he has to work on.
Odds: 20-to-1
Jimmie Johnson
You can never count out the driver that won five championships in a row. He wasn't able to do it last season, but that doesn't mean anything.
Johnson is a phenomenal driver that is at the front of nearly every single event.
Johnson has won twice this season—at Darlington and Dover—and currently sits third in the standings, just 23 points behind Matt Kenseth, the points leader.
Of course, Johnson's No. 48 will be in the Chase once the race concludes at Richmond. There's no doubt about that.
Over the past few seasons, Johnson has been electric in the Chase. Most of the tracks that the series will visit, Johnson has been good at since coming to the sport's premier level.
He's clearly a guy who knows what it takes to win a title. He's done it an astounding five times over his illustrious career, after all. I definitely like his chances, but if there's anything that NASCAR has shown us over the years, it's that anything can happen.
Odds: 10-to-1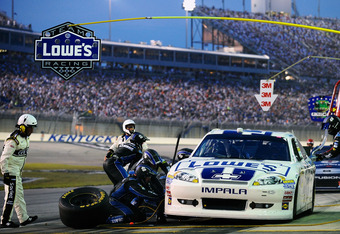 Jared C. Tilton/Getty Images
Matt Kenseth
I had to put the points leader and 2003 champion on the list. Kenseth has arguably been the most consistent driver in the Cup garage in 2012.
Kenseth has just one finish outside the top 20, which was a 22nd-place outing at Las Vegas, the third race of the season.
He has only won one time in 2012, but that came at the premier event in NASCAR, the Daytona 500. Since his second win in the Great American Race, Kenseth has finished second at Bristol, third at Talladega, Dover and Michigan, fourth at Martinsville and Kansas and fifth at Texas.
The other four races he has finished outside the top 10 is an 11th-place run at Richmond, 13th-place efforts at Phoenix and Sonoma and a 16th-place run at Fontana.
Additionally, since Fontana, Kenseth has recorded six top-fives and 10 top-10 finishes in 12 events.
Simply put, Kenseth's No. 17 seems to be good at any track he goes to. It also helps that he is one of the most consistent drivers in NASCAR history, which undoubtedly helps his chances of taking home a second championship. As of right now, I like Kenseth to be celebrating at the conclusion of the Homestead race.
Odds: 7-to-1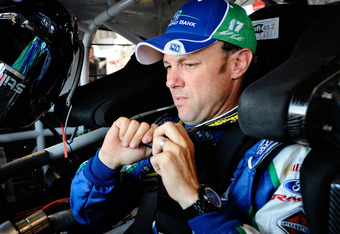 Jared C. Tilton/Getty Images
After his struggles the past few seasons, I never thought Earnhardt would be a serious competitor for a championship ever again.
But now, I realize that I was wrong.
Earnhardt has arguably been the best and most consistent driver in the Hendrick stable. After all, this is a team that consists of five-time champion Jimmie Johnson, four-time champion Jeff Gordon and Kasey Kahne, who has massive potential now that he is in a tremendous car.
Needless to say, Earnhardt has been driving out of this world in 2012.
The driver of the No. 88 was finally able to end his massive losing streak two weekends ago, as he took the checkered flag at Michigan. With that win, he seems assured to have a spot in the Chase.
Last weekend at Sonoma, Earnhardt was spun in the waning laps and came home 23rd. It was the first time this season that the driver affectionately known as "Junior" finished outside the top 20.
Additionally, Earnhardt is the only driver in Sprint Cup this year that has completed every single lap that has been run. That's a grand total of 5,027 laps. Yes, 5,027 circuits and he's completed every single one of them.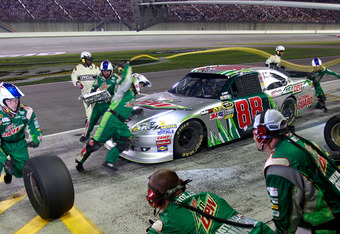 Geoff Burke/Getty Images
If he continues to drive the way he's doing right now, he could very well collect his first Sprint Cup Championship.
Odds: 15-to-1
Greg Biffle
For the early parts of the 2012 season, Biffle was the man to beat. He struggled in 2011 and didn't record a single win.
But he has come back with a vengeance in 2012, as he has registered one win at Texas, eight top-fives and 10 top-10 finishes.
Biffle is undoubtedly a serious contender for the Sprint Cup Championship and is looking to become the first driver in NASCAR history to win the Sprint Cup, Nationwide and Truck Series Championship. As of right now, he is the only driver that can accomplish that feat.
Like Kenseth and Earnhardt, Biffle has been mightily consistent throughout the 2012 season. He has only finished outside the top 20 twice with a 24th-place run at Pocono and a 21st-place effort at Kentucky on Saturday night.
Biffle currently sits fourth in the standings, just 25 points back of Kenseth, the points leader, and just two points back of Jimmie Johnson, who sits in third.
If Biffle continues to register strong performances, he could have a legitimate shot at winning the title. However, I think he has the lower odds of any of the other drivers that currently sit in the top five in the points standings.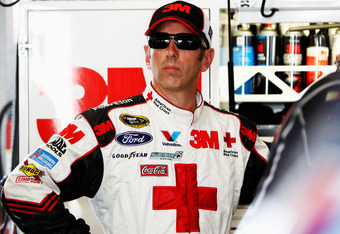 Sean Gardner/Getty Images
Odds: 18-to-1
Denny Hamlin
Since arriving in Sprint Cup, Denny Hamlin has been one of the best drivers in the series.
Since his first full-time season in 2006, Hamlin has finished third, 12th, eighth, fifth, second, ninth and fifth in the final points standings. As of right now, Hamlin is tied for fifth, just 68 points back of Matt Kenseth.
The driver of the No. 11 has already won twice in 2012 with victories at Phoenix and Kansas. Along with those finishes, Hamlin has recorded eight top-fives and nine top-10 finishes.
Unfortunately for Hamlin, he has had a rough go of it, even though he has won twice this season.
He recorded 20th-place finishes at Las Vegas and Bristol, a 23rd-place effort at Talladega, a 34th-place effort at Michigan and a 35th-place finish at Sonoma. If it weren't for those lackluster races, Hamlin could very well be leading the standings right now.
However, that hasn't been the case, but he is still a driver who has shown that he can win a championship. I believe that if Joe Gibbs Racing can fix some of the issues they have been going through, Hamlin is a legitimate threat to take home the title.
Odds: 12-to-1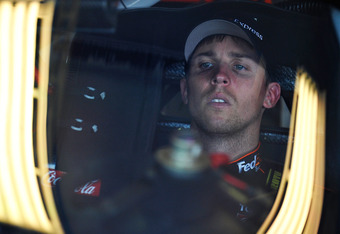 Rainier Ehrhardt/Getty Images
Odds for other drivers
Tony Stewart: 20-to-1
Kevin Harvick: 25-to-1
Kyle Busch: 25-to-1 (15-to-1 if he makes the Chase)
Carl Edwards: 40-to-1 (25-to-1 if he makes the Chase)
Martin Truex Jr.: 50-to-1
Clint Bowyer: 50-to-1
Please check out my NASCAR blog: fourturns.blogspot.com—If you have any questions or just want to simply talk about NASCAR, e-mail me at tylersportsguy@yahoo.com.