Aldon Smith Stabbed: 49ers LB's Stabbing and DUI Raise Red Flags
June 30, 2012
Thearon W. Henderson/Getty Images
San Francisco 49ers' linebacker Aldon Smith has had quite the tumultuous offseason, and it's time to start raising the red flags after his latest incident in which he was reportedly stabbed.
Adam Schefter of ESPN tweeted that the 49ers had confirmed Smith was stabbed and had suffered minor injuries:
49ers confirmed Aldon Smith stabbed last night, suffering minor injuries. Quite the off-season for him. Dangerous time of year for players.

— Adam Schefter (@AdamSchefter) June 30, 2012
If there's a silver lining here, it's that nobody was seriously hurt or killed, and that's something we can all be thankful for. That said, the 49ers need to take this incredibly seriously. The red flags have been raised, and the organization needs to take note and address the problem right away.
This is the second time this offseason Smith has found himself in a negative situation outside of football. Smith was arrested and charged with a DUI back in January in Miami Beach. While this unfortunately isn't an uncommon occurrence in or out of the sports world, anytime a high-profile athlete like Smith finds himself in that situation, there has to be cause for the concern.
From the business and football side of the issue, the 49ers had to be worried that one of their star defenders was in trouble with the law for what boils down to an incredibly immature and irresponsible decision.
I can't imagine arrests, court dates and bad press go over well in an NFL front office. From a social standpoint, the error was even more egregious though. The consequences of driving under the influence can be life changing, and certainly, life threatening, so it's something that should always be taken seriously—no matter the social status of the offender.
Flash forward to the present and we find Smith in yet another precarious position.
It appears as if he may be the victim in this case, and that's duly noted, but the fact remains that unless he was dragged to the scene of the incident, he had the free will to be where he was. That decision ultimately led to him being stabbed—however it occurred—therefore, making it a bad decision.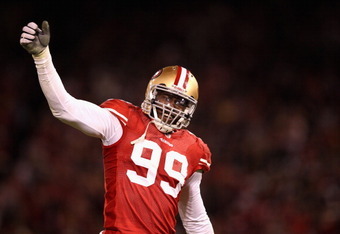 Ezra Shaw/Getty Images
Is it unfair for us to question his decision making leading up to this event? 
It's the sad truth, but the reality is that these players often become targets due to their status, as Schefter somewhat pointed out in his tweet. It may be unfair, but Smith and young players like him need to understand that, ultimately, they aren't above getting hurt, and they definitely aren't above the law.
It comes down to being responsible, knowing where you are and who you are with at all times. It comes down to trusting the right people.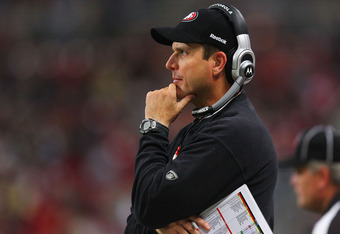 Dilip Vishwanat/Getty Images
This is obviously a lesson that Smith still has to learn, and perhaps, this will be the event that teaches him.
As far as the 49ers are concerned, they don't have the luxury of hoping he will naturally learn. This is now the second offseason incident their young star has been involved in, and like the first, it could have been a lot worse.
The flags have been raised, and now, action needs to take place.
Smith obviously needs a crash course in being an adult, and hopefully, the 49ers understand that.