Euro 2012 Final: Matchups That Will Decide Fierce Italy vs. Spain Championship
June 30, 2012

Michael Steele/Getty Images
The culmination of an amazing Euro 2012 will be an exciting matchup between two international powerhouses.
Spain is seeking a third straight major international championship that would undoubtedly supplant this team as a one of the best dynasties in the history of the sport.
Meanwhile, Italy has looked like the more impressive team in the tournament and has defied their many critics en route to the final. They won the last major international tournament that wasn't won by Spain (2006 World Cup), but haven't won the European Championship since 1968.
Let's take a look at the matchups that will decide this too-close-to-call spectacle. 
Mario Balotelli vs. Iker Casillas
It's no secret that Balotelli has had himself a heck of a Euro 2012 and will be regarded as a much more dangerous scorer than he was prior to the tournament.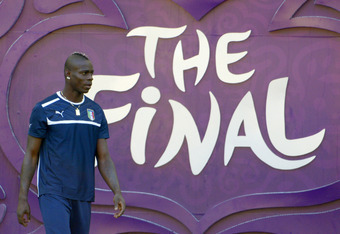 Claudio Villa/Getty Images
But if he wants glory and to avoid the shame of defeat, he'll have to outperform one of the best goalies in the world.
Iker Casillas hasn't had to be too active in Spain's run to the final thanks to a suffocating defense, but he comes through when Spain needs him to.
It's hard not to see Balotelli having a great opportunity to score in this match, and it will likely come down to that one play. Whoever comes out on top in this matchup has a significant upper hand. 
Italian Fullbacks vs. Spanish Wingers
Spain has had a great deal of success this tournament in stretching the field with speedy wingers like Pedro Rodriguez and Jesus Navas. It's a given that Spain will possess the ball more than Italy, which shouldn't necessarily decide the game since Italy is so strong defensively.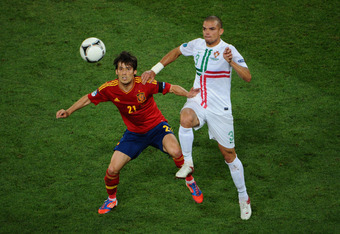 Lars Baron/Getty Images
But Spanish head coach Vicente Del Bosque announced that the team will employ three strikers Sunday (per Goal.com), which could give the Italians some headaches.
If Spain plays more aggressively and makes their focus on the outside, Italy could have trouble keeping a clean sheet.
Italy's Attacking Mids vs. Spain's Defensive Mids
Italy won't get too many chances to score in this game, but the amount of chances they have will be decided by how their midfielders can penetrate this Spanish core.
Spain has been nearly impenetrable during the tournament thanks to solid defensive play from Sergio Busquets and Xabi Alonso. But to contain the likes of Andrea Pirlo and company, they'll need to be in top form yet again.
The Spanish side must not forget about Balotelli and his finishing ability, but the first and foremost obligation needs to be squandering the Italian attacks early. They can't afford to let this confident bunch roam around.