Cole Hamels: Philadelphia Phillies Should Offer Him to the Yankees Right Now
March 31, 2017
Daniel Shirey/Getty Images
There is a great scene in the film Dr. Strangelove when George C. Scott talks to the President, played by Peter Sellers, about the advantages of starting a nuclear war.
At one point he says, "The truth is not always a pleasant thing. But it is necessary now to make a choice between two admittedly regrettable but nevertheless distinguishable post-war environments."
That line reminded me of the current state of the Philadelphia Phillies. Now granted, they are not dealing with something as severe as starting World War III. But they do need to make a hard choice and deal with a not very pleasant truth.
The Phillies have committed too much money and too many years to keeping the likes of Roy Halladay, Cliff Lee and Ryan Howard with the club to realistically resign Cole Hamels to a market value contract.
That means Hamels will probably not only be a free agent this offseason, but be one of the most coveted prizes of the winter. That is the truth.
Another part of the truth is this has been a monumentally disappointing season for the Phillies. The team has been decimated with injuries and poor run support for their pitchers. Cliff Lee has as many wins as Ryan Howard has games played this season: Zero.
They have a -11 run differential, are seven games under .500, ten games out of first place and 12 games behind the Washington Nationals in the loss column.
While there is still more than half the season to play and none of the other four National League East teams look like powerhouses this season, there has been little to indicate that this Phillies team is about to turn on the switch and start winning.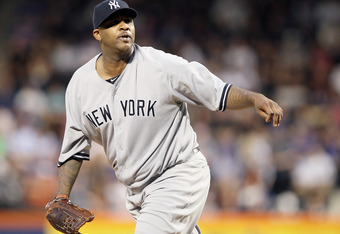 Elsa/Getty Images
So would keeping Cole Hamels for an unlikely pennant run only to lose him in the offseason make sense?
This would be an interesting debate topic if not for events that happened 107 miles north of Philadelphia.
The New York Yankees have been rocked by injuries to CC Sabathia, Andy Pettitte and Mariano Rivera that have made their current five game lead vulnerable.
Sabathia should return after the All-Star break. Pettitte will take longer to recover and Rivera's career might be over.
The delicate nature of the Yankee pitching staff was exposed in each of the first two games against the White Sox.
On Thursday the bullpen collapsed in the ninth inning. Last night young Adam Warren was rocked in his big league debut and the relievers fared no better.
The Yankees need a pitcher. They need one to fill the gaping holes in the rotation now and one that would give the team depth in October.
Who better to fill that bill than Cole Hamels?
A former NLCS and World Series MVP, Hamels has the Northeast and playoff experience and would give the Yankees a shot of confidence. He would be in position to negotiate a contract extension with the deepest pockets in the game.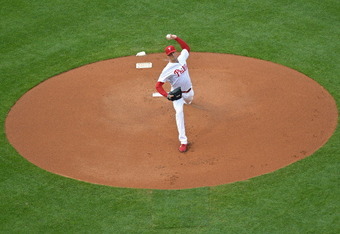 Drew Hallowell/Getty Images
How would Phillies fans react to this move? Philadelphia fans might boo, but they tend to boo anyway.
This is where George C. Scott's line comes to mind again. There are two regrettable but distinguishable post-Cole Hamels scenarios for Philadelphia fans.
One has Hamels leaving via free agency and the Phillies getting two draft picks in exchange for Hamels.
The other has the Phillies bargaining in a position of strength against a Yankee team that could be prone for a panic move.
New York sent their best trade chip, Jesus Montero, for pitcher Michael Pineda, who had one half of a good season and health issues.
Now they have a chance to bring in a proven All Star and potentially make their big offseason splash with a contract extension in one move. They might be willing to part with a few young players to make that deal.
Would Mason Williams, Dellin Betances or Manny Banuelos be available? If other clubs got into the bidding, would the Yankees raise the stakes to win the Hamels stakes?
The idea of bringing in at least two and maybe more major-league ready players to Philadelphia as opposed to two picks must be considered to be a better scenario for the Phillies. And they may have the Yankees at a disadvantage right now, which is the best time to bargain.
And unlike Dr. Strangelove, this is not to suggest they should blow everything up: Just weigh the Cole War environment.