L.A. Lakers: The Good, Bad and Ugly of a Pau Gasol for Josh Smith Trade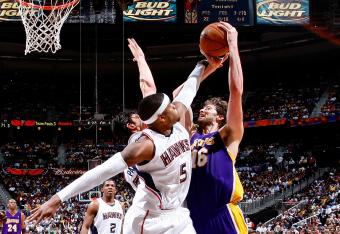 Kevin C. Cox/Getty Images
The Los Angeles Lakers didn't make a move to acquire a first-round pick in the 2012 NBA draft, which means if they hope to truly make a deal that impacts their roster, it will likely occur during the approaching free agency period.
There has been plenty of speculation concerning what steps the Lakers might take to improve the team, and most of that discussion has centered around forward Pau Gasol.
Gasol's second straight disappearing act in the postseason has left the talented big man with the unfortunate status of the Lakers' star most likely to be dealt. And the fact that the team is actively shopping Gasol has opened the floodgates of different trade scenarios.
One of the most intriguing and legitimate Gasol rumors involves a deal with Atlanta for disgruntled Hawks forward Josh Smith, as first reported by the LA Times.
A potential Gasol-for-Smith deal would offer many positive boons for the Lakers. But do they outweigh the pitfalls that could accompany the move?
When it comes to acquiring equal value for Gasol, a trade for Smith is probably as close as the Lakers could ever hope to get, outside of a deal for Deron Williams or Dwight Howard.
Acquiring Smith would also mean the Lakers were able to replace an older star with a younger one, and enhance the overall athleticism of the roster in the process.
Smith's ability to play on the perimeter would create even more space for center Andrew Bynum in the middle. And while Smith may not be a great perimeter shooter, he is good enough to garner attention from opponents.
Point guard Ramon Sessions would also benefit from Smith's presence, especially in the open court, where Sessions' speed would finally be matched with a player that can consistently get up and down the floor and finish at the rim with authority.
Defensively, Smith has the ability to be a monster when he is focused, and he is an above average rebounder and has no problem mixing it up on the inside.
Smith's passion for the game also seems to trump Gasol's at this point in their respective careers, and it's hard to imagine Smith shrinking in a Gasol-like manner when a contest gets physical or brutal.
All of those are good points when considering the merits of a Gasol-Smith swap, but the biggest and most attractive factor to the Lakers should be the cost-effective nature of the deal.
Gasol is owed nearly $40 million over the next two seasons, while Smith is only on Atlanta' books at $13 million for one more season.
If the Lakers can manage a sign and trade with Atlanta they could possibly lock Smith up for a number of years, at a much lower rate than they pay Gasol now.
That move would bring the Lakers a little closer to the NBA's salary cap figure, and make it easier to address other roster concerns.
In my opinion, the rumored Gasol-Smith trade is a winning situation for the Lakers on a variety of levels. But I would be remiss not to mention some of the visible drawbacks that go along with the deal.
Smith's tendency to trust his perimeter shot too much is a concern, and sometimes his emotions can lead to bad decisions on the court that negatively affect his team.
Some Lakers fans feel the point guard position and the team's reserve unit are the areas of the roster that most need the front office's attention. There are also some writers, including myself, who have lobbied hard for the Lakers to pursue Williams instead of re-signing Sessions.
I still feel Williams would be a wonderful acquisition, but I acknowledge that signing Smith instead would likely be a cheaper proposition. It would allow the Lakers to continue building their roster, and it also allows the team to field a team capable of competing for a title next season.
There are others who feel the Lakers would be silly to break up their seven-foot interior duo of Gasol and Bynum, since it represents an advantage that no other NBA team can replicate.
Maybe the Lakers' size can't be duplicated, but as the last two seasons proved, it can be beat.
I have lost faith in the theory that a consistently dominant Gasol and Bynum in the paint makes the Lakers a better team, mainly because it has never consistently happened.
It's time for the Lakers to move on from that false logic and make a positive move towards the future.
Trading Gasol for Smith is a pretty good place to start.
This article is
What is the duplicate article?
Why is this article offensive?
Where is this article plagiarized from?
Why is this article poorly edited?

Los Angeles Lakers: Like this team?