USA vs. Holland Softball: Start Time, Date, Live Stream, Preview and More
June 30, 2012

Mike Ehrmann/Getty Images
When the United States squares off with Holland this Saturday in what should be a heated preliminary battle, both squads will look to continue their winning ways and hand their opposition its first loss of the tournament.
After a 3-1 win over Australia and an 8-0 win over Puerto Rico Friday night, the American women are ready for more as they face a double header on Saturday. With the Netherlands to start the day and Canada to close it out, this could be one wild ride for the red, white and blue.
On the other hand, the Dutch won by a total of two runs in both games on Friday, beating Canada 7-6 and Brazil 4-3.
With both teams playing great right now, there is little doubt that this matchup will be the barometer for who is the true tournament favorite.
Where: Oklahoma City
When: Saturday, June 30 at 12 p.m. ET
Watch: ESPN 2
Live Stream: ESPN3
Players to Watch
Christi Orgeron
Despite not playing in the team's opening game against Australia, the US National team plugged in Christi Orgeron to the outfield and gave it a shot. Not only did the team win, Orgeron's three RBI helped push the team to an 8-0 blowout victory.
Team USA would be wise to put the star back in the outfield on Saturday for both games, but they are likely to use her mostly for one game. I would not be surprised to see her pinch hit in the other matchup, though.
Valerie Arioto
While Valerie Arioto was one of the few players on the team Friday that didn't get into the RBI action against Puerto Rico, the star made sure her presence was felt against Australia with a big home run.
As one of the best pure plate presences in the league, Arioto has the ability to walk up to the plate and hit a home run or draw a walk, both of which she did against the Australians. If she can continue to play smart, fundamental softball, Team USA will find glory.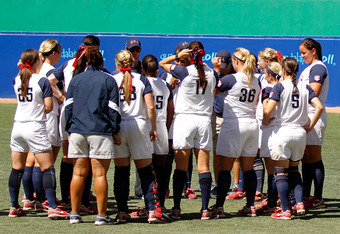 Mike Ehrmann/Getty Images
Prediction: USA 5, Holland 3
In what could potentially be a preview of the 2012 World Cup of Softball finals, these two undefeated powerhouses of the sport will tangle in a battle that should have all fans taking notice.
While the Netherlands are clearly one of the better teams in the tournament, there is little doubt that the USA is favored to win it all. This All-American express is running right through Holland Saturday.