Stanford Football: Tyler Gaffney Likely Gone, but Shayne Skov Returns
June 30, 2012

Ezra Shaw/Getty Images
June 29 was an eventful Friday afternoon on The Farm, as RB Tyler Gaffney tweeted that he is leaving Stanford to join the Pittsburgh Pirates organization, and ILB Shayne Skov was reinstated to the team by head coach David Shaw.
Gaffney's twitter update read as follows:
Stanford has been amazing. I can't say enough. Brotherhood on each team. But Im going to pursue a dream. I CANT pass this up. Pirates baby.
3:58 PM - 29 Jun 12 via Twitter for iPhone 
Gaffney, who played with a certain edge and swagger, rushed for 6.1 yards per carry and scored eight total TDs in 2011 as Stepfan Taylor's primary backup. He was a 24th-round pick of the Pirates in the MLB draft earlier this month. A career .301 hitter with a .406 OBP, Gaffney led the 12th-ranked Cardinal baseball team in 2012 in steals and was second in runs and walks.
The speedy 6'1" OF from San Diego was an Honorable Mention All Pac-10 selection in 2010 and 2011, when he hit .328 and .327. His average and power declined in 2012 but the Pirates weren't deterred by the drop-off.
Gaffney's apparent departure means that Anthony Wilkerson, who missed spring practice with a leg injury, will enter training camp as the presumptive lead backup to Taylor.
Ricky Seale and Jackson Cummings, who both ran well during the spring, will be in the mix, along with spring sensation Kelsey Young, who could be utilized both at RB and at WR.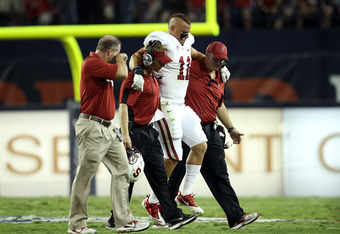 Christian Petersen/Getty Images
Oh, and there's an incoming freshman joining the team. Sanders. Barry J. Sanders.
Stanford's backfield will miss Gaffney's speed, verve and change of pace, but should remain one of the nation's best rushing attacks.
As for Shayne Skov, his dynamic play on defense was as relentless as Gaffney's on offense. It's been a long road back, first from his severe ACL injury suffered at Arizona last September, and then from his arrest for alleged DUI earlier this year.
On Friday, the San Jose Mercury News reported that Coach Shaw officially reinstated Skov to the team, with a one-game suspension to be served for the Cardinal's home opener on Friday, August 31 against San Jose State.
It's not likely that Skov will be sorely missed against lowly SJS.
In his absence in 2011, ILBs Jarek Lancaster and A.J. Tarpley were more than adequate, and indeed were first and third in total tackles with 70 and 57, respectively. Tarpley also recovered the Curtis McNeal fumble to seal the triple-OT victory at USC.