Stanford Football: Final Grades for 2012 Spring Practice
April 17, 2012

Let's try a word association game.
Stanford quarterback—Andrew Luck. 
Uh, not any more. Try again. 
Brett Nottingham? Maybe. 
Josh Nunes? Possibly. 
The QB question facing Coach David Shaw was one of the major storylines for Stanford football this spring. After the team's Red and White spring game on April 14 at Kezar Stadium in San Francisco, that question remains unanswered. 
The spring game featured a complex scoring system that must have been devised by one of Stanford's Nobel laureates, where the White (defense) was awarded varying amounts of points for stopping the offense on downs and forcing turnovers in various parts of the field.
As reported by the official Stanford game summary, the White squad recorded eight sacks and had three interceptions and a fumble recovery, and led the Red (offense) by a commanding 35-15 before coasting home with a 37-29 victory. 
Here are the final grades for the Cardinal's spring practices. 
Quarterback 
The identity of Andrew Luck's successor remains unsettled.  Brett Nottingham and Josh Nunes both looked sharp during the open practice scrimmages.  As reported by Stanford's official game summary, Nunes played the spring game with the first-string offense against the first-string defense. He completed 11 of 29 passes for 167 yards, two touchdowns and two picks.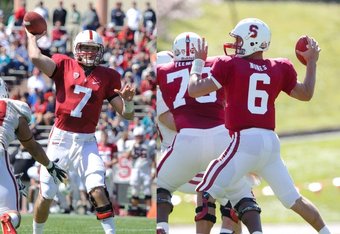 Nunes was victimized by several dropped passes and was "sacked" (touched) three times by the fierce first-team defensive pass rush. 
Nottingham fared similarly with the second-string units, hitting 12 of his 19 attempts for 118 yards, with some mishandled snaps and an interception. 
Afterward, Coach Shaw's post-game comments noted that Nottingham and Nunes "at times played pretty well…that competition is still even." 
Evan Crower and Kevin Hogan also saw action in the game. Don't count either of them out just yet. It's a long way to the season opener on Sept. 3.
Final Grade: B+
Offensive line
The offensive line is still a work in progress, one that likely won't be fully formed until after the heralded 5-star freshman recruits (Andrus Peat, Kyle Murphy, Joshua Garnett) report to training camp in August. 
For now, replacing the likes of David DeCastro and Jonathan Martin is proving to be a challenge, as the DL pressured the QBs all spring, ending with the eight "sacks" at the spring game.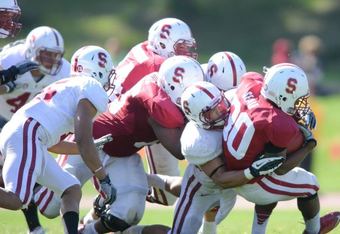 Final Grade: B 
Running back

Most notably, Heisman hopeful and All-American candidate RB Stepfan Taylor did not play in the final open practice or the spring game. No reason to risk injury to the best post-Luck player on The Farm. 
Stanford's official spring game summary showed Ricky Seale with 12 carries for 38 yards, and Jackson Cummings with 30 yards on 14 carries to go with a 35-yard touchdown catch. The elusive one, Kelsey Young, gained 48 yards on only six carries. 
As we've noted before, Tyler Gaffney is hitting baseballs, Anthony Wilkerson is injured, and Barry J. Sanders is finishing up high school. 
One further injury of note was FB Geoff Meinken, who suffered an apparent leg injury in the spring game, according to the San Jose Mercury News. 
Final Grade: Incomplete
Wide receiver / Tight end 
The graduating Coby Fleener, Griff Whalen and Chris Owusu combined for 125 catches and 16 touchdowns in 2011. That's a lot to replace.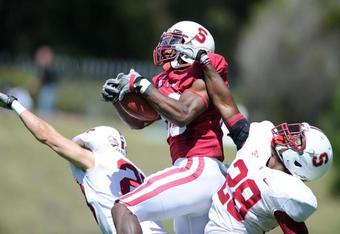 Ty Montgomery will do his part. After being held out of contact scrimmages for most of the spring, Montgomery had six receptions at the spring game, including touchdowns from 45 and four yards. Montgomery is fast and rock solid and the closest thing to a sure-fire WR starter going into training camp. 
Other WRs—rising seniors Drew Terrell and Jamal-Rashad Patterson and underclassmen Jordan Pratt, Keanu Nelson and the heavily hyped Kelsey Young—all showed flashes at times over the past several weeks. 
Young in particular could be high risk, high reward. He had a couple more drops at the spring game, but his wow factor was one of the revelations of the spring and he could be Stanford's best player in space once he latches onto the ball. 
TE Davis Dudchock, highlighted as a player to watch weeks ago, had been relatively quiet at the open practices but came through with three receptions for 38 yards at the spring game. 
His continued development as a replacement for Fleener will be critical if the Cardinal want to continue running their signature three-TE formations. 
Final Grade: B 
Place kicker

Jordan Williamson missed his first PAT attempt at the spring game, but later made a 49-yard field goal, in the San Francisco winds, with yards to spare. Enough said. 
Final Grade: A- 
Defense 
The defensive front seven was more than solid all spring, culminating in an eight-sack performance at the spring game, after which Coach Shaw stated, "Our defensive pressure was very impressive. Our front seven is about as deep as you will find in our conference."
DLs Henry Anderson, Ben Gardner and Terrence Stephens all played well throughout the spring. OLBs Chase Thomas and Trent Murphy looked almost unblockable at the open practices. 
The ILBs—including 2011 leading tacklers Jarek Lancaster, A.J. Tarpley and Alex Debniak—and OLB/ILB James Vaughters also showed well from February into the spring game. And don't forget about the return of Shayne Skov and incoming 4-star LB recruit Noor Davis.
At DB, while Wayne Lyons received much of the publicity, Terrence Brown and Barry Browning may yet be the starting CBs heading into training camp.
With 2011 starting safeties Michael Thomas and Delano Howell graduating, several experienced players are vying for starting roles, including Jordan Richards, Ed Reynolds, Devon Carrington and former walk-on Kyle Olugbode.
 Final Grade: A-
Summer training camp begins on Aug. 6.