Austin Dillon Dominates at Kentucky; Wins 1st Nationwide Race
June 29, 2012

Jared C. Tilton/Getty Images
The No. 3 is back in victory lane. In a dominating performance, rookie Austin Dillon claimed his first career win at Kentucky's Feed the Children 300.
Dillon, who drives for his grandfather Richard Childress, claimed the pole earlier in the day and was poised for a breakout performance.
Kevin Harvick started on the outside of the front row with Dillon. Brad Keselowski, Sam Hornish Jr. and Ricky Stenhouse Jr. rounded out the top five when the green flag initially waved tonight. Danica Patrick started in 11th.
Ryan Blaney made his third start of the season, as he rolled out Friday night in the 14th spot.
One name which was primarily missing was Joey Logano. Logano has won five times this season in the Nationwide Series and with the Sprint Cup and Nationwide Series at the same track. It seemed as though there was no doubt that he would participate in Friday's festivities.
After all, Logano has won at Kentucky three times, the first of which was his first Nationwide victory of his young career.
It was undoubtedly very strange that Logano didn't participate in the race, and some of it may have to do with Matt Kenseth—the current points leader in the Sprint Cup Series.
Earlier in the week, it was announced that Kenseth would not return to Roush-Fenway Racing for the 2013 season. According to The Milwaukee Journal-Sentinel, "Kenseth is believed to have agreed to drive for Joe Gibbs Racing."
All signs point to it being JGR, who already has Logano, Kyle Busch and Denny Hamlin on the roster. It has been reported by Sporting News that if this were the case, Gibbs would most likely place Kenseth in a new fourth team or have him replace Logano in the No. 20 Home Depot Chevrolet.
With Logano not participating in Friday's race, it seems as though there may be a rift between Logano and Gibbs. Or, Gibbs is punishing Logano for something that he said. Who knows. It appears we won't know for awhile.
Logano's Sprint Cup teammate, Denny Hamlin, participated in the race, however. Of course, he was expected to compete for the win, but something seemingly happened to his car throughout the race. On Lap 132, Hamlin took it to the garage and finished the night in a disappointing 33rd. Luckily, he's not running for points in the series.
Brian Scott, the lone full-time Nationwide driver for Joe Gibbs, had engine problems toward the end of the race. Like Hamlin, he was also forced to take his car to the garage and finished a lowly 30th.
There were only two cautions throughout the 200-lap event.
Jamie Mosley spun in Turn 4 early in the race and brought out the first caution of the race. Later in the event, Mike Wallace's No. 01 smacked the outside retaining wall and left some debris on the track, which brought out the second and last caution of the night.
Although Hamlin, Scott, Mosley and Wallace all suffered disappointments Friday night, Austin Dillon didn't.
The driver of the legendary No. 3 completely dominated the race, as he led 192 of the 200 laps and finished 9.828 seconds ahead of the second-place Kurt Busch, who lost a cylinder in the waning laps.
Prior to his win on Friday night, Dillon had not finished higher than fourth. He had recorded fourth-place finishes at Phoenix and Iowa and also registered fifth-place efforts at Daytona, Fontana, Texas, Darlington and Michigan—the site of his first pole.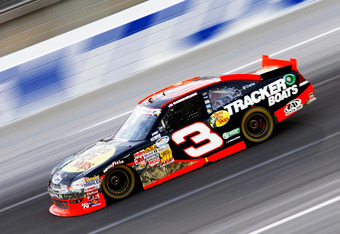 Sean Gardner/Getty Images
But now, Dillon can etch his name into the record books as the fourth first-time winner at Kentucky. Prior to the 22-year-old Dillon, David Gilliland (2006), Stephen Leicht (2007) and the aforementioned Logano (2008) all won their first career Nationwide races at the track.
"I'm really proud just to get these guys to victory lane," said Dillon, via nascar.speedtv.com. "This is awesome. This is what we wanted. This was domination, man...It's so much fun to come to the track with a group of racers and that's what they are."
As stated above, Dillon came home in first, while Kurt Busch finished second. Kevin Harvick finished third, while Michael Annett finished fourth—the best finish of his career. Justin Allgaier completed the top-five.
Sam Hornish Jr. finished the race in sixth, while last year's winner, Brad Keselowski, came home in seventh. Ricky Stenhouse Jr., Elliott Sadler and Daytona winner James Buescher rounded out the top 10.
Kenny Wallace definitely deserved some high-fives and claps Friday night, as he finished 11th. Danica Patrick was right behind him in 12th—two laps down.
Reed Sorenson had a solid race, while finishing 13th. Cole Whitt was 14th and Ryan Blaney, in his third start of the season, finished 15th.
Now that Dillon has captured his first career Nationwide win, perhaps, the biggest name yet to win is now Danica Patrick.
With Sadler's ninth-place effort, he lost the points lead to Friday's winner—Austin Dillon. The rookie is now just two points ahead of Sadler and 23 points ahead of Stenhouse—last season's champion.
The Nationwide Series will head to Daytona next weekend for the Subway Jalapeno 250. Just like Talladega, Daytona is a crapshoot. Anything can happen, and it will undoubtedly be an exciting race.
Joey Logano captured the checkered flag last year at Daytona. A driver, who is currently not in Sprint Cup, has not won the July Daytona race since Mike Wallace shocked the field in 2004 to claim his first win in the series since 1994. Wallace will be participating in next week's race, and maybe, he will shock the field for the second time in eight years.
We'll find out next Saturday when the green flag will be waved for the first time at 7:30 p.m. on ESPN. Be sure to tune in.