NBA Rumors: Minnesota Timberwolves Are Crazy to Pursue Pau Gasol
June 29, 2012

Harry How/Getty Images
After something of a breakout season, the young Minnesota Timberwolves are looking to take that next step and become a full-fledged postseason participant.
According to the Associated Press' Jon Krawczynski, general manager David Kahn is attempting to do so by adding the Los Angeles Lakers' Pau Gasol to the mix:
The Minnesota Timberwolves are pulling out all the stops in an effort to land Pau Gasol.

If they have to part with the highest draft choice in franchise history after just one season, the Wolves appear ready to do it.

That much became clear leading up to the NBA draft on Thursday, when Minnesota offered Derrick Williams to the Charlotte Bobcats for the No. 2 pick as a vehicle to help them land Gasol from the Los Angeles Lakers, two people with knowledge of the discussions told The Associated Press.
Here we go again.
This is the kind of move that organizations wind up regretting long into the future.
That's not a knock on Pau Gasol. Sure, he's almost 32-years-old, and his best years are probably behind him. But there's no question he can still play, and in the right situation he could probably play like a borderline all-star for another four years without too much trouble.
Gasol relies on his skill more than he does exceptional athleticism. That should allow him to age just as gracefully as Tim Duncan has in San Antonio.
Nor is Gasol's contract a deal-breaker for Minnesota. He's owed over $38 million for the next two seasons, but the Timberwolves have enough depth that there's little need to clear cap space for a major free-agent acquisition in the near future.
The bigger problem is what Minnesota would have to give up to make this deal work.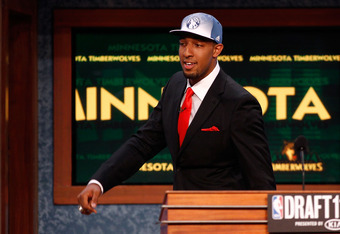 Mike Stobe/Getty Images
If 2011 second-overall pick Derrick Williams is the starting point, we have a problem.
The tweener forward didn't have an outstanding rookie campaign, but nor did he have much of an opportunity. More importantly, he's still just 21. With Ricky Rubio and Kevin Love only scratching the surface of what will be brilliant careers, this isn't a time to part with youth.
If guys like Derrick Williams or Michael Beasley need to be moved, they should be moved for guys who can grow along with the club's young core in the same way Kevin Durant, Russell Westbrook, James Harden and Serge Ibaka have had the opportunity to evolve as a unit.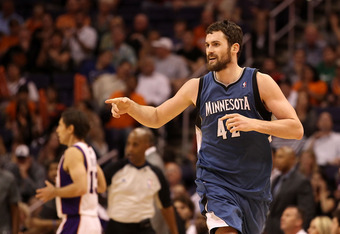 Christian Petersen/Getty Images
They shouldn't be exchanged for a guy passing his prime.
To land Gasol in a push to win as soon as possible, chances are that Minnesota would have to assemble a package of young players that include Williams, Beasely and perhaps Wesley Johnson or Martell Webster.
That's just too much young talent for a team that could compete for the better part of the next decade if it remains intact—or at least comparably young.
Finally, what becomes of Nikola Pekovic?
The 26-year-old center had a breakout season, averaging 13.9 points and 7.4 rebounds in just under 27 minutes a game. If he weren't included in the deal for Gasol, his opportunity to play and further improve would certainly be stunted as a reserve.
It's understandable that this franchise is looking to build upon its recent success, and go for the home run.
It would just make a lot more sense for it to do so patiently rather than giving up the very assets that could make this team a borderline dynasty over the long haul.