Max Scherzer's Emergence, Courage Just the Spark Detroit Tigers Need
July 3, 2012

Dave Reginek/Getty Images
Max Scherzer has shown flashes of brilliance this season.
And he's also shown signs of futility on the mound in 2012.
His shining moments were a 15-strikeout win against the Pittsburgh Pirates on May 20, and an eight-inning, seven-hit shutout against the Colorado Rockies on June 15.
However, when he's been bad, he's really bad, giving up at least five earned runs in four of his first 16 starts.
And after Scherzer's brother, Alex, unexpectedly died on June 21 at just 24 years old, people would assume Scherzer's production would diminish, or at the least he'd miss a start or two.
Scherzer went with his gut, though, valiantly taking the mound just two days after his brother's death, and the 27-year-old performed exceptionally well, especially considering the circumstances.
Scherzer said he chose to pitch for his family, and for his late brother.
"It was best for my family to make that start—it gave us a chance to get out of the house and put a smile on everybody's face," Scherzer said to the Detroit Free Press' John Lowe on June 26. "It was the most difficult start in my life, but it was worth it."
Although the Tigers lost 4-1 to the Pirates, Scherzer, whose parents were in attendance, performed well enough for Detroit to win, throwing six innings, giving up three earned runs—on a three-run home run—with seven strikeouts and one walk.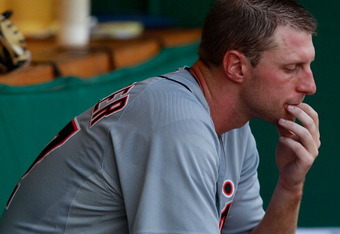 Jared Wickerham/Getty Images
After getting a few days to absorb the sudden loss of his brother, Scherzer outdid himself in his most recent start against the Tampa Bay Rays. He earned his seventh win of the year, giving up two earned runs on just four hits. He struck out seven batters and walked two in six innings of work.
Scherzer said now, over a week after the horrific tragedy, he's started to heal and has actually become a stronger person.
"I've had a chance to grieve with my family. I'm emotionally stronger," Scherzer said last week to Tom Gage, of the Detroit News. "Obviously I'm not over what happened, but I'm able to go out there, compete in the game, and think about winning a ballgame."
After struggling with consistency to start this season, and going 1-3 with a 7.77 ERA in his first five starts, Scherzer appears to have turned the corner.
He's performed phenomenally in his last four appearances, amassing four consecutive quality starts, allowing just eight runs on 19 hits and eight walks, and throwing 34 strikeouts in 26 innings. He's compiled at least seven strikeouts and has a 2-1 record with a 2.77 ERA in his last four outings, bringing his record to 7-5 and his ERA to 4.98—below 5.00 for the first time all season.
When Scherzer brings his best stuff to the mound, he's one of the most difficult pitchers in baseball to figure out. After his win against the Rays on June 28, Scherzer's 114 strikeouts were the most in the American League. He's currently tied for third in the AL for the most K's.
The right-hander said he enjoys being atop the strikeout leader board but is mostly focused on helping the Tigers win games.
"The strikeouts are nice, but it's more about the wins," Scherzer said to MLive.com's Chris Iott after his last start. "That's what it all comes down to."
Despite the Tigers' 6-4 loss to the Minnesota Twins on Monday, with the help of Scherzer, Detroit has played better as of late. The Tigers have won 13 of their last 24 games and won five of their last seven series.
Scherzer, who's at the top of his game, was scheduled to take the mound tonight against Nick Blackburn (4-5) and the Twins but was scratched from the start last night due to hamstring soreness.
Scherzer will be fine and is just being held out to be cautious. He is tentatively scheduled to pitch in the Tigers' last game before the All-Star break against Kansas City on July 8.
His brother may be gone but is not forgotten, and Scherzer is a stronger player and a stronger man because of what he's gone through. With every start he's gaining confidence and inspiring his teammates, hoping to help the Tigers get back to the playoffs.
"I always believe the next time I go out I'm going to have a great outing," Scherzer said to MLive.com. "Nothing's changed by me pitching well or struggling. It doesn't matter."