NBA Rumors: Why We Shouldn't Believe Jim Buss About Pau Gasol's Future
June 29, 2012

Harry How/Getty Images
About week and a half ago, T.J. Simers of the Los Angeles Times wrote an interesting piece about the future of the Los Angeles Lakers, and some comments by Executive VP Jim Buss stood out.  With the team in dire need of a point guard and fans calling for Pau Gasol to be traded for one or more effective players, Buss insisted that the Spanish seven-footer would remain a Laker and that any changes made would involve Pau "moving lower to the basket."
Sorry, Mr. Buss, but you could not be more wrong. 
Nothing against Gasol, but the two years and $38 million remaining on his contract are salary cap cancer.  More importantly, moving Gasol "lower to the basket," as Buss said, is like having Isiah Thomas run a team-building and trust seminar.  It doesn't really work!
Personally, I think Gasol is one of the most fun players in the NBA to watch do his thing.  He has a great jump shot for a seven-footer and drives to the basket fairly well despite being primarily a perimeter player.  Therein lies the error in Buss's statement.
Yes, Gasol is a good player, but he comes from a European style of basketball that calls for the power forward to remain on the wing and only go to the basket when absolutely necessary.  Though it occasionally comes out in a positive light, defense isn't his strong suit and never has been.  For his entire career, he has been used to being a scorer with average defense.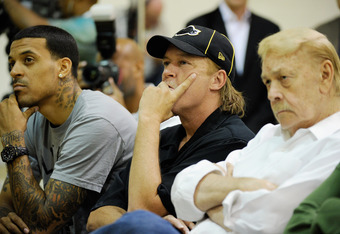 Kevork Djansezian/Getty Images
I understand that he's averaged a double-double the past three years and is an alright shot blocker, but look at Amar'e Stoudemire of the New York Knicks.  He's a very similar player in that he's a big power forward who scores points and gets rebounds when they come to him.
However, there is one more giant piece of evidence against Buss's statements about Gasol.  Yesterday, according to Chad Ford and Marc Stein of ESPN, Lakers GM Mitch Kupchak was shopping Gasol and looking to acquire both a solid player and Top 10 draft pick for his power forward's services.
I don't know first-hand about the chain of command when it comes to making trades in basketball, or any professional sport, but who do you think Kupchak had to go to for approval to shop Gasol?  My best guess is Jim Buss, or maybe his father Jerry, who owns the team.
That all being said, it's safe to say that Jim Buss has lost all credibility in the eyes of Lakers fans.  In saying one thing a week and a half ago and then doing a complete 180, fans should worry about the direction of their beloved team.
One can only hope that some cap relief happens in the form of a salary dumping trade this offseason, otherwise the storied franchise could be destined for a long rebuilding period somewhere down the road.