Toronto Maple Leafs: Analyzing Forward Core (Pre-Free Agency)
July 1, 2012

Bruce Bennett/Getty Images
Year after year, Leafs fans claim that "this will be the season" and that they'll take the next step forward and make the playoffs. They are beyond optimistic and expect everything to go perfectly for their  beloved Maple Leafs. Some say these fans are delusional and that the Leafs are as far away from contending as the Columbus Blue Jackets.
They say that the roster is lacking in so many different positions and that they couldn't possibly contend with the likes of the Penguins, Rangers and Bruins for a whole season. Yet the Leafs faithful choose to continue to believe that the next season will be their year.
Did I mention I happen to be one of those fans?
Everyone likes to think that their team is ready to contend. Who really wants to believe that their team is going to finish at the bottom of the standings for another year? Just like everything else in life, we choose to see what we want to see. It's called selective perception, and I choose to see the Toronto Maple Leafs as a playoff contender.
The forward core of the Leafs is actually stronger than most believe. They have a little bit of everything on the roster and have proven that they can score, sitting 10th in the league in scoring last year. If they can become better defensively (and that's something I think head coach Randy Carlyle can help with), they could surprise this season.
Yes, there are holes in the roster, but that is the case with every team in the league. However, these "holes" provide opportunities for others to step up and prove themselves; look no farther than Joffrey Lupul for a perfect example.
While the holes on the Leaf's roster may be more significant than those on other teams, it doesn't mean that they can't contend. Yes, they do lack an elite No. 1 centre to play in between Phil Kessel and Lupul and will likely enter next season with Tyler Bozak in that position. However, last year that didn't stop Kessel from finishing sixth overall in points in the NHL or Lupul from scoring at over a point per game pace (67 points in 66 games).
With the expectation that Bozak will be the No. 1 centre from the beginning last year (they entered the season with Tim Connolly as the No. 1), the chemistry between the group should only increase.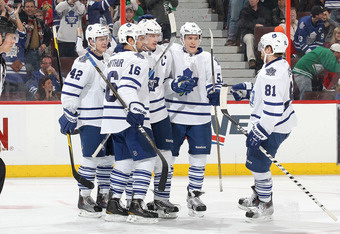 Jana Chytilova/Freestyle Photo/Getty Images
The Leafs' second line will be an interesting one to watch in training camp. They will have as many as five players contending for two wing positions on either side of Mikhail Grabovski.
James Van Riemsdyk seems to be a shoe in for one of the positions, as his size and scoring ability are something that Leafs GM Brian Burke Burke has been looking for in the top six for a long time, and Burke did not trade away Luke Schenn to have van Riemsdyk play as a third-line grinder.
That only leaves one wing spot for the likes of Clarke MacArthur, Nikolai Kulemin, Matt Frattin and possibly, Nazem Kadri, to contend for.
MacArthur and Kulemin were both staples on the second line last year after spectacular 2010-2011 seasons, but regressed last year. After netting 30 goals two seasons ago, Kulemin's goal total last year sat at just nine. However, the effort was there night after night, and his defensive play was outstanding.
MacArthur's point total regression was likely partly due to Kulemin's power outage last year. However, there were periods of time where he looked largely invisible on the ice. His play was uninspiring last year; however, MacArthur is a back-to-back 20-goal scorer who has scored 105 points the past two seasons and has a very respectable cap hit of $3.25 million for next year. He should have some value should Burke decide to move him.
Frattin's claim to the second-line winger spot is largely due to his performance late last year with the Leafs, and then with the Marlies during their playoff run. Frattin had an opportunity to play with Grabovski late in the year, and their chemistry seemed effortless. Frattin was finally showing the promise that made him a Hobey Baker finalist in 2010-2011 after scoring 36 goals in 44 games.
After the NHL season ended, his was sent down to the Marlies to assist them in their run for the Calder Cup. Frattin scored an astounding 10 goals and three assists in 13 games before going down with an injury. It is clear that he has the talent, but he may be destined for a bit more developmental time in the AHL next year.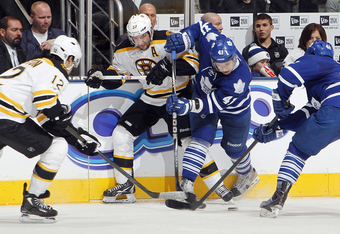 Abelimages/Getty Images
The opinions of Kadri have been mixed to say the least. Since being drafted by the Leafs, he has played in 51 games, scoring only 19 points. His AHL totals of 81 points in 92 games suggest that he has the ability, but just has not been able to put it together at the NHL level.
There are claims that under the tutelage of Dallas Eakins this past season, Kadri has grown tremendously. His defensive play has much improved, and he appears to have gotten stronger, thereby making him harder to knock off the puck. However, if he cannot beat out the aforementioned three players for a spot on the second line, Kadri is likely destined to spend time in the AHL.
My expectation is that either Frattin or Kulemin will win the spot on the second line. With van Riemsdyk a power forward and Grabovski a playmaker, a sniper makes the most sense for this position. Both Frattin and Kulemin have shown the ability to put the puck in the net and have shown great chemistry with Grabovski in the past.
Kadri will be a victim of the numbers game, but will have every opportunity to thrive in the AHL and should surface on the Leafs roster this year.
As only one of Frattin or Kulemin can claim a second-line spot, the one left out will likely own a spot on the third line. I expect that MacArthur will be moved at some point this offseason to a team who still has big holes after free agency. However, if he is retained, he along with Connolly, who is signed for another year, and Kulemin/Frattin would form quite a potent third line capable of putting up 40-50 points each.
The forwards will be rounded out by fan favorite Mike Brown, faceoff wizard Dave Steckel and speedster Matthew Lombardi on the fourth line.
Looking at the Leafs forwards, there is a lot to like on the team. And with free agency just hours away, the team could get significantly better. However, I would be content with the forward roster they have at hand, as it is better than a lot would give it credit for. Every player in the top nine is capable of 20+ goals, and if the defense clicks in training camp, don't be surprised to see the Leafs in the playoffs next season.