Montreal Canadiens: Will the Habs Contend for a Playoff Spot in 2013?
June 29, 2012

Paul Bereswill/Getty Images
The NHL offseason is just underway and the Montreal Canadiens have already made changes to help make their team better in 2013.
It began with Marc Bergevin being hired as the Habs' new GM on May 2. Bergevin made an immediate impact, hiring Martin Lapointe, Patrice Brisebois and Scott Mellanby to fill various personnel voids.
He also hired Rick Dudley as an assistant GM and Michel Therrien as head coach. Dudley was the GM in Atlanta prior to their move to Winnipeg and Therrien coached in Montreal from 2000 to 2003 and in Pittsburgh between 2005 and 2009.
At the 2012 NHL Entry Draft, Bergevin and the Habs made a great pick, selecting Alex Galchenyuk third overall. Given the Habs' cap space it's possible Bergevin could add a depth player or two on July 1, when the NHL free agency market opens.
After a tough 2012 season, Habs fans should feel a little more confident now that these personnel changes are taking place. It's possible the Canadiens could be back in the playoffs as soon as next season. Don't forget, they're only two years removed from a trip to the Eastern Conference final.
The Habs have a number of forwards left from the 2010 playoff run, however, many struggled last season. Players like Brian Gionta and Scott Gomez need to step up and prove they're still worth their hefty contracts. Thomas Plekanec and Erik Cole should be expected to provide at least 50 to 60 points each to help the Habs' offense, as they did in 2012.  
The most exciting part of the Habs' offense could be Bill Masterton Trophy winner, Max Pacioretty. Pacioretty led the team with 65 points in 2012 and there is no reason he can't improve on that total next season.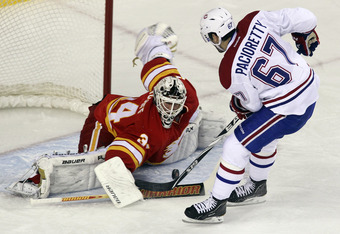 Mike Ridewood/Getty Images
The Canadiens don't have a player that will reach 50 goals or 100 points, but they do have a solid group of skilled forwards who simply haven't played to their potential. Therrien and his coaching staff face the tough task of motivating this group of players. If they're successful, the Canadiens will likely be contending for a playoff spot come March.
The Canadiens' defensive core remains strong, with Markov, Kaberle, Gorges, Weber and RFA's Emelin, Diaz and Subban. If this group can remain healthy for the bulk of the season the Habs could have one of the deeper defensive units in the Eastern Conference. However, that may be a tough task considering Markov hasn't played more than 45 games in a season since the 2009 campaign.
Carey Price is restricted free agent, but with the Kings signing Quick for 10 years, it may just be a matter of time before Price signs a five, six or seven year deal with the Habs.
Price is by far the most important player on Montreal's roster. At age 24, Price hasn't even reached his prime yet. Habs' fans can expect him to continue to improve and become one of the NHL's elite goaltenders in the coming years. Look for Price to have 30-plus win season, as he helps the Habs fight for a playoff spot.
That playoff spot could come by placing second in the Northeast division. The Bruins are the favourite to win the division again, but the second spot is open for the taking.
Teams such as the Florida Panthers, Ottawa Senators and maybe even the New Jersey Devils could fall in the standings in 2013. That could leave room for the Canadiens to sneak into the top eight, if they can perform well against teams in their division.
The New Jersey Devils missed the playoffs in 2011, but made it all the way to Game 6 of the Stanley Cup final in 2012. With that in mind, it's certainly possible the Canadiens could at least make the postseason next year, even if it's as a seventh or eighth seed.