Robbie Hummel: Timberwolves Take Smart Gamble on Former Purdue Star
June 29, 2012

Joe Robbins/Getty Images
Robbie Hummel is the type of player you love to get behind. That's because the former Purdue star faced multiple serious knee injuries during his time in college, yet he refused to quit. Now the former Boilermaker was drafted by the Minnesota Timberwolves with the 58th pick in the NBA draft.
While at Purdue, Hummel tore the right ACL in his knee in back-to-back seasons. But before the injuries, Hummel was well on his way to a career in the NBA.
During his junior season, which was 2009-10, Hummel averaged 15.7 points, 6.9 rebounds and 2.1 assists. He also showed the necessary athleticism to translate to the NBA. But after the two ACL injuries, Hummel was forced to miss all of the 2010-11 season, before returning to the court this past season.
Despite the devastating injuries, Hummel was still a very productive player at Purdue in 2011-12. He averaged 16.4 points, 7.2 rebounds and 1.9 assists, and he helped lead Purdue to the second round of the NCAA tournament, where they fell to Kansas.
Now Hummel will get a chance to test his game in the NBA. He should have some success because he's got NBA range to his shot, so he should be able to provide Minnesota with a good three-point shooter if nothing else. But there's definitely more to Hummel's game than three-point shooting.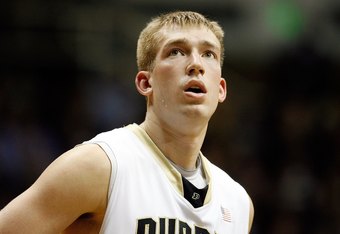 Andy Lyons/Getty Images
He's also an excellent passer, especially for a small forward. And as you would imagine for a player that's gone through as many injuries as Hummel and kept coming back for more, he's also got an incredible motor and work ethic.
His ability to stretch the floor with his shot should help open up the lane for Ricky Rubio when he's on the floor. Because of his ability to shoot from long range, he should also provide Rubio with a nice outlet when the defense collapses on him.
Considering where he was drafted, there's nothing but upside for Minnesota. If he was a top pick in the draft and got hurt, it would set Minnesota back a great deal. But at this point, both Hummel and the Timberwolves have nothing to lose.
Best-case scenario, Hummel will return to his pre-injury form and provide Minnesota with an above-average player. Worst-case scenario, he gets hurt again. Either way, Minnesota only used the 58th pick on him. That's a gamble worth taking.