NBA Free Agents 2012: What Does Steve Nash Want in His New Team?
June 29, 2012

Christian Petersen/Getty Images
The Steve Nash era in Phoenix Suns history is, most likely, about to come to an abrupt and anticlimactic close. The veteran point guard has spent 10 years, including the past eight, establishing the Suns franchise as one of the most dangerous teams of the past decade. 
While he hasn't ruled out returning to the organization that drafted him in 1995, the guard will probably move on to greener pastures this offseason. What will the elder statesman want in his new team, though?
There is no doubt going to be a plethora of suitors for arguably one of the greatest point guards. His ability to not only put the ball in the basket at an efficient clip, but also facilitate the offense like no other will attract contenders and rebuilding squads alike.
Even though his athleticism has slipped, his leadership, offensive production and experience more than make up for his defensive shortcomings.
This season, Nash was named an All-Star reserve for the Western Conference, as he tallied 12 points and nearly 11 assists per contest.
According to Marc J. Spears of Yahoo! Sports, Nash will be courted by his former team, the Phoenix Suns, the two New York squads, the Brooklyn Nets and New York Knicks, the Toronto Raptors and Dallas Mavericks.
Nash, on the subject, notes that each team has benefits and downsides.
"You can go down the line of teams and possibilities and you can list a bunch of pros," Nash said. "But it will be interesting to see what actually transpires on (Sunday) and see how they rank in my mind."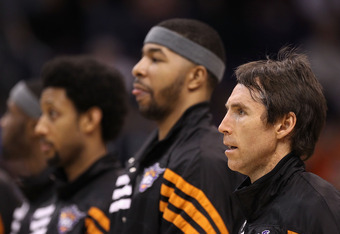 Christian Petersen/Getty Images
Nash, who has already achieved a Hall of Fame career, has one thing missing on his impressive resume: a championship.
Over the years, the Phoenix Suns, led by Nash, have had some title-caliber squads. With former teammates Amar'e Stoudemire and Shawn Marion and the run-and-gun style of Mike D'Antoni, the Suns boasted one of the strongest rosters in the mid-2000s. 
There one problem was that they shared the conference with the Los Angeles Lakers and San Antonio Spurs, two franchises that dominated the decade.
Plus, his good friend Dirk Nowitzki, who he was teammates with in Dallas, just won a championship last season, which probably adds fuel to his proverbial fire to land an elusive ring.
I can't imagine Nash not going to a title-contending squad for his last few seasons. Every NBA legend should hold the right to go championship-chasing in the twilight years of their respective careers. Nash has been on dismal squads for the past few years. It's time to get out of NBA purgatory.
The New York Knicks and Dallas Mavericks are both great landing spots for the veteran. They both are ready to win a title if they add a few more pieces. The Mavericks will look to add a new starting point guard as Jason Kidd will probably move on, and the Knicks possess one guard under contract for next season, Toney Douglas.
The problem with signing with an above-average squad is that they usually have little money to offer a free agent. Nash, however, has stated that money is a factor for him going into the start of the open market on Sunday.
In our business, money, in many ways, represents respect because, for example, if you sign with a team and you take half or less money, and then, like I said earlier, six months later they trade you. I mean, it's one of those things where you can't, in our business, forgo money all the time. It has to be one of the factors. So it's not everything, but it is important, and it'll be one of the factors involved.
So, Nash is going to have to make a decision: a chance at a ring or the biggest contract?
If Nash picks the latter, the Toronto Raptors look like a fantastic spot for the veteran. Not only is he from Canada, but the team has tons of cap space to work with. They could even utilize the amnesty clause and cut José Calderón in order to present an even more enticing offer for the veteran.
Also, Nash called the prospect of playing in Canada "exciting."
In the end wherever Nash calls home, the organization that presides in the city will improve immensely.