Unexpected QB Situation for the Patriots
February 14, 2009
Nobody in New England foresaw what happened to the Patriots in 2008. In the first game of the season, the invincible Tom Brady was injured and missed the rest of the season.
New England was forced to go to backup Matt Cassel, who had not started in a game since high school. The season of the New England Patriots was up in the air and no one knew what to expect.
After the first five games, Cassel was coming under some heavy pressure from the fans and the media. He had a good record and had the team playing well, but he was not Tom Brady. Cassel was putting up small numbers in the passing game, even though they were winning.
The bottom line is Matt Cassel is Matt Cassel and Tom Brady is Tom Brady. As the season went along, Cassel's numbers were getting better and better. He was putting up Brady-like numbers. In a game against the New York Jets he had a fourth-quarter drive that would rival that of Brady's comebacks.
The Patriots were down by seven with 1:20 left in the game. In a magical drive, Cassel drove his team all the way down to the Jets' 15-yard line. With five seconds left and the game on the line, Cassel scrambles around in the pocket, sprints to the sideline on his right and fires a bullet to the side of the end zone that met Randy Moss's hands and stuck.
New England would end up losing the game, but Cassel played far better then expected. That game had people questioning, "Is Cassel the real deal?" Many people started to believe in the arm of Cassel, and for good reason.
Was it deja vu all over again in New England? Is Matt Cassel the next Brady? I don't think there will ever be another Tom Brady, but Cassel came pretty darn close.
As the season's last five games came to a close Cassel was posting stats that an MVP-caliber quarterback would be putting up.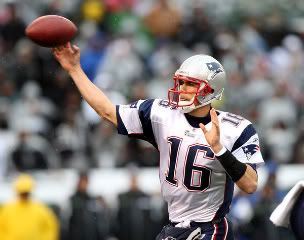 At one point, Cassel even had back-to-back games where he threw for 400 yards. He led New England to a 11-5 record and a second-place finish in the AFC East, but tiebreakers kept the Patriots from their seventh consecutive playoff berth.
After the season, Cassel won the Vizio Top Value Performer Award. Cassel was now considered a starting quarterback in the NFL with leadership capabilities and the potential to put up big numbers.
What was New England to do? Cassel was a free agent after the 2008 season. Did New England want to risk possibly letting something good go? Did they want to allow risk of letting an AFC rival team to pick up the proven quarterback? Should they just sign him?
No. Instead, they placed the franchise tag on him. He can't go anywhere . . . for now.
Brady's healing process is healing at a decent rate, but will he be ready for the beginning of next year?
If New England does eventually let go of Cassel, it does have the choice of second-year quarterback Kevin O'Connell, who was drafted in the third round of last year's draft from San Diego State, or Matt Gutierrez, a third-year player from Idaho State.
If Tom Brady is not ready for the season's opening game and the Patriots do not have Cassel, they will probably make Kevin O'Connell the starting quarterback.
O'Connell, who played in a predominantly-shotgun offence at SDSU, will be more experienced in New England's offense and be a better fit. O'Connell also has very good speed and mobility for a quarterback, running a 4.6 in the 40-yard dash. He also has a decent arm with even better accuracy.
However Bill Belichick will make that decision if he has to when the time comes. And for New England fans, hopefully it doesn't.