Can the Ground-and-Pound Formula Make the New York Jets Super Bowl Champions?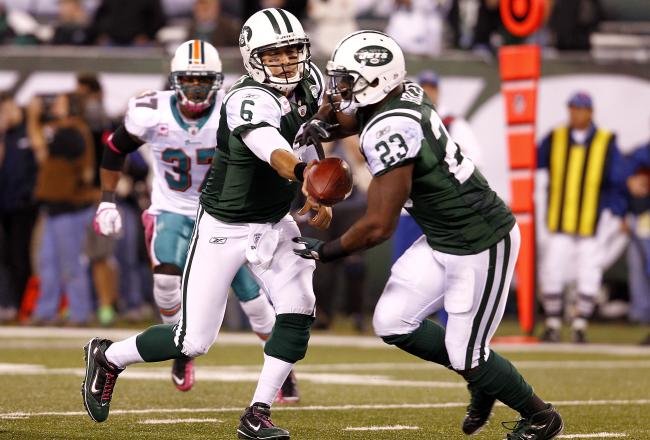 If the Jets can ground-and-pound their way to a Super Bowl title, they'll be one of few teams in NFL history to do so.
Jeff Zelevansky/Getty Images
Unicorns. Dragons. The tooth fairy. Establishing the run is necessary to winning a Super Bowl championship.
There is sufficient evidence against the existence and truth to any of these myths. One look at last year's Super Bowl contenders is all the evidence you need for that.
But while establishing the run may not be necessary, perhaps the bigger question is whether it can still work?
An interesting tweet crossed my timeline from Kerry Byrne of ColdHardFootballFacts.com that made me think about the possibilities.
Only 22 defenses in NFL history surrendered 5.0+ YPA on the ground in an NFL season - 3 of them in 2011 alone.

— Kerry J. Byrne (@footballfacts) June 28, 2012
This is not your average NFL statistical purist: Kerry loves the passing game perhaps more than his love of sausage and beer. He believes dominance in the passing game is essential to dominance in the NFL.
And he's right. In fact, Kerry has his own stat, the mother stat: Passer Rating Differential. It subtracts the defensive passer rating from the offense's passer rating. He reveals that an astonishing 56 percent of NFL champions since 1940 have finished either No. 1 or 2 in the league in Passer Rating Differential.
But there's no rule saying a powerful running game can't be an important component behind passing dominance, and Kerry's tweet reveals an interesting blip on the radar.
But that's all that it is: a blip. Of the other 19 defenses that have yielded over five rushing yards per attempt, 15 were between 1950-1976. No defenses in the '80s or '90s gave up that average, but perhaps bad run defense is making a comeback: Three teams have yielded over five yards per rush attempt since 2003.
Only time will tell if awful run defense will become a trend or remain a blip on the radar, but with such a high number of teams who couldn't stop the run last year, it gives hope to teams like the Jets who want to establish the run.
While NFL defenses are gearing towards stopping the pass, they have begun ignoring their run defense. Where once the NFL was based around a strong running game, the running game as a whole has become Jan Brady to the passing game's Marcia.
And the ability to establish the run against a defense that can't stop it could force them into situations that will open things up in the passing game for quarterback Mark Sanchez.
But even the greatest rushing attacks of all-time have failed to get it done in the postseason. In fact, many of the greatest rushing attacks of all-time have failed to even get to the postseason. Of the 37* teams to average over five yards per carry on offense, only 13* have made the playoffs.
Since 2009, five teams have averaged over five yards per carry, and all but one have failed to reach the playoffs.
If the Jets are able to ride such a style of offense to a Super Bowl, they'll be in rare company. Only one of the 36 best rushing attacks of all-time has won an NFL championship.
*In the article, Byrne's data runs through the 2008 season; and includes five new teams.
Erik Frenz is the AFC East lead blogger for Bleacher Report. Be sure to follow Erik on Twitter and "like" the AFC East blog on Facebook to keep up with all the updates.

This article is
What is the duplicate article?
Why is this article offensive?
Where is this article plagiarized from?
Why is this article poorly edited?

New York Jets: Like this team?