Tour De France 2012: Unheralded Bikers Who Will Shake Up Historic Race
June 28, 2012

Pool/Getty Images
The cycling world has been rocked recently with the news that the sport's biggest star, Lance Armstrong, has been officially served with doping charges in the same month as the start of the road cycling Super Bowl, the Tour de France (from the Wall Street Journal).
Nonetheless, this year's competitors are concerned with donning the yellow jersey (or maillot jaune in its native language) for as long as possible.
The defending champ, Australian cyclist Cadel "Cuddles" Evans, is the favorite yet again this year.  If all goes smoothly for him, he will defend his title.  
Great Britain's Bradley Wiggins crashed on last year's tour, but is expected to be Evans' biggest competitor.  
Wiggins' crash last year made it evident that nothing is certain in the narrow mountainous passageways the cyclists must navigate in the world's most famous race.
This year's Tour will be more than 3,000 kilometers, or more than 2,000 miles. If you're unfamiliar with the three-week race, give this hilarious Tour de France viewer's guide from SB Nation a read, and you'll be all caught-up.
But now, let's look at a few lesser-known cyclists who could challenge Cuddles and Wiggins for the Tour title:
Levi Leipheimer
America's best hope to take the yellow jersey may rest on the shoulders—or, I suppose, legs—of Levi Leipheimer.  Leipheimer currently rides out of Santa Rosa, California, but is a member of the Belgian Omega Pharma-Quick Step team.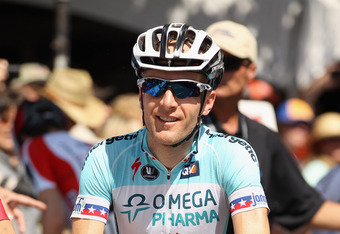 Ezra Shaw/Getty Images
He is currently heralded as the biggest dark horse in this race to challenge the defending Tour de France champion Evans and Britain's Boy Bradley Wiggins.  This all despite the unfortunate wreck he sustained this April while he was training in Spain, where he was hit by a car, causing him to suffer a broken leg.
His best Tour de France finish came in 2007, when he came in third behind Spanish star Alberto Cantador (who won't be competing in this Tour due to a doping ban) and Evans. 
Leipheimer remains confident heading into the race.  He summed up not only his chances of beating his top two competitors, but the whole race in an article from SuperSport.com:
Anything can happen, the race is much bigger than any one contender...We are not battling each other, but all the elements, everything that's involved in racing over France in three weeks.
Much like in golf, where it's just the golfer against the course, the Tour de France is just the cyclist against the unforgiving, harsh mountains of France.
Robert Gesink
Robert Gesink, known as the "Condor of Varsseveld" automatically wins the nickname battle over Cuddles Evans, because nobody in their right mind would attempt to cuddle with a condor.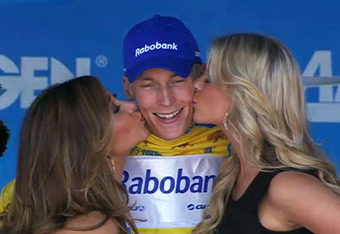 Aside from that, Gesink and the Dutch Rabobank team will attempt to gain some international redemption for their home country after their disappointing showing at the Euro 2012. 
Personally, Robert will be trying to make up for his own disappointing showing at last year's Tour, in which he crashed early on and finished 32nd.  Despite last year's unfortunate finish, Gesink has been on a tear this year.
With wings spread, The Condor has flown to a Tour of California victory thanks to an incredible comeback in the seventh of the eight-stage Tour de Cali race, as well as a fourth-place finish at the Tour de Suisse.
There may not be a better cyclist right now than the 26-year-old Dutch phenom, which makes him one to keep an eye on.
If he can avoid a crash, which is easier said than done, The Condor may be feasting on his competitors high in the French mountains. 
Hat tip to Josiah Lent for pointing out that I gravely understated the distance of this race.