St Louis Rams: Thursday's Rams News and Notes at Noon
June 28, 2012

Welcome to Thursday's St. Louis Rams "News and Notes at Noon," the quintessential location for all major Rams updates and other items of interest with brief commentary and analysis for Rams Nation. 
Cortland Finnegan Heading Toward an All-Pro Season?
Bleacher Report featured columnist Tony Santorsa believes that St. Louis cornerback Cortland Finnegan will earn All-Pro honors this season, according to this piece.
Finnegan, as many of you may remember, made the AFC Pro Bowl team following the 2008 season while playing with the Tennessee Titans under then-head coach Jeff Fisher. 
Finnegan, of course, has reunited with Fisher in the Gateway City and has also reconnected with his secondary coach from that season, Chuck Cecil, as he has taken over that same role with the Rams. 
Finnegan, 28, should be smack dab in the middle of his prime and is expected to make a big impact on the St. Louis defense. 
Will that impact be strong enough and, if so, recognized sufficiently to earn All-Pro accolades? Time and time alone will tell the tale in that regard.  
Looking at the Rams' Outside Linebacker Woes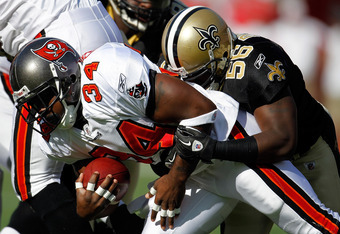 J. Meric/Getty Images
Mike Sando took a look at the Rams' lengthy stretch of inadequate play at outside linebacker in this submission for espn.com. 
Sando succinctly suggests what he calls an obvious reason for this: St. Louis, shockingly, has not selected an outside linebacker before Round 7 since 2006. 
This year was no exception to that trend, as the Rams chose Hawaii OLB Aaron Brown in Round 7. 
The Rams seemingly found a diamond in the rough last season, Jabara Williams, before trying to sneak him through waivers. That move backfired in a big way when the Chicago Bears nabbed the promising rookie. 
This year, the Rams will likely fill the starting OLB spots with a combination of two of the following trifecta of free-agent additions: Rocky McIntosh (Washington Redskins), Jo-Lonn Dunbar (New Orleans Saints) and Mario Haggan (Denver Broncos. 
Each of the three aforementioned players have significant starting experience. Dunbar is the most likely candidate to nail down the weak-side starting spot.  
Rodger Saffold Promotes Responsible Conditioning 
In an interesting article by Andrew Astleford at foxsportsmidwest.com, Astleford profiles Rams left tackle Rodger Saffold and a scare he had at the University of Indiana. He also looks at the issue of responsible conditioning, sharing various information, expert quotes and more on the topic.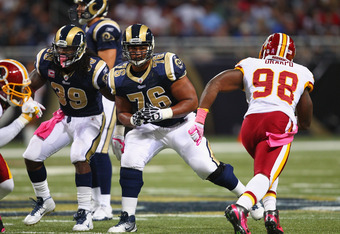 Dilip Vishwanat/Getty Images
Saffold himself shares how important it is to have sound athletic trainers around and good oversight close by while training because, as he asserts, athletes do not always recognize when they may be potentially jeopardizing their health:
That really helps you understand how important it is for athletic trainers to be able to have such education to be able to point out things that, as student-athletes and professional athletes, we can't seem to see.

Something that feels like an ache can be a broken bone. Sometimes heavy breathing can be almost a panic attack. You really have to be able to know what you're doing and tell these players that you really have to take care of your body
St. Louis Rookies Find Inspiration Off the Field 
According to Kelsey Vaughan and her article for stlouisrams.com, Rams rookies found inspiration off the field during the myriad of events the players took part in during "rookie week" and, more specifically, the Team Activities for Special Kids (TASK) bowling night in St. Louis.
First-round rookie defensive tackle Michael Brockers was touched by the event:
 It's wonderful to see these kids succeed and people clapping them on, and you see their smiles on their faces. It's inspirational.
Second-round rookie runner Isaiah Pead has a cousin with special needs. He was also inspired by the night of bowling with the kids: 
Watching the bowlers' reactions and seeing their smiles humbles you. You can't really explain the feeling.
This just adds to our brotherhood. Going out in the community and doing things like this, we're doing things together.  It's continuous bonding.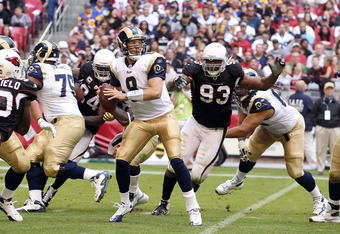 Christian Petersen/Getty Images
TASK is a very cool group, as the column points out: 
Team Activities for Special Kids (TASK) is a St. Louis-based, non-profit, whose mission is to enrich the lives of kids with special needs by providing athletic and social opportunities.  For more information on TASK, please visit http://tasksports.org.

 
The Rams' Greatest Mystery Heading Into 2012
Finally, Elyssa Gutbrod, a featured columnist for Bleacher Report, shares what the greatest mystery surrounding the Rams is as we approach the upcoming campaign. 
So, what is the greatest mystery for the Rams heading into the 2012 season? It involves a specific aspect of quarterback Sam Bradford's game. 
For the details, please click the above-linked piece.  
Have a great day as always, STL Rams Nation.