Summer X Games 2012: 4 Future Stars You Must Know
June 28, 2012

With the 2012 Summer X Games set to begin, there are, as always, some young stars who will be in Los Angeles and ready to push for medals against athletes twice and even three times their age.
The skateboard Big Air competition alone will feature three competitors who are yet to even reach their teens.
Meanwhile, BMX has a young star of its own, though he is a bit older than his two skateboarding prodigy counterparts. 
So, let's meet these four extremely young, extremely talented extreme sports stars.
Jagger Eaton and Trey Wood
Jagger Eaton and Trey Wood are two of the youngest competitors ever to compete in the X Games.  In fact, Eaton is the youngest, edging out Nyjah Houston, who was the youngest when he was in the 2006 X Games.
Trey Wood will turn 12 in September according to his bio on Triple8.com, but Jagger Eaton has him beat out by a few months, as he turned 11 this February.  The duo will compete for an X Games medal in the skateboard Big Air competition.
I bet you feel old now, don't you?
Wood has been skating since he was three and competing since he was just six years old.  According to Keith Hamm of ESPN.com, the Queen Creek, Arizona native has been working on his 900 for this week's competition.
"'I'm trying to dial in 900s right now," Wood said. "I have the rotation and everything but haven't pulled one yet.'"
Meanwhile, Eaton is normally a street skater, but make no mistake, he can throw down on the big ramps too.  For both of these skaters, winning isn't the main concern, as they are both stoked just to be competing alongside the skaters they idolize, as Eaton told ESPN: 
"'I got the invite from X Games like two days ago," Eaton told ESPN. "It made me feel amazing. I just want to go out there and have fun. I feel ready to go. I'll try a few tricks.'"
Tom Schaar
Though Eaton and Wood are the youngest stars, 12-year-old Tom Schaar is a bigger medal threat.
Schaar has already secured a major sponsorship, as he rides for Element along with Houston, Bam Margera and Chad Muska to name a few.  This spring, the Malibu, California native became the first skater to ever land a 1080, which is three full rotations. 
Bleacher Report's Ian Hanford made the claim that Schaar needs to go for the 1260 in this event, but it is uncertain whether or not he'll actually try it. Tom's father Nick Schaar didn't rule out the fact that he will try a 1260, but hinted to ESPN's Keith Hamm that it may be a while before we see the youngster attempt to raise the bar: 
"'I think he'll go for it when he's a year or two older and little bit stronger," Schaar said. "It seems like he could do it.'"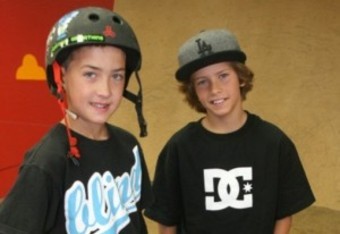 Personally, "seems like he could do it," doesn't sound like a confident enough stance for him to actually try it.  But, I guess that's why Tom is in the X Games and I'm not.
Whether he goes for the 1260 or not, Schaar will be one of the most exciting skaters to watch this year and in years to come.
Chad Kerley
On over to BMX, where Chad Kerley is probably the most accomplished athlete on this list, but then again he's a grandpa compared to the three skaters, at the age of 18.
The San Diego, California native already has an X Games Asia gold medal to his name that he won this year while he was still only 17. There, he beat out the silver medal finisher by a full 10 points.  On top of that, he already has a laundry list of impressive sponsors including Nike and vitaminwater, which sponsored the Chad Kerley Invitational in May. 
Garrett Reynolds, who is only 21, is the current king of BMX Street, but if anyone can dethrone him, it's Kerley, who is the hottest athlete in the sport right now.
A quick look at his Twitter account reveals his many female admirers and fans wishing him luck in Los Angeles. 
Kerley is already a budding star in the sport, and a gold at this year's summer X Games may make him the most popular BMX rider in the world.