Miami Dolphins: Why Dolphins Can Beat Each AFC East Team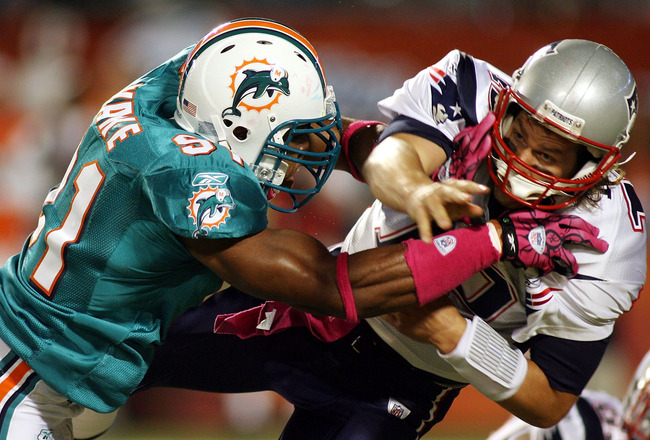 Marc Serota/Getty Images
The Miami Dolphins are the overlooked little brother of the AFC East.
Miami's divisional counterparts have stolen national headlines throughout this offseason.
The Patriots added a slew of big-name veterans following their Super Bowl loss; the Buffalo Bills landed Mario Williams, the crown jewel of the 2012 free agency class; and the New York Jets traded for Tim Tebow.
Meanwhile, the 'Fins were quietly overhauling their own roster, reeling in youngsters at virtually every position.
Nobody views the Dolphins as a threat in 2012, and for good reason.
This team isn't ready to contend for a divisional title yet, and they're bound to encounter some speed bumps with a new head coach, scheme and wave of players in town.
Although Miami isn't ready to contend, it will not be a bottom-feeder either.
Believe it or not, the Dolphins are more than capable of defeating each of their AFC East foes.
Here's how and why they can do it.
Why the Dolphins Can Beat the New York Jets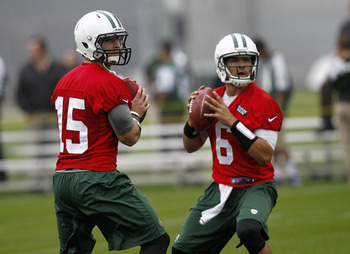 Jeff Zelevansky/Getty Images
For starters, the New York Jets won't be competitors this season.
In fact, I wouldn't be surprised if they finished dead last in the AFC East.
The Jets most notable offseason acquisitions were backup-caliber quarterback Tim Tebow and injury-prone safety LaRon Landry. Gang Green also rolled the dice in the 2012 NFL draft, using their first two selections on Quinton Coples, an enigmatic defensive lineman, and Stephen Hill, an extremely raw developmental project.
This is bad news for a team that sorely lacked explosive playmakers last season.
The Jets also named Tony Sparano their new offensive coordinator. Sparano will bring his smashmouth philosophy to New York and try to rejuvenate an offense that looked anemic for much of the 2011 season.
Despite his struggles in Miami, Sparano is no slouch, but can he successfully implement a run-first offense with an above-average running back and shoddy offensive line?
General manager Mike Tannenbaum opted not to replace right tackle Wayne Hunter, who became a pariah for his poor play last season. And while running back Shonn Greene has posted decent numbers in the past, he is not a star, and it looks like the Jets are prepared to allot Joe McKnight and Bilal Powell carries.
When Sparano wants to throw the ball, things won't get any easier. Outside of Santonio Holmes—who has produced more headaches than touchdowns—the Jets don't have any reliable options. They'll rely on wide receivers such as Chaz Schilens and Jeremy Kerley to perform well.
And, then, there's the biggest question mark of them all: Mark Sanchez.
Few players are under more pressure to succeed than Sanchez in 2012, but his supporting cast has gotten significantly worse.
The only thing the Jets can boast is their pass defense, which ranked fifth in the NFL last season. Unfortunately for them, secondaries don't win championships.
New York's outlook is grim, and there's no doubt the Dolphins are capable of beating this team once, and perhaps even twice.
Why the Dolphins Can Beat the Buffalo Bills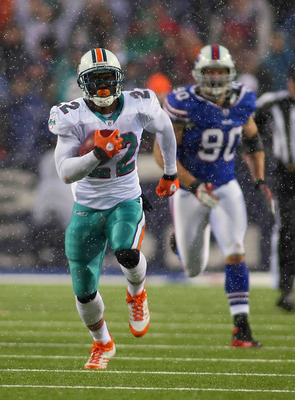 Rick Stewart/Getty Images
The Bills are one of the most intriguing teams in the NFL right now.
Last season, Ryan Fitzpatrick and Fred Jackson were two of the league's most surprising breakout players, but both fizzled down the stretch, and Buffalo's record did as well. Despite losing eight of their last nine games, the Bills actually have momentum heading into the 2012 season.
GM Buddy Nix landed the most-coveted player in this year's free agency class, Mario Williams. With Williams in the fold alongside fellow free-agent signee Mark Anderson, Pro Bowl defensive tackle Kyle Williams and behemoth defensive tackle Marcell Dareus, Buffalo boasts one of the NFL's most fearsome front sevens.
This front seven will pose serious problems for Miami's shaky offensive line. However, the Dolphins' three-headed rushing attack will pose equivalent problems for Buffalo's 28th-ranked pass rush.
In order for the 'Fins to topple the Bills, it's crucial they establish the run. This way, Miami can keep Buffalo's pass rush in check with play-action passes, a primary component of the West Coast offense.
On the offensive side of the ball, the Bills have a promising, but questionable, outlook. Ryan Fitzpatrick, Stevie Johnson, Fred Jackson and C.J. Spiller provides the team with a solid nucleus, and the offensive line yielded a league-best 23 sacks in 2011.
Fitzpatrick's poor play at the end of last season is cause for serious concern, though. If he doesn't play well, then this offense will sputter. Plus, the Bills are relying on unproven players like David Nelson and Scott Chandler to play significant roles.
There's no doubt Miami's defense is capable of shutting down Buffalo's offense. The Dolphins monstrous defensive line and athletic linebacker corps can contain Jackson and Spiller, and both Sean Smith and Vontae Davis can match up with Stevie Johnson.
The Dolphins also travel to Buffalo in mid-November, so they won't have to face the Bills in the bitter cold like they have in years past.
Why the Miami Dolphins Can Beat the New England Patriots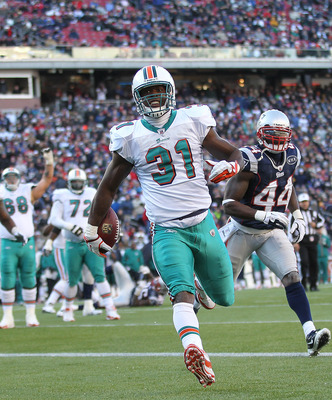 Jim Rogash/Getty Images
The odds of Miami defeating New England in 2012 are quite slim, but it's not entirely far-fetched. After all, the Dolphins did shut out the Patriots in the first half of their Week 16 meeting.
We know New England's offense will rank amongst the league's best. In fact, given the additions of Joseph Addai, Jake Ballard, Brandon Lloyd and Robert Gallery, the Patriots offense could feasibly be significantly better in 2012.
However, the Dolphins have combated the Pats' evolving offense by adding athletic linebackers (Josh Kaddu, Gary Guyton) who can help cover Rob Gronkowski and Aaron Hernandez. And Richard Marshall provides Miami with a rock-solid nickelback who can help shut down Wes Welker and Tom Brady's bottomless arsenal of wideouts.
Realistically, the Dolphins could boast a generational defense, but it wouldn't matter. You can't stop New England's offensive attack, you can only hope to limit it. And the best way to limit the Patriots offense is to keep the ball out of its hands.
Miami's new West Coast scheme will allow them to do just that.
Although the Patriots defense should make strides from an ugly 2012 season, it won't be a top-flight unit.
The Dolphins should be able to establish the run against New England's mediocre run defense. More importantly, the 'Fins should be able to move the chains against the league's second-worst pass defense.
If Miami controls the ball and moves the chains with short, conservative passes, then it could definitely steal a game from New England this season.
Keep Reading

Miami Dolphins: Like this team?