Top 20 U-30 Free Agents Available in the Summer Transfer Window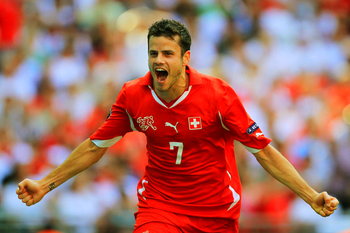 David Cannon/Getty Images Europe
Here are the top 20 free agents available, who are 29 years or younger.
Free agents want to be signed as soon as possible and it means some of the players listed could be signed as this article goes live. During the drafting process, the listed players were still free agents.
20. Marcos Flores, Attacking Midfielder, Age: 26
Last Club: Henan Jianye (2011-12)
Porto signed Hulk from Tokyo Verdy and now his transfer value has inflated to £30-40 million.
Birmingham City acquired Mauro Zárate on loan from Al-Sadd. Several good games later and he was off to Lazio and Inter Milan.
It's one thing for a player to perform well at a lower level of football, it's another for him to dominate to the extent that he could exert 50 percent effort and still be one of the best players on the field.
This is the case with Marcos Flores, who unlocked A-League defences with elegance and pizzazz. He opted to chase the money in the Chinese Super League, but it didn't work out.
Obviously Flores has pedigree because he played for Newell's Old Boys, whose alumni include Jorge Valdano, Américo Gallego, Gabriel Batistuta, Maxi Rodríguez and Lionel Messi.
Flores could be productive in the Eredivisie or the Belgian Pro League.
19. José Bosingwa, Right-Back, Age: 29
Laurence Griffiths/Getty Images
Last Club: Chelsea (2008-12)
José Bosingwa cost Chelsea £16.2 million. He was a defensive liability for the majority of his Blue's career. He wasn't even that good going forward to justify his defensive ineptitude. He hogged the UEFA Champions League trophy even though the team won in spite of him.
Cristian Molinaro was useless for Juventus but was one of the Bundesliga's best defenders during the 2009-10 season for Stuttgart. So, there's hope for Bosingwa.
18. Semir Štilić, Attacking Midfielder, Age: 24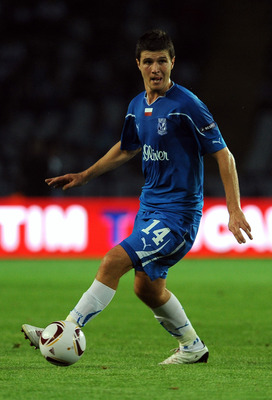 Valerio Pennicino/Getty Images
Last Club: Lech Poznań (2008-12)
It's been a year and nine months since Juventus conceded three goals to little-known Lech Poznań.
Artjoms Rudņevs scored a hat trick whilst his teammate Semir Štilić toyed with Felipe Melo and Mohamed Sissoko.
Lech Poznań cashed in on Robert Lewandowski and Rudņevs but it seems they've lost Štilić to a Bosman.
Throughout that Europa League campaign, Rudņevs and Štilić were playing inspiring football. What about Lewandowski? He had transferred to Borussia Dortmund several months earlier.
Štilić has what it takes to emulate compatriot Zvjezdan Misimović.
Talking about Rudņevs, keep an eye on him at Hamburg next season.
17. Simon Poulsen, Left-Back, Age: 27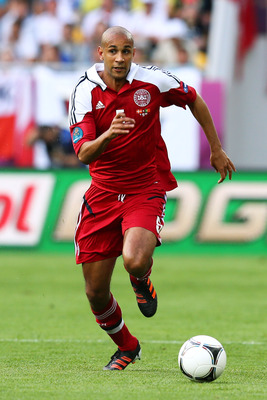 Martin Rose/Getty Images
Last Club: AZ (2008-12)
There are two Eredivisie left-backs available on a Bosman: Simon Poulsen and Dwight Tiendalli.
Poulsen is the better player and is more experienced. The 27-year-old Dane provides a spark down that left side.
In a 2-2 draw against Vitesse, he caused Frank van der Struijk all sorts of problems.
16. Danny Guthrie, Centre Midfielder, Age: 25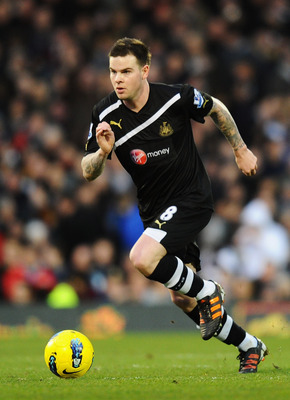 Mike Hewitt/Getty Images
Last Club: Newcastle United (2008-12)
Danny Guthrie is tenacious in defence and he's an underrated passer.
The issue isn't his ability but his habit of getting injured; he's had issues with his knees, shin, groin and calf.
15. Brad Guzan, Goalkeeper, Age: 27
Last Club: Aston Villa (2008-12)
Brad Guzan is more than just a penalty saving specialist. If Paul Robinson can start 34 Premier League games, then Guzan can do the same because he's a better keeper than Robinson.
In talking about Guzan's penalty heroics for Aston Villa, here are a list of his victims: Kenwyne Jones, Andy Reid, Lorik Cana, Jordan Henderson, David Dunn and Scott McGleish.
14. Carlos Sánchez, Defensive Midfielder, Age: 26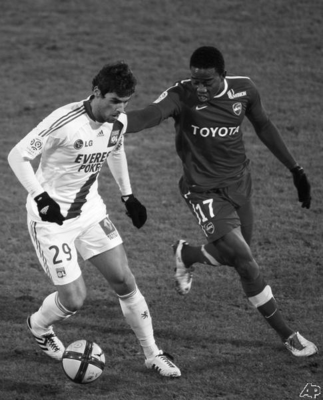 Photo via Associated Press
Last Club: Valenciennes (2007-12)
Carlos Sánchez can have a Cheick Tioté-like impact for a Premier League club.
It took Sánchez four minutes to get red card as he violently clattered into Saint-Étienne's Fabien Lemoine.
Sánchez's roughness overshadows his ability to orchestrate play. He completed 78.3 percent of long passes, compared to Yann M'Vila's 67.7.
13. Hugo Rodallega, Centre Forward, Age: 26
Jamie McDonald/Getty Images
Last Club: Wigan Athletic (2009-12)
Hugo Rodallega was short on confidence and, like Fernando Torres, shot blind on many occasions.
Rodallega's two goals from 56 shots makes for cringe-worthy reading.
He's a fox-in-the-box type forward, who has the ability to score 10-15 league goals for a modest La Liga club.
12. Craig Gordon, Goalkeeper, Age: 29
Matthew Lewis/Getty Images
Last Club: Sunderland (2007-12)
Craig Gordon's career has been debilitated by recurring knee injuries. As a result, he never lived up to his £9 million transfer fee.
When he was fully fit, he was making outrageous saves, as Zat Knight found out.
11. Salomon Kalou, Left Attacking Midfielder, Age: 26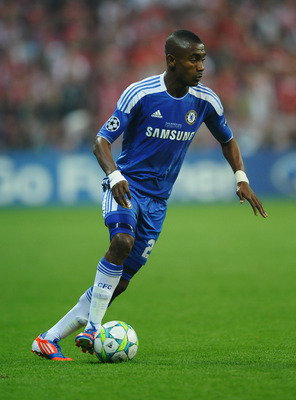 Laurence Griffiths/Getty Images
Last Club: Chelsea (2006-12)
The problem with Salomon Kalou is he's content with warming the benches and receiving a fat pay cheque for doing diddly-squat.
Believe it or not, Kalou was such an elite prospect that then-Netherlands manager Marco van Basten attempted to naturalise the Ivorian.
10. Andreas Ottl, Defensive Midfielder, Age: 27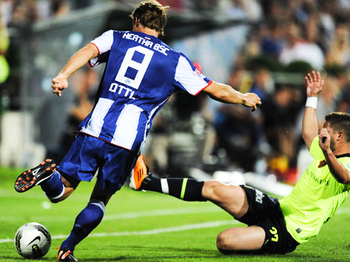 Photo via Deutsche Presse-Agentur
Last Club: Hertha Berlin (2011-12)
There's one word to describe Andreas Ottl: serviceable.
He averaged 3.2 interceptions per game, and he didn't embarrass himself as Hertha suffered relegation.
If a big club needs an experienced pro, they should look at Ottl, who was a useful utility player during his Bayern Munich days.
9. Ismaïl Aissati, Left Forward, Age: 23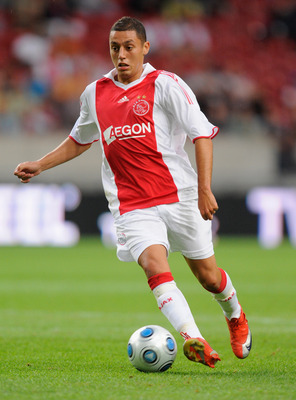 Michael Regan/Getty Images
Last Club: Ajax (2008-12)
In recent seasons, Ismaïl Aissati has played all over the place: right-winger, left-winger, centre midfielder, attacking midfielder, deep-lying forward, right forward, left forward.
Whilst his position is still up in the air, no one can deny his talent. And he's still fairly young.
If he can get it together, he'll be a solid contributor at a major club. If he decides to go to a mid-table or small club, he could be a star.
8. Sebastian Boenisch, Left-Back, Age: 25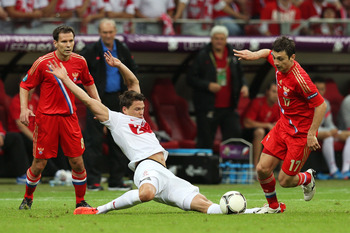 Alex Grimm/Getty Images
Last Club: Werder Bremen (2007-12)
During Euro 2012, Sebastian Boenisch was robust in his tackling for Poland.
Last season, Werder Bremen manager Thomas Schaaf preferred Lukas Schmitz and 19-year-old Florian Hartherz over Boenisch at left-back.
7. Nicolás Lodeiro, Deep-Lying Forward, Age: 23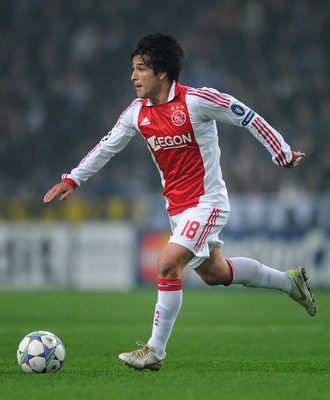 Jasper Juinen/Getty Images
Last Club: Ajax (2010-12)
With Christian Eriksen in front of Nicolás Lodeiro, the Uruguayan has been an outcast having suffered injuries at badly timed moments.
He had no luck breaking into the forward ranks either, with Siem de Jong taking his chances. Even super sub Dmitri Bulykin took advantage of his opportunities.
Lodeiro is technically superb but it remains to be seen if he can consistently produce at an elite level.
He only needs to look at the case of Daniël de Ridder to understand that talent alone can only carry you to a certain level.
6. Markus Rosenberg, Centre Forward, Age: 29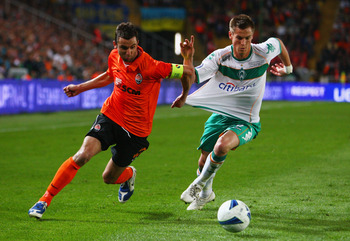 Mike Hewitt/Getty Images
Last Club: Werder Bremen (2007-12)
Markus Rosenberg's finishing was woeful for Werder Bremen. He took 8.2 shots per goal whilst Claudio Pizarro, his partner, took 4.7 shots per goal.
Throughout Rosenberg's career, he's played the Stéphane Guivarc'h role—make a run and hope opposing defenders follow.
This allows Rosenberg's teammates to profit, as Pizarro did last season, and Zlatan Ibrahimović in Sweden's 2-1 loss to Ukraine.
5. Junior Hoilett, Left-Winger, Age: 22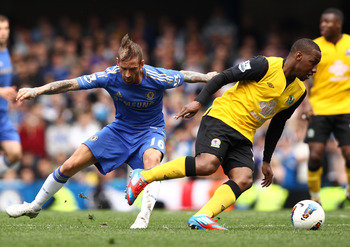 Ian Walton/Getty Images
Last Club: Blackburn Rovers (2007-12)
Junior Hoilett's goals/created scored average was 0.71 when he started as an attacking midfielder. It decreased to 0.31 when he played on the left and 0.17 on the right.
He's a jet-heeled dribbler who has relatively good playmaking ability.
He could end up as a No. 10, but if clubs aren't willing to trust him in such an important role, they will play him on the left because he's productive as an inside-out winger.
4. Otman Bakkal, Attacking Midfielder, Age: 27
Last Club: On loan at Feyenoord (2011-12); PSV Eindhoven (2003-12)
Mercurial is the perfect word to describe Otman Bakkal.
He'd be a good fit at a mid-table to small club in one of Europe's elite leagues. When he's loved, when he's the main man and when the manager wants him—that's when he plays his best football.
Unfortunately, his career so far has been good but not good enough for someone of his ability.
3. Royston Drenthe, Left-Winger, Age: 25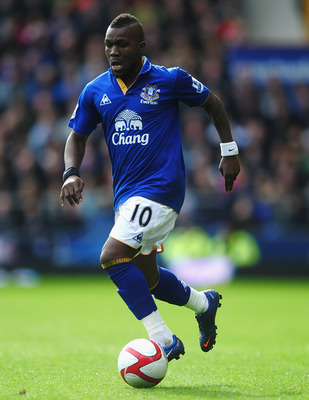 Laurence Griffiths/Getty Images
Last Club: On loan at Everton (2011-12); Real Madrid (2007-12)
Royston Drenthe is quick, he's tricky and—most importantly—direct.
He lacks discipline, which is the primary reason why his career has stagnated.
His "me, me, me" attitude has caused him to clash with the management of Feyenoord, Real Madrid, Hércules and Everton—which is every professional club he's been on.
2. Eiji Kawashima, Goalkeeper, Age: 29
Last Club: Lierse (2010-12)
Eiji Kawashima is not only world class shot-stopper but a well-rounded individual.
Here are some examples: he's a J-League Fair Play recipient. For the last two seasons, he's been Lierse's MVP. He's trilingual, having mastered Japanese, English and Italian.
He wants to play in Serie A—which is why he's learnt Italian—and he's paired up with football agent Andrea D'Amico.
Kawashima is good enough to be a starter at a mid-table club, so he shouldn't let the allure of being an AC Milan "player" (benchwarmer) jeopardise his career.
1. Tranquillo Barnetta, Left Attacking Midfielder, Age: 27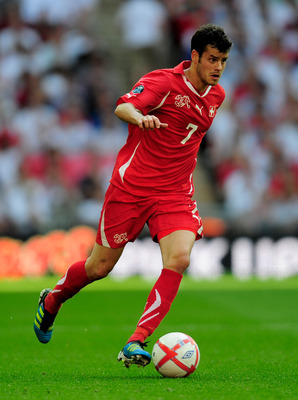 Jamie McDonald/Getty Images
Last Club: Bayer Leverkusen (2004-12)
A troublesome hip and a serious knee injury ended Tranquillo Barnetta's tenure at Bayer Leverkusen.
He shredded Benedikt Höwedes, as the Swiss star created three goals in the 5-3 win.
Barnetta should play on the left because he's lethal as an inside-out threat.
His inswinging crosses create havoc between goalkeepers and defenders. Marc-André ter Stegen, Mats Hummels and Per Mertesacker can attest to that statement.
Please read Why The Blues Must Sign Capoue
Statistics courtesy of WhoScored.com

Keep Reading