Portugal vs. Spain: 6 Things We Learned from Euro 2012 Semifinal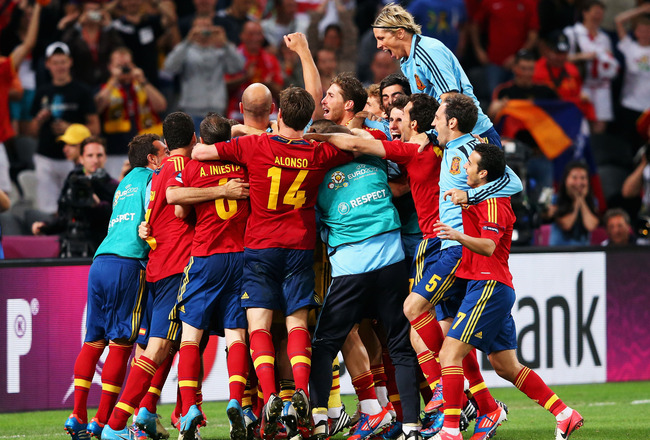 Alex Livesey/Getty Images
Spain keep finding a way. Now they're only one match away from history.
Spain defeated Portugal, 4-2, in a penalty shootout Wednesday in the Euro 2012 semifinals after 120 scoreless minutes. Cesc Fabregas converted the decisive spot-kick after Portugal's Bruno Alves hit the bar in the fourth round.
Portugal superstar Cristiano Ronaldo did not take a kick in the penalty shootout.
If that wasn't bad enough, Ronaldo also missed a clear chance near the end of regular time. Had he converted it, Portugal might be playing in Sunday's final.
Instead, Spain will play for an unprecedented third straight major title Sunday in Kiev, where they will face either Germany or Italy.
Here are six things we learned from the match.
Where Was Ronaldo?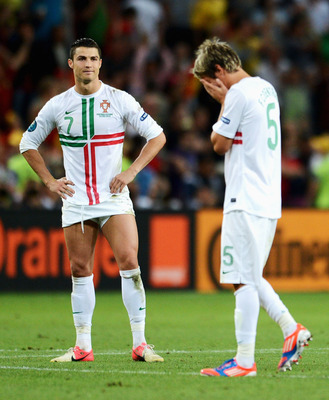 And where are his shorts here?
Jasper Juinen/Getty Images
Cristiano Ronaldo did not take a penalty during the shootout.
Theoretically, as Portugal's fifth taker, he could have won the match for his country with a successful spot-kick.
But it never came to that.
Coincidentally enough, Ronaldo wasn't shy about blasting multiple free kicks over the bar during regular time. But whether you think Ronaldo was hiding or holding out for extra glory is irrelevant.
What mattered was that his team needed him to take a penalty.
And with that in mind, Ronaldo should have gone first for Portugal. Period. Full stop. No argument necessary.
There should have been no chance for Ronaldo to miss out on taking a penalty. His contribution is always too important.
He didn't go first, and in the end, he didn't go at all. That's a shame for him, for Portugal and for all of us.
Razor-Thin Margin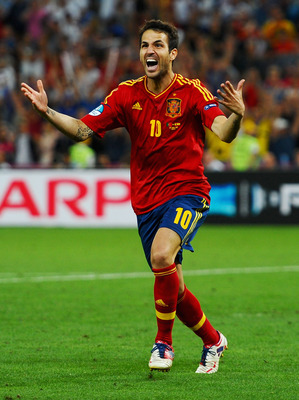 Laurence Griffiths/Getty Images
Make no mistake, Portugal played Spain better than any team had so far at Euro 2012.
They pressed, they attacked and, most importantly, they didn't fear their Iberian neighbors.
The two teams cancelled each other out for long periods, and that made for a tight game that was, in honesty, a bit dull at times.
There was nothing dull about the finish, though.
Had Cesc Fabregas' penalty hit the outside of the upright instead of the inside, the ball would have bounced away harmlessly—and Cristiano Ronaldo would have had his chance to tie up the shootout.
Instead, Fabregas scored the winning penalty, and Spain eliminated Portugal by the most razor-thin of margins.
Spain Still Human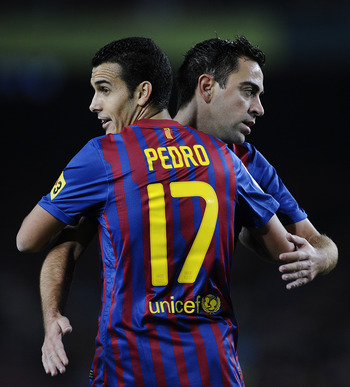 David Ramos/Getty Images
Portugal contained Spain better than any other team had for some time, but it would be wrong to rule out the role played by fatigue.
Spain had two fewer days than Portugal to prepare for the match, and the difference showed.
Consider Spain's substitutions as evidence. Vicente del Bosque's selection of Alvaro Negredo as Spain's only true striker didn't work, and bringing on Cesc Fabregas early in the second half was an easy—and correct—decision.
But that wasn't the important substitution. The two after that were more revealing.
Jesus Navas replaced David Silva in the 60th minute, 30 minutes before the end of regular time. Navas is a fine player, but Spain can only benefit from having Silva on the pitch for as long as possible—that is, unless he was tired.
Then, with three minutes left in regular time, Pedro replaced Xavi. Replacing Xavi at any point is always noteworthy for Spain, but in a tight semifinal, the switch was even more telling.
Same for Ronaldo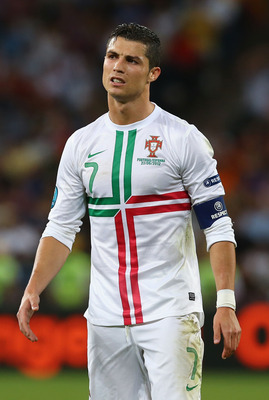 Martin Rose/Getty Images
Cristiano Ronaldo dazzled with his displays during Portugal's two previous matches, scoring all three of his country's goals including both match-winners.
On Wednesday, his performance wasn't as strong, and an incident just before the end of regular time was striking.
In the 90th minute, Portugal countered following a Spain free kick. The chance fell to Ronaldo on the left, and the Real Madrid superstar had time and space to shoot with his left foot.
His sliced shot fizzled high and well wide of the bar, and with it went Portugal's last really good chance to win the match.
Rui Patricio Saved Portugal in Extra Time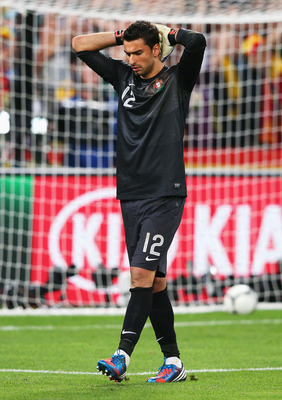 Alex Livesey/Getty Images
Spain awakened in extra time, testing Portugal's defense and goalkeeper Rui Patricio with a number of chances.
The best came in the 103rd minute when Jordi Alba cut back a cross from the byline to Andres Iniesta, who hit a first-time shot on goal.
Rui Patricio palmed the ball away and out for a corner, keeping Portugal alive for a few moments longer.
Patricio's contribution was essential, too. The final stats say Portugal recorded 10 shots, but only two on target.
In the penalty shootout, Patricio even managed one save, the same as Iker Casillas (who benefited from a shot off the bar).
Bookings Galore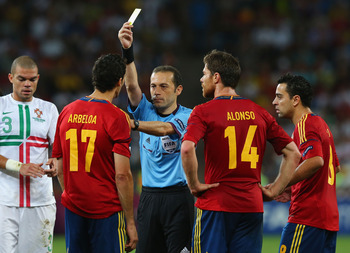 Martin Rose/Getty Images
Wednesday's match—actually, it spilled into Thursday local time—featured nine bookings, and if that number seemed high, there was a reason for that.
As Opta reports, the nine bookings were only one short of the all-time record at European Championships.
Does it mean anything? It's hard to say.
The Turkish referee appeared out of his depth at times, but his decision to book Sergio Busquets (for lobbying for a card on Cristiano Ronaldo for a supposed dive) was both welcome and correct.
Keep Reading