Houston Rockets' Unrequited Love for Dwight Howard Could Set Franchise Back
June 27, 2012

Jeff Zelevansky/Getty Images
The Houston Rockets have made two trades in the last two days, supposedly in an effort go gather assets and make a move to land Dwight Howard. Alvaro Martin of ESPN sums up the situation. 
Rockets give up main C, collect 12th, 16th and 18th overall picks. They've lusted after @PauGasol and #DwightHoward, now they need a center.
— Alvaro Martin (@AlvaroNBAMartin) June 27, 2012
What have the Rockets done?
According to Adrian Wojnarowski of Yahoo! Sports, yesterday they traded Chase Budinger for the 18th pick. Today, they traded their 14th pick and their starting center, Samuel Dalembert, for the 12th pick, Jon Leur, Jon Brockman and Shaun Livingston. 
How much are the two Jons and a Shaun going to help? Likely, not much. The best of the three, Shaun Livingston, has marginal potential. 
There's a "rule" in the trading world, and that's whoever gets the best player wins the trade. For the second day in a row, the Houston Rockets have lost that contest.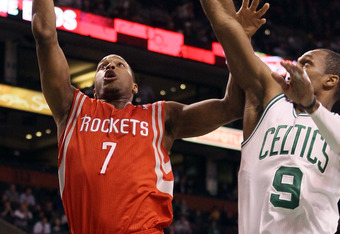 Elsa/Getty Images
They're trying to collect "assets" in order to make a play for Dwight Howard, but no number of picks in the teens is going to make things any more likely for Houston to make the trade. According to ESPN's Mark Stein, the Rockets have a ridiculous man crush on Dwight Howard and can't take no for an answer. 
If they combine enough picks with their point guard, Kyle Lowry, they feel they can persuade Orlando to make the swap. 
Tsk. Tsk. Houston, we have a problem. 
The bottom line is that what you get in the middle round of the draft are, at best, "eh, OK" players. Don't believe me? See Exhibit A:
In 2009, middle-round selections included Gerald Henderson, Ty Lawson and James Johnson. 
In 2008, you had players like Jason Thompson, Marquese Speights and JaVale McGee. 
I know, who?
Maybe one of the three is a solid player. At least one of the them will be a bit of a flop. The third will be something in between. 
In other words there's no number of marginal picks that you can wrap together with a "pretty good" point guard in Kyle Lowry and think that somehow that's going to make your deal better. 
The equivalent of what the Houston Rockets are doing is taking $10,000 dollars and changing currency over and over thinking that somehow that's magically going to become more money. 
However, each time they convert the money they have to pay a fee, and their total value just slips a little further. Why are they doing this? Because of this foolhardy hope that somehow if they keep playing with their money it will look like more. 
At best they have the same value to trade that they did before, and at worst they have a little less. If they do get get Howard, who are they going to pair him with? Two Jons and a Shaun?
Then what happens? You have a team that is an absolute wreck next season and the chances of retaining Howard hover in between nil and none. Then Dwight bails. 
Trading away a franchise to get a franchise player doesn't work well. Just ask the New York Knicks. What doesn't work at all is trading away your franchise to land a rental. Just ask the Brooklyn Nets. 
The Houston Rockets need to stop trying to spend all their money on a prom date that doesn't want to go to the prom and take "no" for an answer. Otherwise, they'll be horrid team for the next decade with no players, no picks to obtain them and no hope of landing a free agent.