NHL Rumors: Odds for Each Team in the Hunt to Land Ryan Suter
June 27, 2012

Christian Petersen/Getty Images
We're just days away from July 1, which means that Ryan Suter will soon be figuring out the destination of the team he'll be playing for the 2012-13 season, and perhaps beyond.
Although a potential NHL lockout could be just around the corner, free agency will hit with time left for every team to make a big move. Suter has been one of the most prominent names on the trading block for some time, and the chances of him leaving Nashville seem much higher than before, after their second-round exit from the playoffs this season.
The American made his first All-Star game during his 2011-12 season and has steadily become one of the league's top defenseman. He's undoubtedly the top blue liner of free agency this year and one of the top skaters available in general.
Suter's been linked to several teams since rumors began to heat up after the Predators' season ended. Here are the odds for each team in the running for him.
According to Josh Cooper of The Tennessean, Suter has found his home in Nashville and it could prove to be difficult for any team to sway him from the ties that he's built in the South.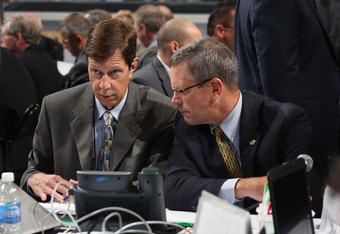 Bruce Bennett/Getty Images
Since being drafted seventh overall by the Preds in the 2003 NHL Draft, Suter has slowly worked his way up the team's depth chart and now finds himself a vital part of the three-headed monster that is Nashville Predators hockey. With partner Shea Weber and netminder Pekka Rinne, he's surrounded by a strong core that could vie for a Stanley Cup if surrounded by proper skaters. 
Although, Suter's growing price as the No. 1 defenseman on the market could prove to be too much for a Predators team that has trouble spending and already has to have a hefty sum ready for restricted free agent Weber. 
Suter is a level-headed player who will likely take his time to make his decision, according to Josh Cooper of The Tennessean. But you have to wonder at this point whether the Preds have proven to him that they can vie for the Stanley Cup that he's desperately searching for and give him the money that he wants.
Predators Odds: 35%
Red Wings fans have been donning Ryan Suter as the heir apparent to Nicklas Lidstrom for some time, and that was only amplified when the Predators spanked Detroit out of the first round in five games.
George Sipple of the Detroit Free Press reports that the Red Wings are major players in the hunt for Suter, and this should come as no surprise. The Detroit team that the sports world has revered as a consistent contender is getting older and desperately needs to bolster its talent defensively.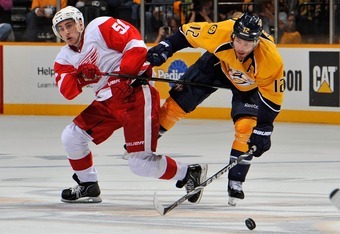 Frederick Breedon/Getty Images
The money that Detroit is likely ready to throw at Suter makes them strong contenders, and a chance to replace one of the all-time greats and cement his status as the team's top defender could both be enticing to Suter.
Besides, the Red Wings will do anything to keep from having to face off against Suter half a dozen times per year (possibly more) if he stays at rival Nashville.
Red Wings Odds: 45%
The Penguins have been cutting cap space in recent weeks in order to make a big move in free agency, which could very well be Suter.
After trading away Jordan Staal to the Carolina Hurricanes, they created enough room to bring in Suter or Devils forward Zach Parise. Rob Rossi of the Pittsburgh Tribune-Review says that the Penguins are making a hard push for Suter, who would greatly bolster a team that desperately needs it.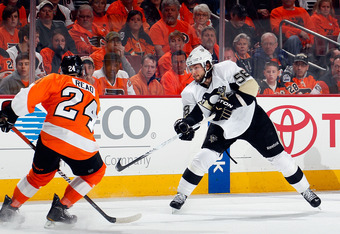 Paul Bereswill/Getty Images
Look no further than the Penguins' first-round exit in this year's playoffs to see how much they need Suter. They couldn't shut down the Flyers one bit, and have nowhere to go but up defensively.
But the Penguins still have a big contract for Crosby looming, which could be the biggest in NHL history. It'll be hard to match the type of money that Detroit and even Nashville may offer.
With the interest he has in Detroit and Nashville, as well as the Penguins' lack of cap space, Pittsburgh has slowly become an most unlikely destination. But they still have a chance.
Penguins Odds: 20%