NBA Rumors: Kevin Garnett Would Be Right to End Career as a Boston Celtic
June 27, 2012

Mike Ehrmann/Getty Images
Doc Rivers is being extremely hopeful and "positive" about Kevin Garnett's possible return to the Celtics. At Tuesday's Positive Coaching Alliance breakfast, Rivers answered questions about the 36-year-old's possible return (via Boston Herald):
Absolutely...Let's just say yes. Positive thinking...I hope he comes back, and I think he will. I have no basis for that. I just believe that he will.
Returning to Boston for an 18th season would be the right thing not only for Garnett and his legacy but also for the C's.  
In his five seasons with the Celtics, Garnett has averaged 16 points, 8.4 rebounds and 2.8 assists while being the defensive leader on the floor.  
Garnett won his first and only championship with Boston in 2008, giving the Celtics their first championship in 22 years—the last one coming in 1986. Ever since arriving in Boston in summer 2007, Garnett has been beloved by the organization and the city. The fans appreciate his unmatched work ethic and passion for the game.
Although he was drafted by the Minnesota Timberwolves and won his MVP award while playing for the T'Wolves, Garnett will be remembered as a Boston Celtic.
His passion for the game is unmatched in the league today, and his game epitomizes the Celtics' tradition of hard-nosed, high-effort basketball. 
According to Mark Murphy of the Boston Herald, Celtics GM Danny Ainge believes that Garnett will either return to Boston for another season or retire from the NBA.
While that may sound a bit too cut-and-dry, those seem to be the only logical choices for the former MVP. It would do nothing but hurt Garnett's legacy if he were to become a journeyman at this point—remember Shaq at the end of his career?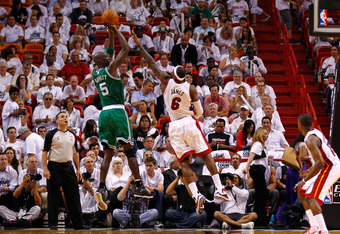 Mike Ehrmann/Getty Images
It's not as if he's washed up—Garnett had one of his best postseasons in recent memory in 2012.
This past postseason, Garnett impressed the basketball world, scoring nearly 20 points per game and grabbing over 10 rebounds. His excellent play was one of the main reasons the Celtics found themselves in the Eastern Conference finals.
Garnett has the type of game that could allow him to play at least one more year, if not more, in the league. He's become a mid-range shooter, and while he does still score from the post, Garnett doesn't do as much banging down low as he used to.
If he chooses retirement, the Celtics will find themselves with a major hole on their roster, as Garnett has been their lone low-post threat for years.
Celtics fans everywhere should be hoping that Rivers' "positive thinking" is working and that Garnett comes back to Boston for a sixth season.   
If Garnett decides to return to the Celtics, which he should, Boston would be a threat once again in the Eastern Conference and Garnett would have the opportunity to win a second NBA championship—which is what's most important at the end of the day.