New York Yankees: CC Sabathia Put on 15-Day DL, Freddy Garcia to Join Rotation
June 27, 2012

Elsa/Getty Images
Ever since coming to the New York Yankees in 2009, CC Sabathia has been a workhorse and very durable.
On Wednesday, the Yankees ace suffered his first setback regarding his health with the team.
Bryan Hoch of MLB.com broke the news that the Yankees will place Sabathia on the 15-day disabled list with a Grade 1 strain of the adductor muscle near his left leg (groin strain). He is expected to be out until after the All-Star break.
Freddy Garcia will take Sabathia's spot in the rotation until the left-hander is ready to re-join the team.
CC was 9-3 with a 3.45 ERA, 105 strikeouts in 107 innings for the Bombers in 2012, and could have potentially been on the American League All-Star squad.
Sabathia had the fourth-highest total among American League pitchers with 105 strikeouts; Justin Verlander, Max Scherzer and Yu Darvish are the only ones who are higher that the Yankees ace.
Craig Calcaterra of NBC's Hardball Talk said that Sabathia felt it happen when taking the bullpen yesterday before their game against the Cleveland Indians.
Yankees manager Joe Girardi said that "while CC doesn't want to go on the D.L., right now it's the best option and miss only two starts, it's better than seven or eight."
The Yankees are doing the right thing by putting Sabathia on the DL now, as opposed to waiting this out and potentially seeing him worsen the injury and face even more time out.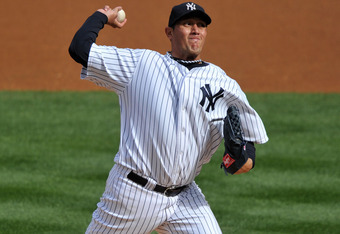 Christopher Pasatieri/Getty Images
The Yankees and Girardi know how important their ace is to their playoff chances and cannot afford to lose him for a major period of time.
Garcia, who started out in the rotation, will now return after a terrible April in which he posted an 0-2 record and a 12.51 ERA before being demoted to the bullpen.
Since then, Garcia has barely seen the mound and mostly pitches in mop-up duty. He got his first win of the 2012 season last Saturday when the Yankees beat the Nationals in 14 innings and were running out of relief pitchers to put in the game.
In his latest relief outings, his velocity seemed to be picking up and improving. During the first month of the season, Garcia would be lucky if his fastball hit 87 miles per hour.
It's a tough loss right now for the Yankees, who will play the White Sox, Rays and Red Sox before the All-Star break.
For the team's sake, they can only hope the two starts are all CC misses, that he gets healthy and returns to form for the second-half run of the 2012 campaign.
Stay tuned, Yankees Universe.