2012 NBA Draft: 2 Potential Lottery Busts Golden State Warriors Must Avoid
June 27, 2012

Streeter Lecka/Getty Images
In the past few days, I've written about some players the Golden State Warriors would be wise to select in the 2012 NBA Draft, and jokingly, a couple guys they might take if former GMs were still in charge.
Now it's time to get serious.
If everything breaks right for the Warriors next season, they should have healthy cornerstones in Stephen Curry and Andrew Bogut. Klay Thompson should take the next step in his development at shooting guard, and David Lee will continue to put up solid numbers at the 4.
With a core like that, the Warriors have a chance to be respectable next season and possibly even sneak into the playoffs.
Of course, they could also screw everything up by botching this year's draft.
In an effort to prevent that, let's check out two major potential lottery busts the Warriors must avoid in this year's draft.
Damian Lillard
Weber State's Damian Lillard has shot up draft boards in recent weeks after a solid draft combine performance showcased his surprising athleticism.
Don't let the 39.5" vertical fool you, though. There are still plenty of reasons to think Lillard will be a bust.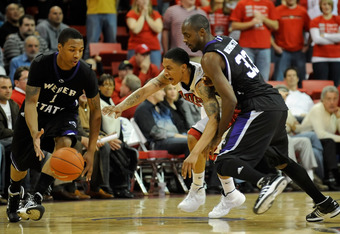 Ethan Miller/Getty Images
For starters, he'll probably have to play a lot of shooting guard in the NBA because he is a poor passer and lacks the court vision a player of his size (6'3", 189 pounds) should have. Despite an astronomically high usage rate, Lillard only averaged four assists per game as a senior.
So, Lillard lacks the skills to be a point guard, and he lacks the size needed to play the 2. He's a one-dimensional, undersized scoring guard.
And if you're curious about my feelings on one-dimensional scoring guards, check out my opinion on Syracuse's Dion Waiters. Or, I could summarize it for you here: They're not worth it.
Another factor that could mean Lillard will be a bust is his age. He'll be 22 years old when the 2012-13 season begins, making him one of the oldest players in the draft. That means he doesn't have as much room to develop as some of the draft's younger prospects.
The biggest knock on Lillard is that he didn't play against elite competition in college. Last year, Weber State's RPI was 71.
Lillard's Wildcats played three games against teams ranked in the top-50, and they lost them all.
On Nov. 28 against No. 28 St. Mary's, the Gaels allowed Lillard to try to beat them by himself. Lillard scored 36 points but had just three assists as his team lost by 17.
Then, Weber State played No. 46 BYU on Dec. 7. Lillard scored just 15 points on 5-of-12 shooting and his team suffered a 94-66 blowout loss.
Against No. 37 Cal on Dec. 16, Lillard shot 4-of-17 in a 20-point loss.
Of course, Lillard was pretty good against perennial powerhouses San Jose State (RPI  277) and Northern Colorado (RPI 256).
Lillard hasn't ever proved he can handle elite college competition, let alone the kind he'll encounter in the NBA.
The experts have spoken, as well. ESPN's John Hollinger has Lillard slotted as a mid- to late first-rounder. With the No. 7 pick, the Warriors must stay clear of Lillard and his high bust potential.
Austin Rivers
Here's the bad news on Rivers: He lacks elite athleticism, gambles too much on defense, has no left hand, takes a lot of bad shots and dominates the ball.
The good news? He's really, really cocky.
Rivers proved in his one year at Duke that he loved to pound his dribble and attack on offense. He took a high number of contested shots, and as a result, shot a woefully inefficient 43 percent from the field.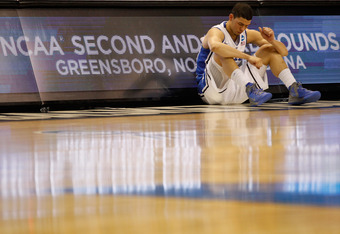 Streeter Lecka/Getty Images
Rivers' aggressiveness at least meant he shot a good number of free throws. Of course, he only made 65.8 percent of them—terrible for a guard.
As a teammate, Rivers hasn't shown much, either. He averaged more turnovers than assists (2.3 to 2.1) last year, so he clearly doesn't make the players around him better. More than that, his demeanor on the court shows that he's not exactly a joy to be around.
According to Tyler Ingle of nbadraft.net, "At times, Rivers will pout and show bad body language on the court. He's developed a bit of a prima donna attitude which hopefully will change as he matures."
From ESPN Insider experts' perspective, Rivers is a slightly better prospect than Lillard, but he is still only a mid- to late first-round talent.
So, even though both Lillard and Rivers could turn out to have decent NBA careers, neither is worth taking as high as No. 7.
The Warriors have actually made some solid decisions and built a little positive momentum in the past few months. If they can avoid a couple of busts in Thursday's draft, they've got a chance to keep that momentum going into next season.
Come on, Warriors, don't screw this up.