New York Knicks: Can Amar'e Stoudemire Turn It Around Next Season?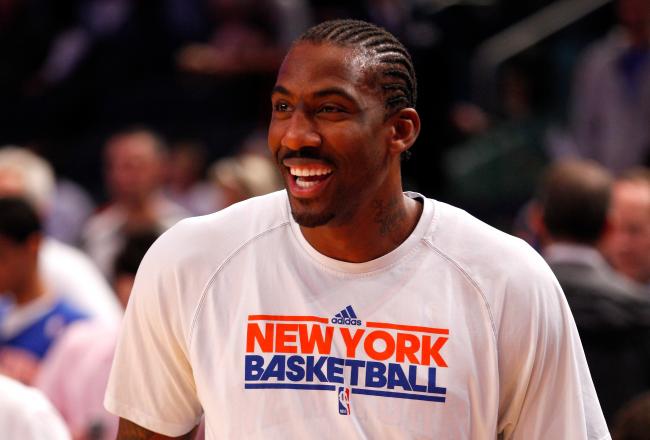 Jeff Zelevansky/Getty Images
The New York Knicks are a team whose players are amongst the most criticized in the NBA, even when they don't necessarily deserve the harsh treatment they receive.
After his 2011-12 campaign, though, Amar'e Stoudemire is a player who definitely deserves his share of criticism.
A lot of Stoudemire's problems last season came down to things he couldn't control—injuries took their toll on the forward, and I can't imagine how hard it must have been for him to deal with the death of his brother mid-season.
But for the culmination of that entire season to be, essentially, a career-worst year is not acceptable.
In a season where the additions of Tyson Chandler and Mike Woodson were enough to convince players such as Carmelo Anthony and J.R. Smith to actually play some semblance of defense, it was certainly disappointing to see STAT continuing in his old ways on that end of the floor.
Even in the blocked shot category—where Amar'e is typically successful—he regressed, and without Ronny Turiaf, the Knicks really didn't have another shot-blocker on the roster last season.
What disappointed me the most, though, was Stoudemire's play on the offensive side of the floor, where he had previously dominated in each of his nine other seasons in the league.
Although he and Carmelo Anthony may not necessarily be a perfect fit, there is no excuse for averaging eight points per game less than he did the previous season and completing his first season since 2006 with a field-goal percentage below 50 percent.
Will Amar'e Stoudemire return to All-Star form in 2012-13?
I could go on and on about how bad Stoudemire played last season, but ultimately, what we really want to know is whether or not he can bounce back in 2012-13.
The short answer to that question is yes.
Stoudemire has been through a lot in his career—be that injuries or non-stop trade rumours—but not once has he met something he's been unable to overcome.
Most players with his level of chronic knee problems would be out of the league by now, and it's a testament to Stoudemire that he's returned to the All-Star level we know him for time and time again.
His poor play last season wasn't completely down to injury, but it's the same idea—it's just something he has to overcome.
Though people are focusing now on his recent outburst on Twitter, Stoudemire is quietly planning his comeback, as he prepares to work with legendary Nigerian center Hakeem Olajuwon this offseason.
Playing with his back to the basket has always been an area of weakness for Stoudemire, even with his highly diversified offensive skill set, but adding an array of post moves will be a great way to get him back on form.
And looking at the results LeBron James had after working with Olajuwon last summer, Hakeem is just the man Amar'e needs.
But it will take a lot more than some new post moves to completely turn things around, and what will help the most is Stoudemire coming into training camp ready to start anew.
Though he's still a leader on this Knicks team, he needs to realise that 'Melo is the premiere scorer in New York and adjust accordingly.
Somehow, he needs to find a way to play off of Anthony despite their similar offensive tendencies.
It's not a simple task, but LeBron James and Dwyane Wade managed to do it, and look how it's worked out for them.
Last season, Stoudemire decided he wanted to become a more "finesse" player, but that's the completely wrong direction for him to go in.
By all means, he should develop his jump shot further, but that shouldn't come at the expense of his aggression.
Simply coming back with that same physical mindset he had up until this past season will make a huge difference for Stoudemire, and if he can do that, the rest will hopefully fall into place.
STAT is still in the prime of his career, and he has time to turn it around.
He'll have a fresh start under Coach Woodson, and now that he also has a true point guard to feed him, the onus is on him to make a comeback.
If players like Carmelo Anthony, Jeremy Lin and Tyson Chandler can continue where they left off last season, then a successful return of Amar'e Stoudemire could be the missing piece that makes this team a title contender.
This article is
What is the duplicate article?
Why is this article offensive?
Where is this article plagiarized from?
Why is this article poorly edited?

New York Knicks: Like this team?