NBA Trade Speculation: Is Pau Gasol the Next Move for the Timberwolves?
June 27, 2012

Brett Deering/Getty Images
On Thursday, the Minnesota Timberwolves traded their first-round draft pick (18th overall) to the Houston Rockets to acquire Chase Budinger and the rights to prospect Lior Eilyahu (via Yahoo Sports).
On the surface, it may not seem like the Timberwolves have much to do on Thursday night when the 2012 NBA Draft commences. Of course, when David Kahn swings one trade, there's more to come.
As the current roster stands, the Timberwolves currently have five guys capable of playing small forward (Budinger, Wes Johnson, Derrick Williams, Michael Beasley and Martell Webster). While depth should go into the decision on who gets playing time, there is almost no way that everyone could be kept happy in this log jam.
In other words, there's a storm brewing that could lead to Pau Gasol coming to Minnesota.
It wouldn't be the prettiest trade for the Timberwolves in term of the talent they currently have at the center and power forward positions (Nikola Pekovic and Kevin Love figure to occupy those spots for a long time), but Gasol could fit in Minnesota.
Gasol is still a productive player in the NBA as he averaged 17.4 points and 10.4 rebounds per game for the Los Angeles Lakers last season. However, the Lakers have used him as a scapegoat over the past couple of seasons and appear to be ready to deal the four-time All-Star.
But that would still beg the question of where Gasol would fit in on the current Timberwolves roster.
Between the three, it would be Pekovic that would be getting his playing time cut into. Still, having Pekovic coming off the bench to spell whomever would play the center (most likely Gasol), would add depth to a team that had Darko Milicic as their backup center last season.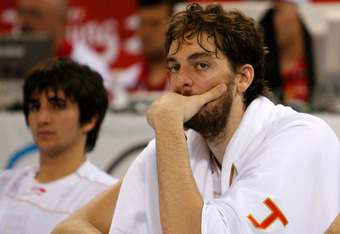 Harry How/Getty Images
No matter what would happen, head coach Rick Adelman would find a way to get all three their minutes and could even figure out a way to play either Love or Gasol at small forward to receive passes from Ricky Rubio.
Oh, and that's the other thing. Gasol and Rubio already have a connection from their days on the Spanish Olympic team. It may be overblown for it being this early in Rubio's career, but it wouldn't be a bad idea to keep one of the team's stars happy.
To acquire Gasol, the Wolves would likely have to tap into their surplus of forwards (something like Williams and Beasley would be likely in this scenario), but it would be worth it to satisfy Kahn and Adelman's plan to win now.
If the Timberwolves do make a deal for Gasol, it would not be a big surprise.