College Football Playoff: What the Last 3 Playoffs Would Have Looked Like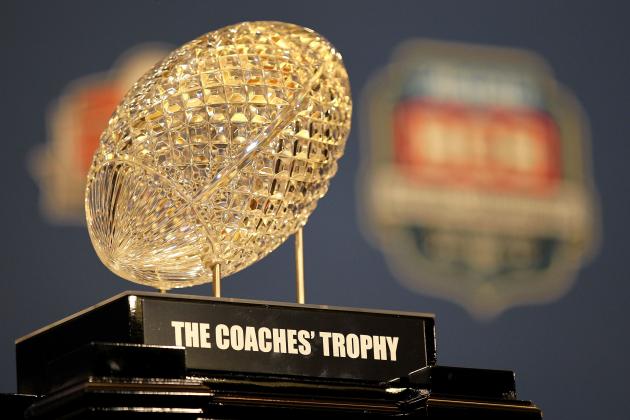 Andy Lyons/Getty Images

Now that it appears that the four-team national championship playoff is going to happen, I wanted to look and see how this would have set up over the last few seasons in the college football landscape.
The idea of a playoff has been a dream to so many, but will it result in a less argued and debated champion? We don't know right now how the four teams will be decided, but I will use what data we have to show some potential issues that may have arrived.
Let me start this by saying that I am not a big proponent of a playoff in college football.
This is because, at some level, every system shown thus far depends on rankings. And rankings are flawed. Anytime a group of people or computer algorithms can look at the same set of data and make differing conclusions, there is a problem. There is no foolproof way to remove the bias and subjectivity from this sort of data.
This is why any activity that needs to be judged is not a true sport (sorry gymnastics, diving and boxing). The selection of the four playoff participants will be subject to the same flawed interpretation of data that has given us the BCS rankings of recent past.
The other problem is the inevitable conspiracy theories. The recent vogue theory in college football is that ESPN has too much influence on the BCS rankings. This assumes that the voters and computer algorithms that decide the BCS watch Kirk Herbstreit and his ilk and actually pay attention to them. The supposed benefits ESPN receives by picking Alabama ahead of Oklahoma State are complicated, confusing and worthy of manifestos written by a hermit with tin foil on his head to keep the propaganda filtered out.
Besides, the one thing you can be sure of with a scatterbrained organization like ESPN is that whatever some expert tells you one hour will be contradicted by another expert the next. To think this group is capable of a coordinated conspiracy is a bit funny.
Anyway, using the final regular season BCS rankings as a guide, here is who would have made it to the four-team playoff in the last three college football seasons.
Begin Slideshow

»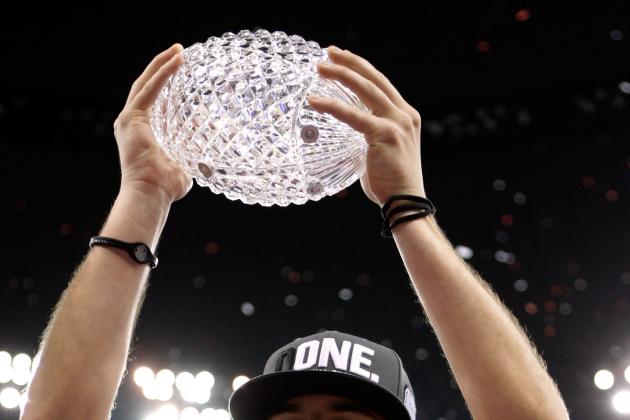 Andy Lyons/Getty Images

Participants: LSU, Alabama, Oklahoma State and Stanford
The argument and debate last December was between the merits of Alabama and Oklahoma State. With a four-team playoff, both teams would have been easily in and the argument would have turned to the No. 4 team.
Notable Teams Out:
Oregon: The Ducks and their high-powered offense had two losses against them, but a win against Stanford and a tough schedule on their side. The loudness of the argument over taking Stanford instead of the champion of its own conference would have been profound and probably more heated than the Oklahoma State versus Alabama debates.
Arkansas: It would have been hard to justify a third team from the SEC, even this good Razorback squad.
Boise State: The Broncos' loud fans think they are being overlooked every year, but they have to realize that their schedule is so poor that only an undefeated season gives them a shot.
Kansas State: Kansas State was a fantastic story in 2011, but no key wins would have kept them on the outside of the playoff.
Wisconsin: The Badgers had a high-powered offense, but two losses and a poor non-conference schedule would have given them no shot to crack the final four.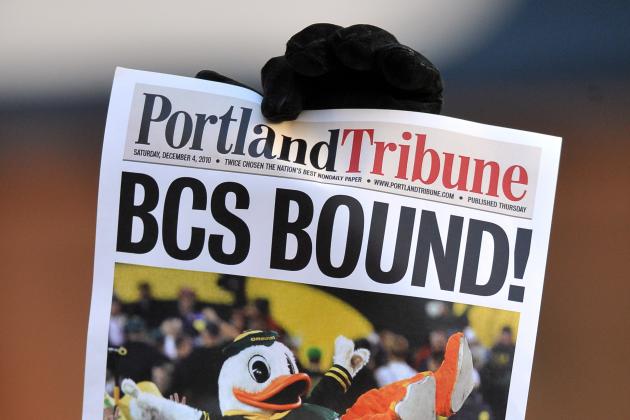 Steve Dykes/Getty Images

Participants: Auburn, Oregon, TCU and Stanford
Auburn and Oregon far outpaced the rest of the field and were clearly the top two, but the remainder of the field would have been hotly debated. Again, we see a second-place team from a major conference included in the top four rankings.
Notable Teams Out:
Wisconsin: The Badgers needed a complicated tiebreaker system to win the Big Ten, but their late-season explosion would have given them many supporters over a second-place Pac-12 team. This would have been another loud and strident debate.
Boise State: Boise State would have had to sit back and see what that undefeated season did for TCU, as the Broncos once again are forced to watch from the outside after an overtime loss to Nevada.
Oklahoma: The Sooners win the Big-12, but two losses leave them short of the playoff.
Arkansas: The Razorbacks are once again close but on the outside with two losses to top teams, Auburn and Alabama.
Jeff Gross/Getty Images

Participants: Alabama, Texas, Cincinnati and TCU
Alabama and Texas were way out front as the top seeds, but then look at the rest of the field. Yes, that's right folks, only three seasons ago an undefeated Big East champion would have been in the final-four playoff. Once again, an undefeated TCU gets into the playoff as well.
Notable Teams Out:
Florida: Their recent level of high play would have left many people in favor of putting the 12–1 Gators into the playoff mix. It would have been hard to say that the 2006 and 2008 champs did not deserve a place in a playoff when compared to teams who had their best wins over Pitt and Utah.
Boise State: The Broncos get their entry into a BCS bowl with their undefeated season but do not go high enough in the ranking to make the playoff. Boise State fans would have been livid at not even getting a shot to play in a playoff scenario.
Oregon: Two losses, including a loss to Boise State, put the Ducks in the BCS but clearly behind the playoff contenders.
Ohio State: The three-point loss to Southern Cal may not have hurt the Buckeyes too terribly, but the curious loss to Purdue sinks the Big Ten champs' chances here.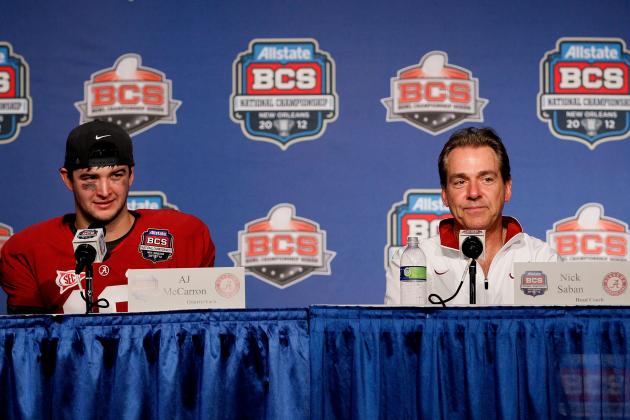 Chris Graythen/Getty Images

By going to a four-team playoff it appears that the rankings don't end the arguments, they just slide them down to a bit lower level. With a playoff the fight will not be as loud over who is ranked No. 1 or No 2. But the arguments over who is No. 4 versus No. 5 will be louder and nastier than ever.
It is clear through examination of these three recent seasons that questions exist. What criteria will the new selection committee highlight in their rankings? Are BCS rankings still used for the BCS bowls, but the four-team playoff is separate from that?
As shown here, the Big Ten champion has not been in the playoff mix any of the three past seasons, but what weight will winning a conference championship hold in the new setup? Will we continue to see so many second-place conference finishers make it to the playoff?
Will the playoff be dominated by the big conferences or will we continue to see the TCU's and other smaller conference champs make it to this level?
Answers to these questions may be forthcoming, but in the end we will need to see several seasons go by to see how it plays out. I expect we will see the big conferences protect themselves and ensure their teams benefit from the playoff as much as possible. One thing we can be sure of is that the arguments will never end. It is college football after all.