NBA Free Agents 2012: Pros and Cons of Deron Williams Staying with Brooklyn Nets
June 26, 2012

Chris Chambers/Getty Images
Pros:
1. Brooklyn Nets Can Offer Williams the Most Money
By more, I mean within the realm of $28 million and one year more than the closest bidder (the Dallas Mavericks) would offer.
The Lakers, another rumored destination, can't even come close to Mikhail Prokhorov's worst offer, considering they are well above the luxury tax. Their best shot is a sign and trade deal, which is out of Williams' hands.  
2. Dwight Howard is Still a Possibility
Howard has made no qualms about expressing his desire to play with Deron Williams.
As of several days ago, Yahoo! Sports reported:
Howard will push for a trade to the Brooklyn Nets before the June 28 NBA draft to clear the way for Nets free agent Deron Williams to re-sign with the Nets and partner in the new Brooklyn arena next season.
Adding one of the league's best centers is an alluring option for Williams to consider.
3. Brooklyn is Not Dallas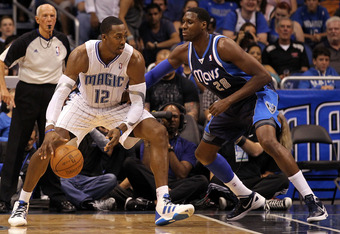 Sam Greenwood/Getty Images
Williams and his family reportedly love it in Manhattan, and although it would be alluring to return home, there has been some trouble with it in the past.
In his first two offseasons, Williams lived in his hometown Carrollton and found it "more hassle than homey." His mother told ESPN in an interview that "[it] was a big issue. People would just show up, and they felt like they never had any privacy."
Cons:
1. Nets Aren't a Winning Team
The Nets have won only two conference titles and no championships in their 45-year history. Even worse, Williams has lost 42 of the 67 games in New Jersey.
He told the LA Times "I'm not really in the mood for being part of a rebuilding process. I'm getting older. I'm about to be 28. I want to win. I want to win now."
As of now, even if the three-time All-Star re-signs, Brooklyn won't have enough to top NBA powerhouses such as the Heat and Thunder. 
2. The Nets Might Not Land Dwight Howard
Dwight Howard is no guarantee.
In March, the young center guaranteed he would finish out his contract in Orlando by terminating his option. Since then, he has also made it public that he wants to be traded to the Nets.
Plus, both Houston and Los Angeles have been mentioned in trade rumors. Prokhorov can do his best, but who really knows where Howard will end up.
Deron Williams can't center his decision on Howard's.  
Follow Me on Twitter: @AlspaughZA