Talking Vick, Watkins, Cox and More with Philly.com Eagles Writer Sheil Kapadia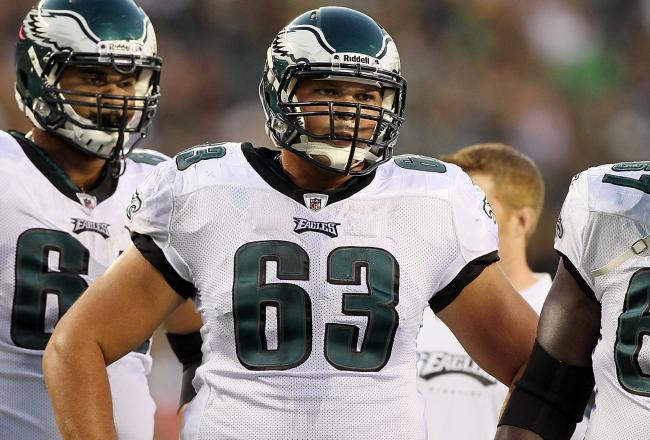 Jim McIsaac/Getty Images
The worst part about June is that we're still three months away from the start of the NFL regular season. The best part is that we can endlessly speculate about the prospects of each team, each unit and each player.
It's particularly fun speculating in regard to the Philadelphia Eagles, who are the most talented team in the history of professional sports* but have yet to deliver on high expectations.
Now, I've speculated over and over again about the Eagles, so it's time to bring in another, much smarter man for his opinion. And thus, I'd like to introduce you to Philly.com Eagles blogger Sheil Kapadia, whose Moving the Chains blog is one of my favorites to read each morning.
* Slight exaggeration, maybe.

Bleacher Report: We seem to agree that Michael Vick won't be making any dramatic changes to his style at this point in his career. It was suggested recently by Bob Ford of the Inquirer that the Eagles let Vick do his thing rather than keep trying to turn him into more of a pocket passer. From a stylistic approach, which Vick do you think is more beneficial to the Eagles, the 2010 version or the 2011 version? Considering that he was hit nearly as often yet seemingly less dangerous as a running threat last season, I think I'd prefer to gamble with the 2010 edition.
Sheil Kapadia: I'm not sure that I'd agree that the 2010 version was more of a threat as a runner. Vick was excellent as a runner last year, averaging 7.8 yards per carry—better than his career average of 7.2.
To me, the main difference, as many have pointed out, were the turnovers. Vick was intercepted just once every 62 attempts in 2010. That number moved to once every 30.2 attempts last season.
Vick also was not as good as he needs to be in the fourth quarter. The Eagles blew five games in which they led entering the fourth. While the defense played poorly down the stretch of games, the offense only managed three points in the final 15 minutes of those five games. Vick led zero fourth-quarter comebacks/game-winning drives. In 2010, he led four fourth-quarter comebacks.

B/R: I'm concerned about the left tackle position. Demetress Bell played nearly as well as Jason Peters did in limited action last year, but he has lacked consistency and has trouble staying healthy. I wouldn't be surprised to see King Dunlap get some reps this season, too. Either way, I think Philly is downgrading. I keep hearing that the offensive line is in good shape, but a line protecting Vick has to be better than average, and there's really no telling what they're going to get from Bell, Dunlap, Jason Kelce and Danny Watkins. Your thoughts?
SK: I don't think their expectations can be for Bell to match Peters, who was probably the best offensive lineman in the NFL last season. They just need him to be adequate, which I think he can be, based on what I've read about him in Buffalo and what I saw this spring. Dunlap will be the first backup option at tackle, but I don't expect him to push Bell as a starter.
To me, the key to the offensive line might just be Watkins. He's shown flashes as a run-blocker, but he just had too many issues in pass protection last year. Given that he has a first-round pedigree and will be working with Howard Mudd, it's reasonable to expect Watkins to improve, but we still need to see it. As for Kelce, I thought he really improved, and I think he's primed for a good season.
B/R: I'm trying not to read too much into what happened during the final four games last season. Sure, it was encouraging that Philly was finally winning games in fairly impressive fashion, and that run probably saved Juan Castillo's job (and maybe even Andy Reid's?). But we've been fooled time and again in sports by teams that peak late consistently. How important is it that the Eagles start strong this time around, especially in the ultra-competitive NFC East?
SK: Obviously, a strong start is preferred. But I don't think it's more important than any other year. The name of the game seems to be to stay in the mix and finish strong. Last year, they of course did not stay in the mix, so it didn't matter that they won their final four games. The Eagles only play one division game (vs. the Giants) in the first nine games, so they'll actually be able to make up some ground down the stretch.
Who will have a better pass rush next season?
B/R: I think either the Eagles or the Giants will have the best pass rush in the league this year. Ultimately, I like Philly's wide-nine and the depth it possesses up front, but I think New York has more top-end pass-rushing talent. Which pass-rush do you think will put up bigger numbers in 2012?
SK: That's a tough one, but I'd agree with your assessment. They certainly are two of the best in the league. I think JPP is the best defensive player overall among the two teams, but I think the Eagles will end up with better pass-rushing numbers. They tied for the league-lead with 50 sacks last season and now have a full offseason with Jim Washburn. Plus, first-round pick Fletcher Cox could instantly become their best interior pass-rusher.
This article is
What is the duplicate article?
Why is this article offensive?
Where is this article plagiarized from?
Why is this article poorly edited?

Philadelphia Eagles: Like this team?