Why Chicago Bears Fans' 2012 Expectations Should Be Super Bowl or Bust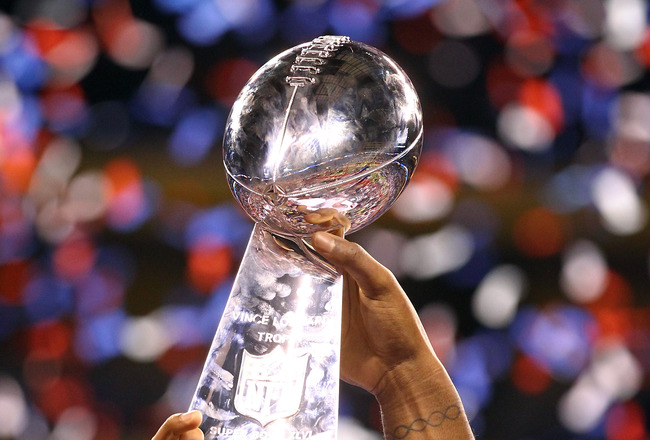 That could be the Bears hoisting that trophy this year.
Al Bello/Getty Images
When he took over as the head coach of the Bears in January of 2004, Lovie Smith had three stated goals: beat the Green Bay Packers, capture the NFC North Division and win the Super Bowl.
Um, Lovie, we're still waiting for that last goal to come to fruition.
In this, Smith's ninth season as head coach, he once again will try for that elusive goal to be the Super Bowl champion. But this year, that goal is not only attainable, it is to be expected, Bears fans.
Look, the homer in all of us would always like to believe that our team is capable of winning a title. But this season, the Bears do actually have a legitimate shot at Lombardi's trophy.
In my estimation, anything less should be unacceptable.
I know there are a lot of very good teams out there with the same goal. In fact, two of them are in the Bears' own division. But the Bears have not captured the title since January 1986, a drought of more than 26 years.
It is time.
With the changes made this offseason, the Bears offense seems finally good enough to outscore its opponents. The normally defense-first Bears are now a serious threat to score and, assuming their defense is up to the task, should be good enough to contend for the Super Bowl.
So it's Super Bowl or bust, Bears fans. Here's why.
Improvements to the Offense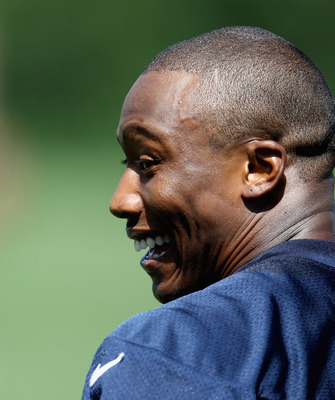 Jonathan Daniel/Getty Images
Two words suffice for the sake of this slide: Brandon Marshall. Yes, the Bears finally have a true No. 1 wide receiver, and even better, it just so happens to be Cutler's buddy and former teammate who he has had success with in Denver.
But there is even more to like about the offense this year. Mike Tice replaces Mike Martz as offensive coordinator, so the tight end will be more than a blocker and the play-calling will be more balanced. They can take advantage of Cutler's mobility.
The list goes on and on. The Bears went out and drafted Evan Rodriguez and Alshon Jeffery. The red-zone offense should be better because Cutler has guys now who will go up and jump for balls near the end zone.
Plus, with Michael Bush at running back, the Bears have two solid guys who can get the ball down the field (Matt Forte) and into the end zone (Bush).
It's Jay Cutler's Team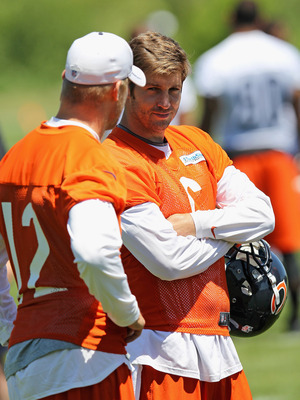 Jonathan Daniel/Getty Images
There is no doubt that this is now Cutler's team. The Bears have finally given their QB what he needs to be successful. Well, with the possible exception of an improved offensive line, that is.
But they made it clear that Cutler's wishes were being heard. They parted ways with Mike Martz and hired Cutler's buddy, Jeremy Bates. They went out and acquired his former teammate, Brandon Marshall.
So, now that this is Cutler's team, there are no excuses. And that is the way it should be, as the QB needs to be your team leader. Plus, surrounding the guy with the most pure talent on your roster with the weapons he needs is a good recipe for winning a Super Bowl, in my opinion.
At times last season, most notably during the game where Cutler appeared to swear at Martz, he and his offensive coordinator weren't on the same page. Cutler couldn't call audibles in the Martz system.
Now, when Cutler doesn't like the play called based on how the defensive formation looks, he can take advantage of better matchups and change the play at the line of scrimmage.
Improved Health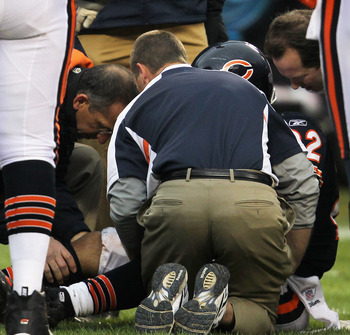 Jonathan Daniel/Getty Images
It is well-documented that at the time of Cutler's broken thumb last season, the Bears were 7-3 and rolling along toward an almost certain playoff berth. But after Cutler, and then Forte, went down, that was the end of the season for Chicago.
Anything can happen in a long, tough season, of course, and I certainly don't want to jinx anyone, but Cutler and Forte are both healthy again. Gabe Carimi and Brian Urlacher are each working their way back to health as well.
Assuming the Bears can avoid season-ending injuries to their key players, the season should have a much happier ending.
Better Coaching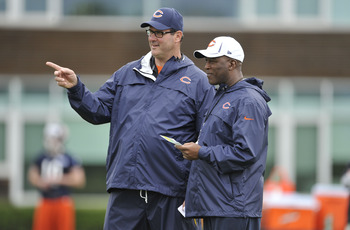 Brian Kersey/Getty Images
Lovie Smith has a sense of urgency to win now in order for him to retain his job beyond this season. He is in the last year of his contract with a GM who did not hire him. Although the McCaskeys and Ted Phillips like him, there is no guarantee he returns if the Bears don't make the playoffs.
Now, that sense of urgency alone won't necessarily make him a better coach. However, the last time Smith was faced with a need to win, the Bears made it to the NFC Championship game.
Another thing that may help are the changes in the coaching staff. Gone is Mike Martz and his seven-step drop, replaced by Mike Tice, who is expected to run an offense that is better suited to take advantage of Cutler's strengths as well as the personnel on the team.
Tice will use the tight end position for more than blocking and will occasionally throw the deep ball. He will run a more balanced offense that isn't so complicated.
Meanwhile, the hiring of Cutler's friend and mentor, Jeremy Bates, as QB coach is a good thing as well. It gives Cutler more say in the offense. In effect, he will be a part-time pass-caller for the offense.
In all, it is a better environment for the offense in which to work, and one that suits the talent much better.
The Defensive Window Is Still Open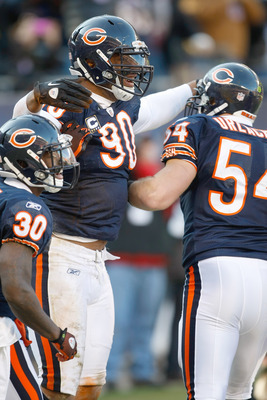 Scott Boehm/Getty Images
Yes, it is closing fast, but that window of opportunity for the aging defense is still open a crack, and the Bears need to take advantage before it's too late.
Sure, the core players on defense are all over 30 years old, but it's not as if any of them will be applying for Social Security any time soon.
Brian Urlacher is 34 and coming off a knee injury, but he expects to be ready to go and let's face it—even an 80 percent Urlacher is better than the average middle linebacker. And Lance Briggs (31), Charles Tillman (31) and Julius Peppers (32) are all still playing at a high level. In fact, Tillman made his first Pro Bowl in 2011.
Meanwhile, they may be getting long in the tooth, but Briggs made his seventh straight Pro Bowl and Urlacher got picked for the eighth time last season.
And with the offense being more explosive, the defense won't have to shoulder so much of the burden for the team.
Improved Depth at Key Positions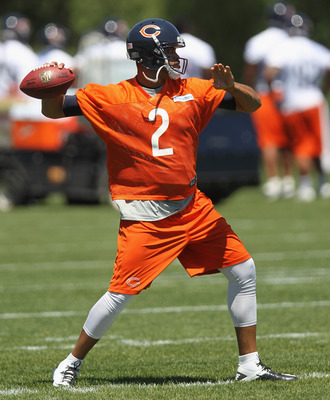 Jonathan Daniel/Getty Images
What happened to the Bears last year shouldn't happen again this year, even if the unthinkable happens and Cutler and Forte get injured again. New GM Phil Emery learned from former GM Jerry Angelo's mistakes and went out and signed Jason Campbell to back up Cutler and Michael Bush as the compliment to Forte.
Bush is also insurance if Forte holds out. He still hasn't signed his $7.74 million tender after being slapped with the franchise player tag and has a July 16 deadline to agree to a multi-year contract with more guaranteed money.
Campbell, meanwhile, if fully recovered from last season's injuries, is starter material. So if Cutler does go down again, and we hope he does not, Campbell should be able to hold down the fort until Cutler returns. Last year, of course, was a disaster once Cutler, and then Forte, got hurt, as backup QB Caleb Hanie wasn't ready to lead the team.
The Bears also went out and signed or drafted some depth for the secondary, wide receiver and tight end.
The Kids Are Alright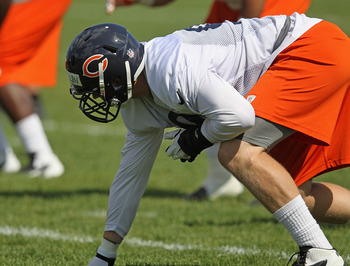 Jonathan Daniel/Getty Images
While it is true that the core of the defense is getting older, there are younger players who should be ready to step up and help this team in 2012. Maybe they lack replacements for Urlacher, Briggs and Tillman, but they have young players to be excited about who are not just rookies.
Since Stephen Paea, for example, is a second-year player, he can possibly be counted on to help the team now as opposed to a rookie who needs time to get acclimated. I have high hopes for Paea, who is country strong, and expect him to step up this season now that he will have a full training camp under his belt.
Meanwhile, Henry Melton is coming off a breakout season, His seven sacks tied for third among all defensive tackles in the NFL last year.
But even the rookies should help. Shea McClellin, who the Bears will start at end opposite Peppers, could help the pass-rush and take some of the pressure off of Peppers. I hope he's an improvement over Israel Idonije, who was inconsistent last season, finishing strong but disappearing at times.
As previously mentioned, Jeffery and Rodriguez should both contribute on offense, with Rodriguez being a hybrid tight end who is quick and can take short passes and turn them into long gains. Jeffery, meanwhile, can use his height to grab some jump balls in the red zone.
Keep Reading

Chicago Bears: Like this team?