Georgia Football: Bulldogs' Biggest Weaknesses Heading into 2012 Season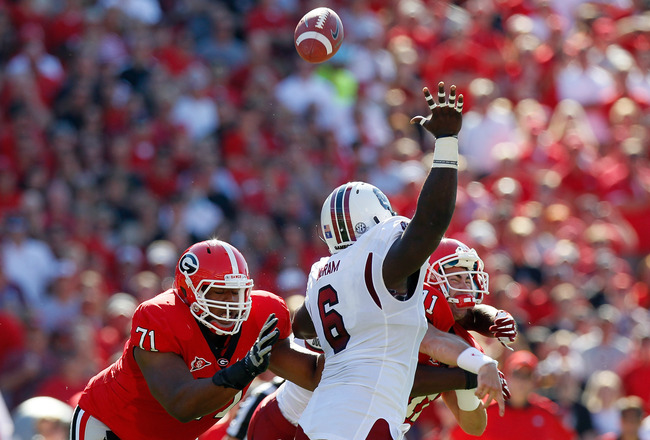 Kevin C. Cox/Getty Images
The Georgia Bulldogs are a preseason Top 10 team because they are strong at a lot of positions.
They have a solid quarterback, a very good group of receivers, one of the best defensive lines in the country and linebacker Jarvis Jones could win a lot of awards when the season is all said and done.
But just like every team in college football, the Bulldogs have their share of weaknesses that will need to be addressed in order to reach their goals. If they don't get them addressed in the early stages of the year, then the Bulldogs will say hello to a Dec. 30 bowl, which is something they don't want to do.
Here are the biggest weaknesses for the Bulldogs heading into the 2012 season.
Offensive Line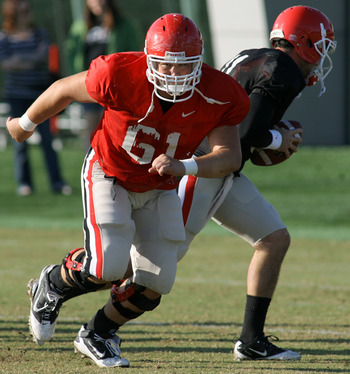 This is the No. 1 concern for all Georgia fans, and for many reasons.
But the No. 1 reason this is a huge weakness for the Bulldogs is the fact they have to replace three starters.
They do have three starters returning in Chris Burnette, Dallas Lee and Kenarious Gates, but Lee has not played since November because of a broken leg.
The Bulldogs have some talented players who can step up such as Kolton Houston and David Andrews, but those two are unproven. There's also a chance new recruit John Theus could see some time at tackle when he gets his feet wet.
There's a lot of talent along the offensive line, but will the unit be able to put it all together?
Special Teams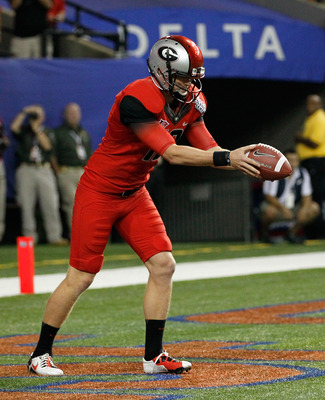 Kevin C. Cox/Getty Images
A lot of fans have wondered what the offensive line is going to look like, but a bigger question mark has to go to the special teams because they struggled all year, and they came close to costing the Bulldogs an SEC Championship Game appearance.
The kick coverage struggled all year; Blair Walsh was inconsistent, and Drew Butler did not have his best season in 2011.
So, there will be a new kicker (Marshall Morgan) and a new punter (Colin Barber). Both were very successful in high school, but can they handle the pressure of kicking in the SEC?
As for the coverage teams, this is a situation where they may need a coach to just focus on special teams. The Bulldogs don't have a special teams coach, and it could hurt them in the end if they are not careful.
Secondary Depth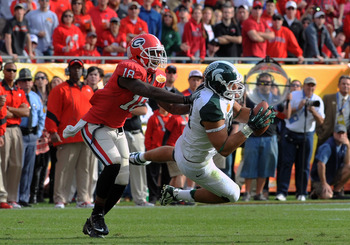 Al Messerschmidt/Getty Images
The four starters in the secondary make a very good group that has a lot of experience. But three out of the four players will be suspended on opening day, so the Bulldogs need more defensive backs to step up and prove to the coaching staff that they can handle the duties.
Guys like Damian Swann, Malcolm Mitchell and Connor Norman will be expected to play at a high level when the starters are gone. All three are talented, but they will have some growing pains during the early stages of the season.
Consistent Running Game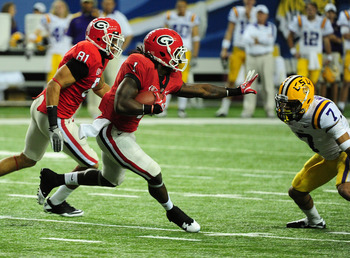 Scott Cunningham/Getty Images
There will be quite a few running backs to carry the ball for the Bulldogs this season, but they have to find that one back who is able to carry the ball 25-30 times a game.
Isaiah Crowell was the starter last year, but injuries plagued his freshman year, and he is now listed as the backup for Ken Malcome, who came on strong the second half of last season.
Keith Marshall and Todd Gurley will have a chance to see a lot of action this year. Marshall is more of a speed back, and Gurley brings some speed, but more power.
Like the offensive line, there is talent at the running back position, but Georgia has to find that one person who can be the feature back.
If that happens, everything else will fall into place.
Will These Weaknesses Improve?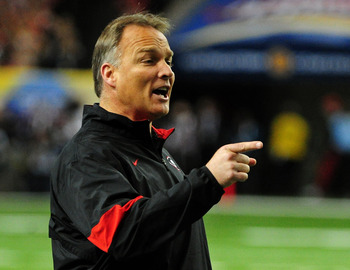 Scott Cunningham/Getty Images
It's hard to say if weaknesses will improve, because it's always up to the players.
If the offensive line is better, then the running game will improve, and the offense will be more dangerous.
The players in the secondary have played well during spring ball, but can they handle a high-powered offense like Missouri that likes to throw all over the field?
The special teams for the Bulldogs need to be better in order for the offense and defense to be efficient. They don't need to be great, but they can't have a year like they did in 2011 if the Bulldogs want to compete for a national title.
Keep Reading

Georgia Bulldogs Football: Like this team?